Filtered By: Cbb
Community Bulletin Board
DLSU wins first UAAP General Championship
De La Salle University (DLSU) has officially secured the General Championship (GC) in the seniors division of the University Athletic Association of the Philippines (UAAP) Season 75. DLSU representatives were formally given the trophy in an awarding ceremony held last March 23 at the SM Skydome in Quezon City.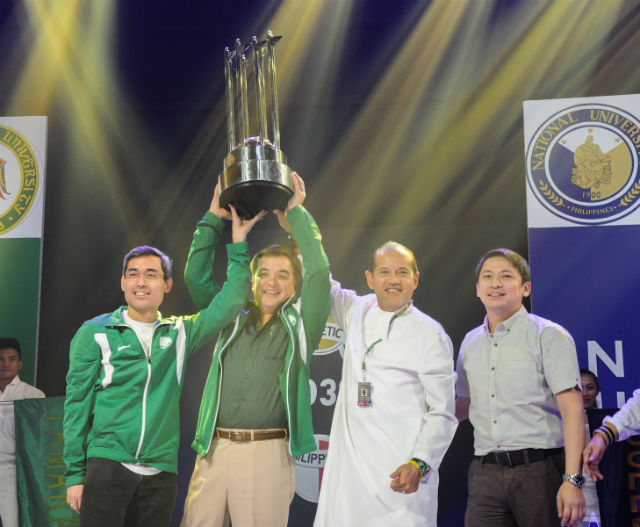 (L-R) DLSU President and Chancellor Br. Ricardo Laguda FSC, DLSU UAAP Board of Trustees member Henry Atayde, DLSU Vice Chancellor for Lasallian Mission and Alumni Relations Br. Bernard Oca FSC, and DLSU UAAP Board of Trustees member Edwin Reyes. Photo by Ken Koo
This is the first time DLSU won the GC since it joined the UAAP in 1986. Throughout the season, DLSU garnered a total of 293 points to overthrow University of Santo Tomas (UST), which accumulated 277 points.
DLSU won five championship titles in the women's division including volleyball, chess, table tennis, tae kwon do, and tennis. 
The University also garnered additional points for placing second in women's basketball, men's swimming, men's table tennis, men's tae kwon do, and women's football. DLSU also finished third place in 11 different sports divisions.
DLSU President & Chancellor Br. Ricardo Laguda FSC said, "the whole 75th UAAP season was a result of teamwork, hard work, and discipline from each team to raise the level of excellence in sports. Indeed the whole season was a season of blessings and thanksgiving." Press release and photo from De La Salle University