Filtered By: Cbb
Community Bulletin Board
Canadian firms keen on developing business in Asia
A delegation of 24 Canadian organizations representing a growing interest in the Asian region attended the 5th Business Opportunities Fair from March 12 to 13, 2014, organized by the Asian Development Bank (ADB). The Embassy of Canada supported the visit of the organizations, one of the largest delegations to take part in the one-stop forum.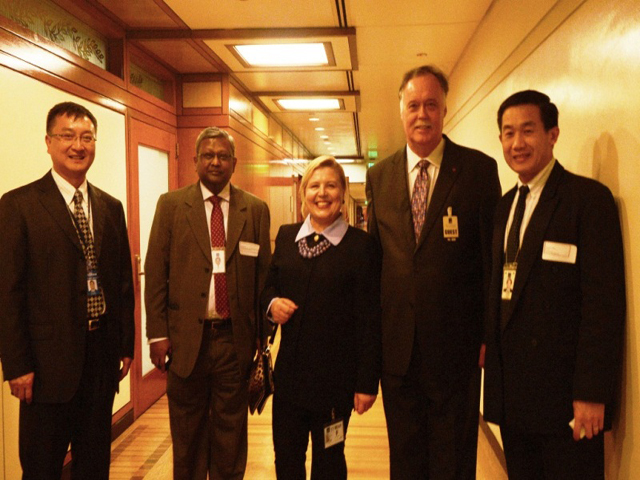 (Left to right) Xuguang Huang, Trade Commissioner and ADB Liaison at the Embassy of Canada Anthony Jude, Senior Advisor and Practice Leader (Energy) at the ADB Irene Reeder, wife of the Ambassador Neil Reeder, Ambassador of Canada to the Philippines Chong Chi Nai, Director - Energy Division for Southeast Asia, ADB.
The Canadian delegation was focused in exploring opportunities in various sectors including energy, water & waste water treatment, education, transport, agriculture, and public management & finance.
"Asia continues to be a priority of the Government of Canada, a region where we focus on strengthening partnerships and increasing trade and investment in," said Canadian Ambassador Neil Reeder at the networking reception arranged by the Embassy for the delegation. "Canadian organizations can take advantage of the consulting and procurement services offered by the ADB to open doors for doing business in Asia."
In addition to the networking reception, the Embassy also arranged market briefing sessions and assisted in organizing one-on-one meetings as part of the support it offers to Canadian companies who are pursuing business opportunities with the ADB.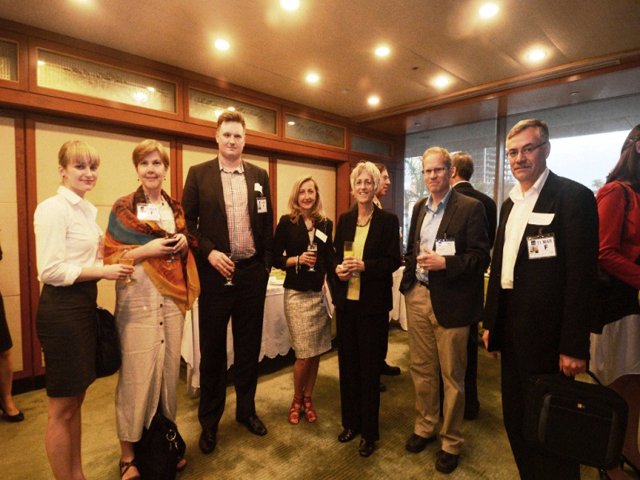 Micheline Aucoin (5th from left), Executive Director for Canada at the ADB, with some Canadian participants to the 5th Business Opportunities Fair organized by the Asian Development Bank.
Matthew Olivier, director of marketing & corporate development at FreeBalance, a software company who sent representatives to this year's ADB Fair said, "The Embassy has been instrumental in supporting our growth internationally. FreeBalance takes full advantage of the wide array of services offered to Canadian companies."
The Embassy of Canada through the Canadian Trade Commissioner Service assists Canadian organizations in pursuing business opportunities resulting from ADB activities. From 1967 to 2012, Canadian companies and consultants have been awarded $758.60 million in procurement contracts based on origin of contractor on ADB-financed projects. Canada is the second largest shareholder of ADB's non-regional members, and seventh largest shareholder overall.
Press release and photos from the Embassy of Canada