Filtered By: Cbb
Community Bulletin Board
Enderun collaborates with Workbank for a two-day nationwide virtual job fair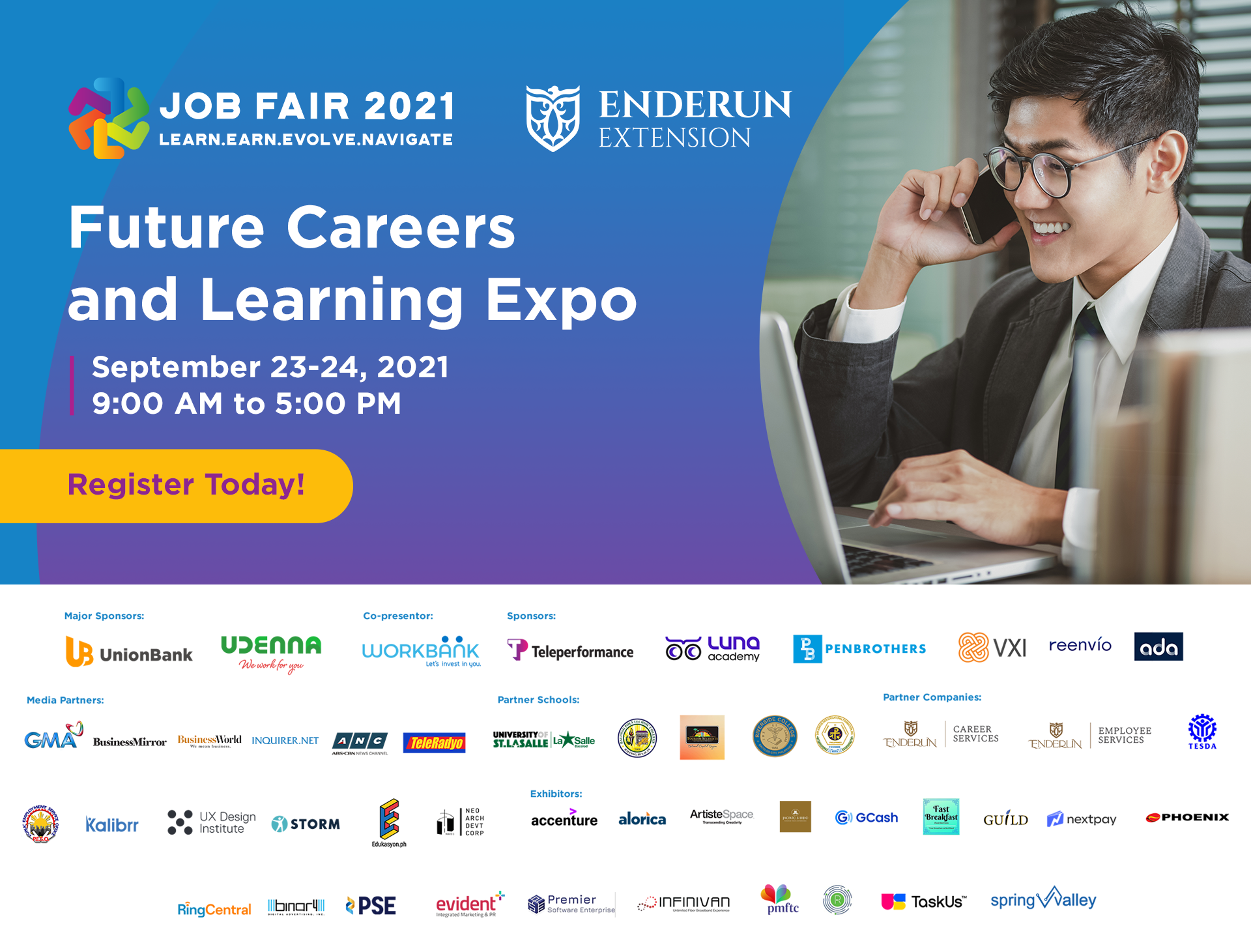 Enderun Conferences, a division of Enderun Extension that organizes compelling and informative conferences and summits, has partnered with Workbank to bring Job Fair 2021: Future Career and Learning Expo to the public. The event will highlight career opportunities from various industries and will address topics such as emerging job roles, future-ready skills, certification programs, the value of wellness, and industry trends in the year 2025 and beyond. Sponsored by Teleperformance, UnionBank, ADA, Luna Academy, PenBrothers, VXI, TaskUs, and Reenvio, it will occur on Workbank's digital platform from September 23-24, 2021.
In addition to participating in the job fair, attendees will be able to hear keynote lectures from well-known industry executives that will guide participants to better prepare for a lifelong rewarding career. Topics range from AI and machine learning, data analytics, digital marketing, finance technology, and UX design to healthcare and educational technology, travel and tourism, event management, and workplace development.
Michelle Rubio, Executive Vice-President and Chief Human Resource Officer of UnionBank of the Philippines; Jonathan De Luzuriaga, Chief Executive Officer of Spring Valley Tech Corp.; Ramon Monzon, Chief Executive Officer and President of Philippine Stock Exchange, Inc.; Donald Patrick Lim, Chief Operating Officer of Dito CME and Chief Innovation Officer of Udenna Corporation; and Bernadette Romulo-Puyat, Secretary of the Department of Tourism are among the notable speakers.
About 21 private companies will be recruiting for positions including Accenture, ADA, Alorica, ArtisteSpace, Inc., Jacinto and Lirio, Binary Digital Advertising, GCash, Evident Integrated Marketing & PR, Fast Breakfast Food Services, RingCentral, ResultsCX Manila, Ignite Delta + Partners, Inc., Philippine Stock Exchange, Spring Valley Tech Corp., NextPay.ph, Phoenix Fuels, Infinivan, Premier, GMA Network, PMFTC, Inc. and TaskUs.
"Enderun Conferences is excited to hold another learning event that would tackle the critical path of job seekers and graduates as they prepare for their future careers," said Loida Flojo, Director of Enderun Extension. "We are all aware of the disruptive impact of digital transformation, so we have to remain agile and resilient. This conference aims to serve as an online space where we could talk about these potential job opportunities and the skills required to adapt in the workplace-may it be in the field of user experience design, networking, digital marketing, educational technology, fintech, healthcare technology, among others."
Flojo added that the event will serve as a platform where participants can apply in various job openings that Enderun's partner companies will offer. "It's a unique event because it will host a job exhibition, too! We've invited highly reputable experts from various industries to conduct learning sessions for select participants during the breakout sessions. These participants will get to secure digital learning badges as they walk out of these learning sessions."
Find the career you aspire for at the Job Fair 2021: Future Career and Learning Expo! Register today at https://www.workbank.com/jf/enderun-job-fair-2021. ###