Filtered By: Cbb
Community Bulletin Board
51ST NAT'L MARKETING CONFERENCE SET
Powerhouse event to tackle how the country's marketing experts will 'reimagineer' the future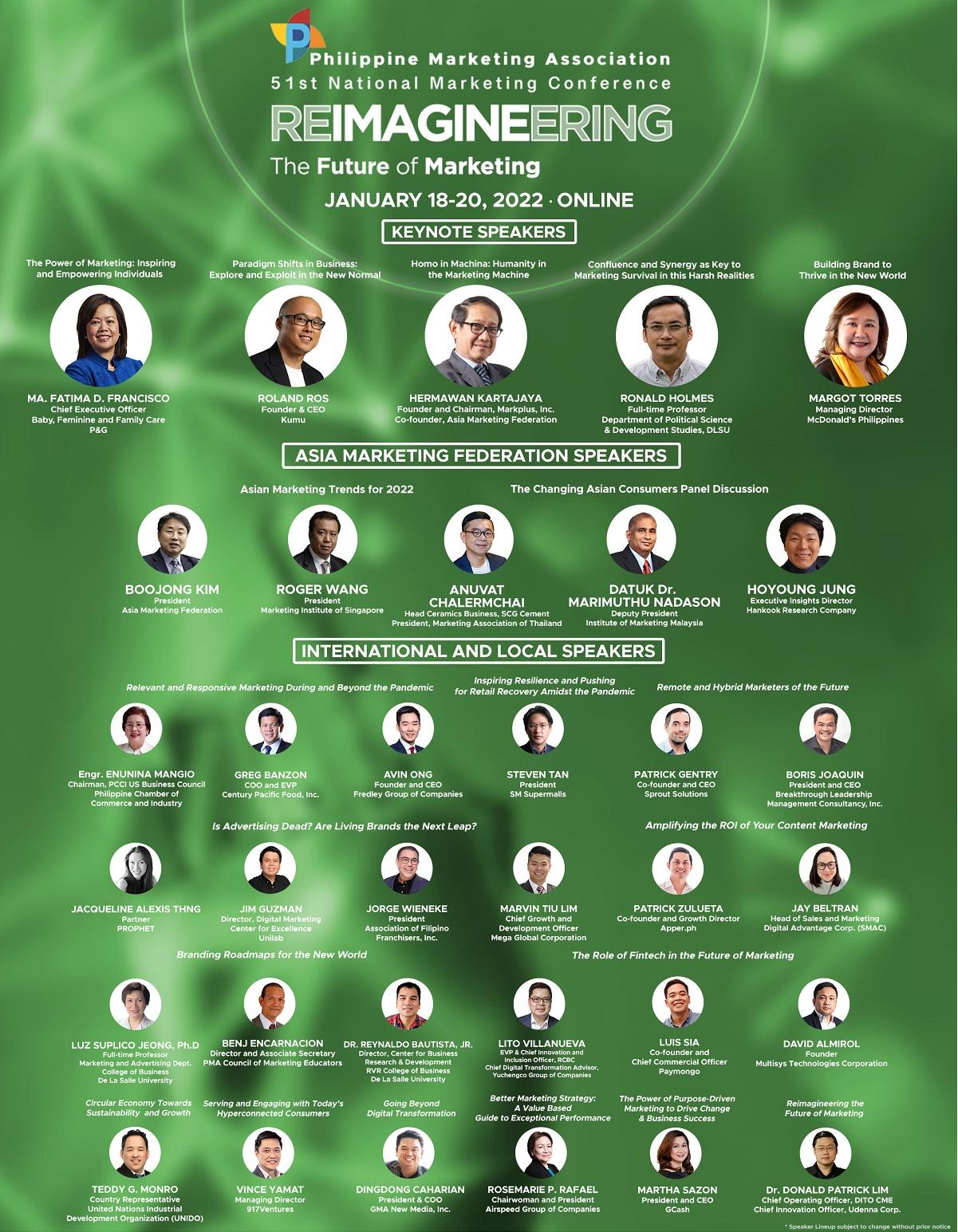 As the economy still reels from the pandemic, the advertising and communications industry is taking a step forward by reimagineering ways on how to stay relevant, inch forward and future-proof their businesses.
"The old theories of marketing are dead," said Donald Patrick Lim, chief operating officer of DITO. "It's time to lay the new foundation and transform the laws of marketing for the ever-changing business landscape facing all of us in the new decade."
Lim is one of the guest speakers in the much-anticipated 51st National Marketing Conference, which is slated from Jan. 18 to 20, 2022.
Presented by the Philippine Marketing Association (PMA), the annual event gathers the country's top marketing experts, budding practitioners, entrepreneurs, and startups.
THE FUTURE OF MARKETING IS NOW
Dubbed "Reimagineering the Future of Marketing," this year's conference brings marketing communications down the path where creativity and imagination, innovation and technology, and data science and structure all converge.
"We have, indeed, entered the future of marketing," enthused Lucien Dy Tioco, PMA president and EVP of PhilStar Media. "We chose the theme because we're on a continuing journey on how the new dynamics of marketing and the future-proofing of business will take shape."
During the course of the pandemic, the advertising and communications industry relied on innovation, digital technology, creative marketing, and best use of logistics and data analytics to remain current
"There is a great amount of uncertainty where the pandemic is leading us," added Dy Tioco. "But one thing is for sure, we can't go back to what we were accustomed to."
And so, more than just sharing the latest marketing tools, the newest technologies and creating a seamless customer journey, Dy Tioco said the much-awaited marketing conference aims to find "a greater solution, a blueprint of what we should regard as important for humanity, and ways to secure a sustainable future for everyone."
WHERE BRIGHT (MARKETING) MINDS MEET
When dissected, the forum title ("Reimagineering") consists of three words: image (a capture or rendition of matter or idea); imagine (the tangible ingredient, that potent piece that propels from ideation to creation); and engineer (to create a system or structure of elements that sync together in movement, "that allow us recreate the future in our minds").
"At PMA, we don't just think about the future. We imagine it. We innovate," said Pinky Yee, NMC overall chair, at the virtual launch of the 51st NMC held recently via Zoom.
The 51st National Marketing Conference has all the regular attractions of a physical event translated onto the virtual platform.
There's a virtual Trade Exhibit, which is expected to flip the usual delegate experience. The Plenary Sessions are designed to ooze with conference buzz and ambience.
Created for world-class marketing practices targeting business, industry, and the academe, the National Marketing Conference is one of PMA's flagship projects where bright (marketing) minds meet.
In its 51st year, some 1,500 marketing and business decision-makers and influencers are expected to attend the three-day conference with Asia Marketing Federation (AMF) president Kim Boojong giving the welcome address.
"It's important for all marketers to attend this conference because in this rapidly changing market, there is an emergence of a new world, where a new kind of consumer is evolving, and a new way of doing business is imperative," Kim Boojong said in a pre-recorded message. "This conference will not only inspire you, but also prepare you for success."
Day 1: "Responding to the Environmental Forces that Shape Us"
The three-day conference kicks-off on Jan. 18 with the theme "Responding to the Environmental Forces that Shapes Us" with back-to-back keynote addresses from Procter & Gamble Global Baby, Feminine and Family Care first Asian CEO Ma. Fatima (FAMA) De Vera-Francisco who will talk about "The Power of Marketing: Inspiring and Empowering Individuals" and Kumu founder Roland Ros who will discuss the "Paradigm Shifts in Business: Explore and Exploit the New Normal."
Marketing Institute of Singapore president Roger Wang will get you updated on the "Asian Marketing Trends for 2022."
An open forum on the "Relevant and Responsive Marketing During and Beyond the Pandemic" will be held right after the Q&A portion. Panelists include Samgyeop Masarap owner Consul Nina Mangio, Century Pacific Food Inc. COO and EVP Gregory Banzon, and Fredley Group of Companies founder and CEO Avin Ong.
Steven Tan, president of SM Supermalls, will tackle "Inspiring Resilience and Pushing for Retail Recovery amidst the Pandemic".
The afternoon session (Track 2) is all about "Optimizing Collaboration in a Fragmented World." The keynote address will be delivered by Ronald Holmes, professor at De La Salle University's (DLSU) Department of Political Science & Development Studies, who will discuss "Confluence and Synergy as Key to Marketing Survival in Harsh Realities."
Fifteen minutes will be allotted for the Q&A segment prior to the panel discussion on "The Changing Asian Consumers." Panelists are Asian Marketing Federation members Anuvat Chalermchai of Thailand, Datuk Marimuthu Nadason of Malaysia, and Hoyoung Jung of South Korea.
Luz Suplico of DLSU, Benjie Encarnacion of PMA Council of Marketing Educators, and Reynaldo Bautista, Jr. of DLSU will discuss "Branding Roadmaps for the New World."
Gustavo Gonzalez, resident and humanitarian coordinator at UN Resident Coordinator Office will shed light on "Circular Economy Towards Sustainability and Growth.
Prophet partner Jacqueline Alexis Thng will present about "Is Advertising Dead? Are Living Brands the Next Leap?" with reactors Jim Guzman of Unilab, Jorge Wieneke of Association of Filipino Franchisers, Inc., and Marvin Tiu Lim of Mega Global Corporation.
Day 2: "Integrative Marketing Transformation"
Margot Torres, managing director of McDonald's Philippines, will deliver a keynote on "Building Brands to Thrive in the New World."
It will be followed by talks on "Serving and Engaging with Today's Hyperconnected Consumers" by Vince Yamat of 917Ventures, "Going Beyond Digital Transformation" by Dingdong Caharian of GMA New Media, Inc., and "Remote and Hybrid Marketers of the Future" by Patrick Gentry of Sprout Solutions and Boris Joaquin of Breakthrough Leadership Management Consultancy.
Get to know "The Role of Fintech in the Future of Marketing" from the panel discussion with RCBC's EVP and chief innovation and inclusion officer Lito Villanueva, Paymongo's co-founder and chief commercial officer Luis Sia, and Multisys founder David Almirol.
Day 3: "Purpose-Driven Marketing"
"Purpose-Driven Marketing" will be the theme of Day 3 with keynote address from Asian Marketing Federation co-founder Hermawan Kartajaya who will tackle "Homo Machina: Humanity in the Marketing Machine."
For the afternoon session, Apper.ph's Patrick Zulueta and Sales and Marketing Digital Advantage's (SMAC) Jay Beltran will share tips on how to "Amplify the ROI of your Content Marketing." Airspeed Group of Companies' chairwoman and CEO Rosemarie Rafael will discuss "Better Marketing Strategy: A Value-Based Guide to Exceptional Performance" while GCash president and CEO Martha Sazon will talk about "The Power of Purpose-Driven Marketing to Drive Change and Business Success".
Closing keynote address on the conference theme will be given by Donald Lim who will share how the country's marketing experts can "reimagineer" the future.
"The NMC aims to equip marketers with the right tools and battle gear to create strategic blueprints, and upskill them to become agile and digital ready," assured NMC overall chair Pinky Yee.
Check out www.philippinemarketing.org/reimagineering/ to learn more about this once-in-a-lifetime event!