Filtered By: Cbb
Community Bulletin Board
New PCFMI leaders optimistic about future of Philippine food industry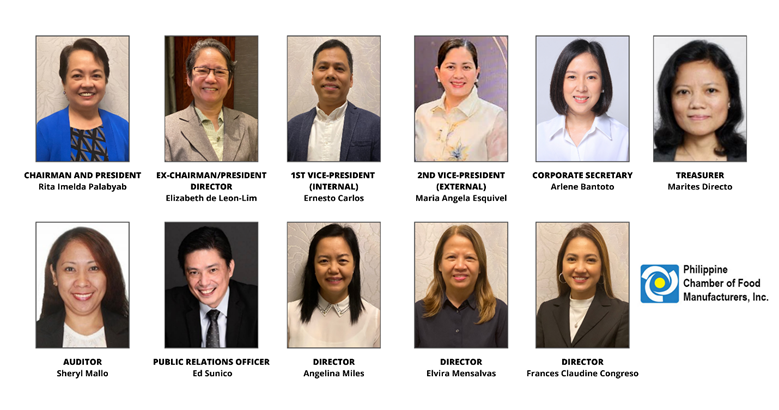 The Philippine Chamber of Food Manufacturers Inc (PCFMI), the principal organization of the manufacturers and distributors of food products in the Philippines, has recently elected its new set of board of directors and officers for 2022–2023.
Elected president was Ms. Rita Imelda Palabyab of San Miguel Foods, Inc. She previously served the PCFMI as its corporate secretary and led various programs of the Sustainable Food Supply Committee.
Mr. Ernesto Carlos, of Ajinomoto Philippines, was elected as 1st Vice President (Internal) together with Atty. Angela Esquivel of Alaska Milk Corporation as 2nd Vice President (External). Mr. Carlos will be leading the Ways and Means committee, as well as industry developments around Halal, while Atty. Esquivel will be the organization's lead for legislative affairs.
The rest of the officers include Ms. Arlene Bantoto of Nestle Philippines as Board Secretary and Chair of the Regulatory and Scientific Affairs committee; Ms. Marites Directo of Universal Robina Corporation as Treasurer; Sheryl Mallo of Del Monte Philippines as Auditor; and Mr. Ed Sunico of Unilever as Public Relations Officer and chair of the Sustainable Food Supply Committee.
The rest of the 2022-23 board of directors include ex-PCFMI president Ms. Elizabeth de Leon-Lim of GenOsi who also chairs the Plans, Program and Advocacy committee, Ms. Angelina Miles of Coca Cola Far East, Ms. Elvira Mensalvas of Monde Nissin, chairman of MSME committee and Ms. Frances Congreso of Fonterra Brands.
New challenges and post-pandemic optimism
The pandemic highlighted challenges and opportunities for the food industry—from a sustainable and resilient supply chain to a healthy, affordable food portfolio for the everyday Filipino. The organization also seeks to make meaningful contribution in advocacies towards agriculture and the UN Sustainable Development Goal on Zero Hunger.
During PCFMI's first Board of Director's meeting, new PCFMI Chair Rita Imelda Palabyab expressed optimism on forging ahead and addressing the current and future challenges of the food industry. "The Food Chamber has been among the most credible voices of the food industry over the years. As the regulatory environment develops and consumer needs evolve, the Chamber seeks to keep pace with these changes. The new PCFMI board is eager to take on leadership of the industry, building on the foundation laid by our predecessors, and looking forward to the continuing support of its member-companies," Ms. Palabyab shared.
PCFMI has been at the forefront of issues and opportunities faced by the food industry in areas related to food quality and safety, nutritious and affordable processed food products and sustainable food supply. The chamber has collaborated with government bodies like the DOH, FDA, DTI, as well as international industry organizations like the ASEAN Food and Beverage Alliance.
Press release from PCFMI