Filtered By: Hashtag
Hashtag
Mayor Binay's 'umbrella at night' reminds many of Imelda
One of the iconic images of the Philippines' conjugal dictatorship of the 1970s was Imelda Marcos with an umbrella over her head held by no less than the chief justice of the Supreme Court.
Now Makati Mayor Junjun Binay has his own Imeldific umbrella image, courtesy of the village's CCTV cameras.
It's true that his parasol wielder was a mere aide and no lapdog dignitary. But netizens who have dissected the
24-minute video
of Binay and his men (and sister Senator Nancy Binay) appearing to bully village security guards have pointed out some details that make the mayor's umbrella rate high on the absurdity scale.
For one, it was an umbrella pulled out on a rainless night, which then comically follows him around as he appears to berate the guards and give orders to his security detail. That has led a few snide observers to speculate that the umbrella is actually a bulletproof shield meant to protect Makati's kingpin from snipers.
Addressing the mayor, blogger Professional Heckler tweeted: "Anak, wala namang ulan. Wala rin namang araw dahil gabi na. Para saan ang payong? Paki-explain. Labyu."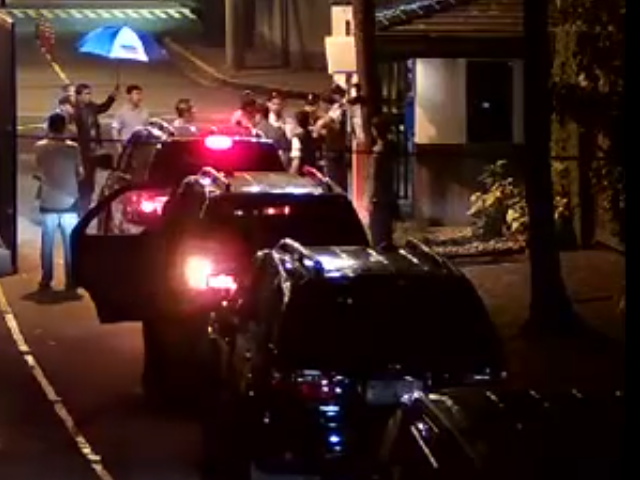 The Pedestrian Observer GB, a group that calls itself "cyber critics of dysfunctional governance in the Philippines," was just one tweeter that drew a comparison between Binay and the former first lady.
Wow, Jun Jun Binay the umbrella Imeldific wannabe is so graciously "concerned" with the guards, LOL. The... http://t.co/KMGv8NWa2I

— Pedestrian Observer (@pjpogb) December 19, 2013
Human rights advocate Carlos Conde said Mayor Binay's aides should bring out their umbrellas now to protect their boss from criticism.
Former beauty queen Aurora Pijuan, meanwhile, said anyone who wants to have an umbrella should ask one from the mayor and his bodyguards.
"
Lots of them in convoy cars
. :)" she told former COMELEC commissioner Gregorio Larrazabal on Twitter.
Lest anyone take the Imelda parallel too far, then Chief Justice Enrique Fernando holding the umbrella over her head was not just a symbol of her over-the-top entitlements; it reflected martial law's emasculation of a supposed co-equal branch of government.
Mayor Binay at the Dasmariñas gate did not emasculate anyone but lowly security guards. Then again, he's still just a mayor.
No courtesy for Mayor Binay
Meanwhile, Vice President Jejomar Binay
has staunchly defended his son, and said the Dasmariñas Village guards should have granted Mayor Binay and his convoy the courtesy of passing through the restricted gate.
The Banyan gate, where the incident happened on November 30, is closed to traffic after 10 p.m. The security guards were reportedly preventing them from leaving through the closed gate and to exit elsewhere.
The owner of Right Eight Security Agency Inc., the agency contracted to secure Dasmariñas Village, has apologized to the Binays, saying it was standard procedure to allow the President, Vice President, and the city mayor of the area they are guarding exemptions on security policies.
The Dasmariñas Village Association denied, however, that the gated community has a VIP policy, and asserted that Right Eight
did not have the right
to make that call, nor to apologize on its behalf.
Dasmariñas Village is one of the most exclusive and well-protected communities in the country, with former Senate President Juan Ponce Enrile, former House Speaker Joe de Venecia, billionaires, and several ambassadors living behind its secure walls.
None of them have recently been seen trying to force their way through a restricted gate, let alone walking around at night with a parasol-wielding aide in tow.
— Xianne Arcangel/JDS/KDM/HS, GMA News