Filtered By: Hashtag
Hashtag
Think Before You Click: List of Pinoy fake news sites
If you think a news story is too good or too ridiculous to be true, it might be just that.
Two weeks ago, netizens were abuzz—some in total shock, some in disappointment, and others with hearty laughter—when National Report, an American fake news website, published an
article
saying Facebook will start charging its users a $2.99 monthly fee starting November. A lot of netizens fell for it, Filipinos included.
Even before this humorous report came out, there have been countless times when Filipino netizens fell for satirical pieces written by our kababayan on local fake news and satire websites. Add the Filipinos' tendency to quickly share and retweet on Facebook and Twitter to the equation, and things really get scary.
We made a list of these Pinoy fake news sites to watch out for so you can think twice before their articles get the best of you.
So, What's News?
sowhatsnews.wordpress.com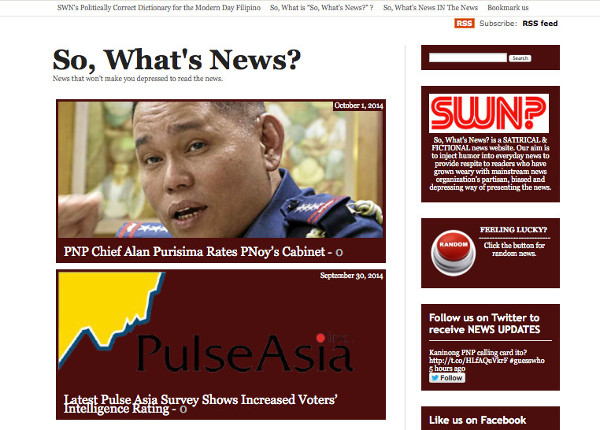 This website, which started out in 2011 as a "result of boredom in the office," has always created commotion among Filipino netizens and politicians.
One of its notable reports is about Sen. Jinggoy Estrada getting arrested in the United States for allegedly implanting money into his body, which even prompted the senator to release a statement
denying
the incident.
It wasn't only Jinggoy who cried foul over its stories. Sen. Nancy Binay and former Cagayan Rep. Jack Enrile also responded when they were featured during the height of the 2013 election campaign season. The site's
"Philippines Named 'Most Stupid Country to Elect a 20-Year OJT as a Senator' by Time Magazine,"
which pokes fun at Binay's election to the Senate, is its most-commented article.
In 2011, Pinoy netizens also fell for its report that Quezon City Rep. Winston Castelo filed an
Anti-Angry Birds Bill
. The site posted the article after Castelo filed a bill against planking during street protests.
Adobo Chronicles
adobochronicles.com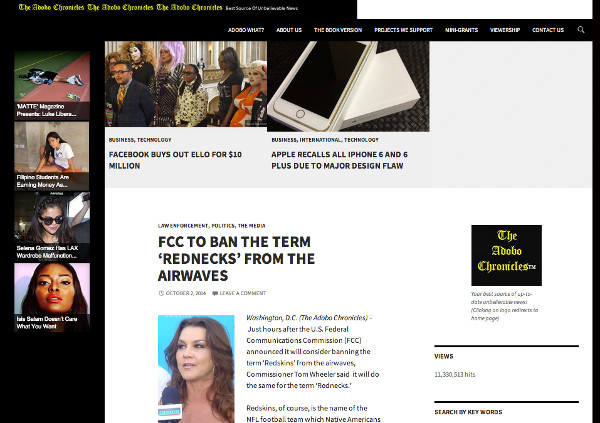 Apparently living up to the Filipino food it's named after, this website describes itself as the "best source of up-to-date unbelievable news."
Unfortunately, no matter how unbelievably ridiculous their stories may be, thousands of Pinoy netizens still fell for one of their most famous recent articles, which, if it were true, would surely be exciting: the United States
exempting
Filipinos from getting visas to enter the country.
The piece was a humorous take on a report earlier this year about many Pinoys having a favorable view of the US, even more than Americans. The article became viral,
prompting
the US Embassy in Manila to issue an official
statement
denying the "news."
After the Philippines placed in the top five of various international beauty pageants, Adobo Chronicles reported last year that the country had been
banned
from joining beauty pageants for the next two years.
The Philippine Trend
thephilippinetrend.com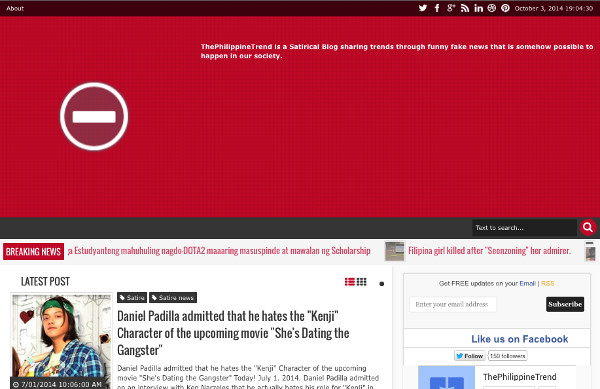 Despite the big disclaimer placed on top of its homepage, The Philippine Trend's May
article
about a supposed murder of a Filipina fan of British-Irish boyband One Direction by her own father became viral on social media. It gained comments from mostly sympathetic Pinoys who took the "news story" too seriously.
But thinking about it, who wouldn't easily believe the story when a fake photo of the crime scene together with a fictional tweet from One Direction's Harry Styles is the first thing you see after the headline?
And when the father's reason for killing her own daughter is that she bought a ticket to the boyband's 2015 Manila concert using his hard-earned money which was supposed to be an educational investment, who wouldn't be moved?
Emotionally disappointing as it may be, the website's piece was another humorous tirade on the craze over the boyband's scheduled Manila concert next year.
Mosquito Press
mosquitopress.net
Gullible
. That's how a fictitious study by Harvard University described the Filipinos in a piece published on Mosquito Press in 2011. This continues to be one of the site's most-read and shared satirical pieces.
It was shared so often that a renowned columnist, Carmen Pedrosa,
cited
the "study" in her
column
to warn Filipinos about gullibility.
Its most recent content, which was posted last year, is an
obituary video
humorously remembering the politicians whose careers "died" after the May 2013 elections.
The Philippine Chronicle
thephilippinechronicle.com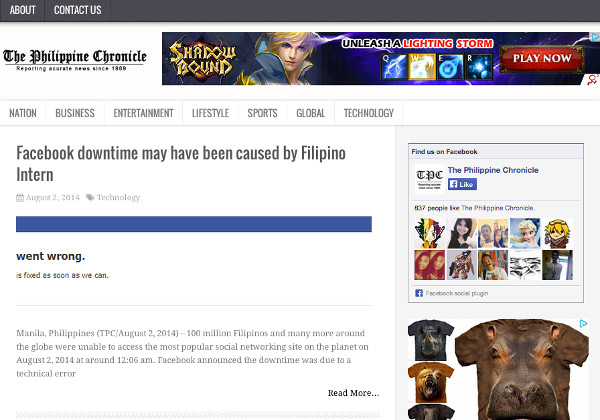 Remember #FacebookDown last August? It may have been caused by a Filipino intern, this satirical news website
reports
. To make the story more convincing, it embedded a screengrab of the Facebook status by that fictitious intern.
The Philippine Chronicle is one of the newest satire sites, having debuted just last July. Hopefully, you did not fall for its story saying President Noynoy Aquino declared August 3 as
Philippine Facebook Day
.
Eritas Times
eritastimes.com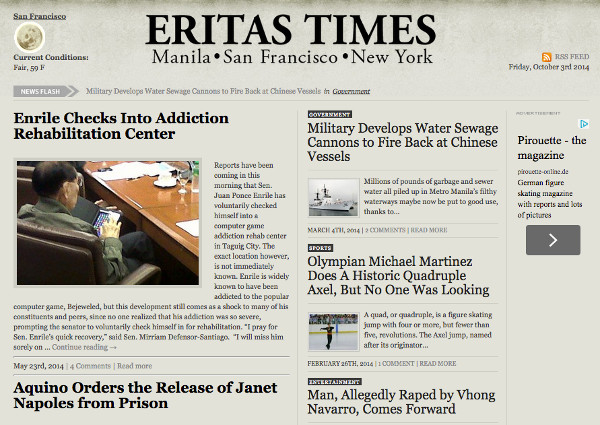 An apparent pun of the Latin word "Veritas" meaning truth and "irita" or annoy in Tagalog, The Eritas Times needs more careful eyes to see through its "authority and credibility." Its layout looks like that of a legitimate newspaper, so you wouldn't immediately realize it's a fake news site unless you see its copyright period way down below: 2014-2070.
Though it is based in San Francisco in the United States—or so we read—its top post as of yet is about Sen. Juan Ponce Enrile checking into an addiction rehabilitation center. Sure, this may seem to count as convincing news at first, but when you read the articles that appear along with it (like President Aquino
"ordering"
Janet Lim-Napoles' release), you would have to think twice before hitting that Share button.
The Professional Heckler
professionalheckler.wordpress.com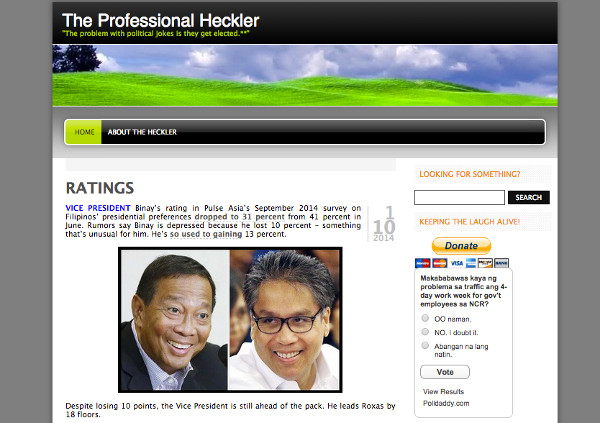 Unless you're an Internet newbie, we don't really have inform you about this popular blog. This multi-awarded satirical blog is by Batangas-born and now Makati-based Loi Reyes Landicho, who goes by the alias "The Professional Heckler."
Unlike the previous websites we enumerated, this one seems to stick more to the traditional definition of satire. The Professional Heckler's pieces are humorous commentaries on current issues.
One of its most recent pieces was written in a tone
mimicking Kris Aquino
, sarcastically discussing issues you may have heard about on television or online, such as the wrath of tropical storm Mario.
If you're looking for humorous writing that won't fool you into believing that it's legitimate news, The Professional Heckler is a blog to visit.
One of the creators of these fake news sites warns us against believing anything that's posted online.
"I think Filipinos just need to be more critical and not take everything at face value, whether it may be an online article or a political candidate," Stewart, the creator of So, What's News? said in an email interview.
"Alam natin na si Jackie Chan ang gumagawa ng sarili niyang stunts. Pero hindi porke't may nabasa ka sa Facebook na patay na siya, totoo na."
It takes a pair of observant eyes and an analytical mind to appreciate the Internet more. So the next time you see an extremely unbelievable or ridiculous news on Facebook shared by a friend, it always pays to think before you click.
— EPE/JDS, GMA News