Filtered By: Lifestyle
Lifestyle
Nurturing literary seeds at the Iyas writing workshop
MY memory of the Iyas Creative Writing Workshop is always associated with the onset of the rainy season. But this year, according to weather forecasts, summer will last until June due to the El Niño phenomenon. Yet, as in past workshops, rain visited us during lunch time at Balay Kalinungan during the third day of Iyas. For the fourth time, I sat as panelist in the Iyas Workshop of the University of St. La Salle in Bacolod City last April 26 to May 1. This is a national workshop co-sponsored by the Bienvenido N. Santos Creative Writing Center of De La Salle University-Manila and co-funded by the National Commission for Culture and the Arts.

Planting literary seeds. Unlike other national workshops, the Iyas Creative Writing Workshop accepts fellows who write in Visayan languages.
"Iyas" is an Hiligaynon word for a seed, not just an ordinary seed but a prized seed meant for planting that is expected to grow better and provide a more bountiful harvest. Indeed, the Iyas workshop is designed to nurture the literary seed in each of the young writers who are chosen as fellows every year. La Salle-Bacolod's Balay Kalinungan is the home of Iyas. It is a retreat house designed like a Spanish villa inside the campus. Its name comes from the two Hiligaynon words balay (house) and kalinungan (peace) or "House of Peace." It has many rooms and function halls for recollections, seminars, and conferences. The wide garden is full of endemic Philippine trees and features the Stations of the Cross. This is the tenth year of Iyas, and 16 young writers from all over the country were given fellowships for the workshop. The fellows enjoyed substantial transportation allowance and were pampered in Balay Kalinungan, enjoying airconditioned rooms and sumptuous food Bacolod-style. When I say Bacolod-style, just imagine the party scenes in Peque Gallaga's classic film Oro, Plata, Mata.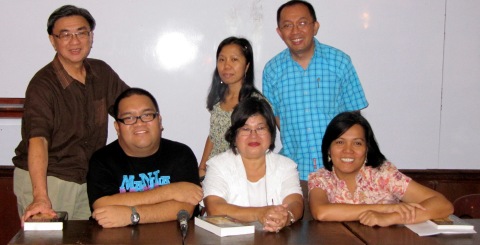 The panelists. Sitting L-R: The author, Elsa Martinez Coscolluela, Dinah Roma-Sianturi. Standing L-R: Anthony Tan, Genevieve Asenjo, D.M. Reyes.
My co-panelists this year were Iyas project director Elsa Martinez Coscolluela, Genevieve Asenjo of De La Salle University-Manila, Anthony Tan of Mindanao State University-Iligan Institute of Technology, Danny Reyes of Ateneo de Manila University, and myself from Miriam College. Dinah Roma-Sianturi, the director of Bienvenido N. Santos Creative Writing and Research Center and recipient of a National Book Award for Poetry, was the workshop director this year. The poetess Marjorie Evasco, who is the regular workshop director, begged off this year for she is rushing a book project. During the earlier Iyas workshops, the epic poet Cirilo F. Bautista and the award-winning novelist Vicente Garcia Groyon sat as regular panelists. "The comments we give in this workshop are our gifts to each other," says Elsa, more popularly known as Doc Elsie to everyone in Iyas and in La Salle Bacolod. She is a Hall of Famer in the Carlos Palanca Memorial Awards in Literature, and probably the most awarded woman writer in the Philippines. The traditional Iyas dinner in her elegant house at the exclusive Santa Clara subdivision is always memorable for the fellows. Talking about the criteria for choosing the fellows, Doc Elsie said, "What we look for in the works of a fellow is the seed of creativity, the seed of talent that we can nurture." She readily added, "Being a fellow is an achievement in itself. It means you have that seed, that talent. So don't be hurt if we criticize your work." The workshop was formally opened by Dr. Gloria Fuentes, the Assistant to the Vice Chancellor for Academic Affairs of La Salle Bacolod. She welcomed the fellows and panelists with the assurance that "when it comes to arts, to literature, the University of St. La Salle Bacolod is always generous."
Nurturing the Visayan Languages
What is unique about Iyas compared to other national workshops like those of Silliman and U.P. is that it features writers from the Visayan vernaculars like Sebuwano, Hiligaynon, and Kinaray-a. This year the fellow from Antique, Elsed Togonon, submitted this beautiful short poem in Kinaray-a: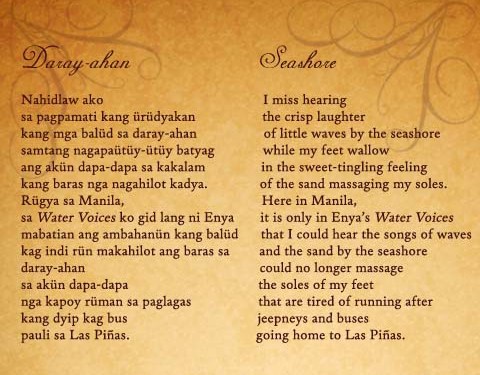 The persona is longing for the sea of Antique. She is now working in Metro Manila. There were two reasons why I was moved by this fine poem. One, Elsed was my student in Iloilo City before and I was the one who encouraged, actually "forced" may be the proper word, him to write in Kinaray-a. And two, I'm also from Antique and I grew up by the sea, and I'm now working in Manila and missing the sea terribly. The fine Ateneo poet D.M. Reyes was quick to point out that historically Las Piñas City was a town of salt makers. Before it was transformed into a city of both expensive and cheap subdivisions, Las Piñas was a wide seashore of salt beds. Knowing this historical background added more meaning to this short but beautiful imagistic poem. A young poet from Davao City, Glenn Muñez, submitted a beautiful poem in Davao Sebuwano. The original still has rough edges, but I'm sure Glenn would know how to rework this poem based on the suggestions of the panel. I translated it into Filipino to show the literary gem in the first draft along with the English translation, although I'm afraid much of the poetry is lost in the latter.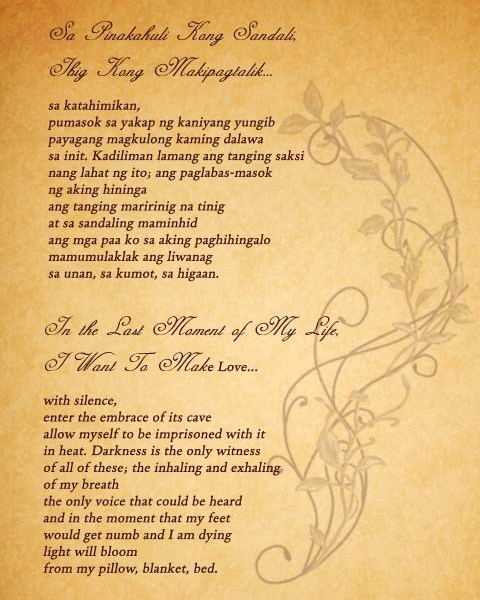 Happy and Inspired
After five days of intensive sessions, both fellows and panelists were more inspired to write better pieces. Writing after all is a lifelong process, and you don't really stop perfecting your craft.
The fellows of the 10th Iyas Creative Writing workshop
Poetry: Alyza Mary Timbol Taguilaso of Ateneo de Manila University (ADMU) Charmaine Luzano Carreon of University of the Philippines Diliman Gian-Paolo Simeon Lao of ADMU Noel Fortun of Philippine Normal University Arbeen Acuña of University of the Philippines Los Baños Rogerick Fernandez of Polytechnic University of the Philippines Elsed S. Togonon of Anini'y, Antique Simplicio C. Gadugdug of Holy Name University in Bohol Paul Randy Gumanao of Ateneo de Davao University Glenn Muñez of Cebu Normal University Fiction: Fred Jordan Mikhail Carnice of Silliman University Roselle Ibabao Jimeno of University of the Philippines Mindanao Anne Carly Abad of ADMU Francis Dizon of ADMU Vernan Jagunap of Leganes, Iloilo Jesus Insilada of Calinog, Iloilo.
Noel, a math teacher in a private school in Manila and a fellow for poetry in Filipino, said, "Naiinggit ako sa mga co-fellows ko na nagsusulat sa regional languages. Alam ko Filipino naman ako pero parang mas Filipino ang sensibilidad nila." Shaine, a Cebuano writer in English, realized this: "Because of this workshop I appreciated the writings in the regional languages especially in Sebuwano." A very young male Cebuano writer, Paul, said: "I have already attended three workshops and Iyas is the most accommodating workshop of all." Anthony Tan, a poet from Siasi in Sulu, enthused: "Iyas is a nice home for one week. I hate to announce that this will be my last Iyas workshop. I'm getting old and I already got sick traveling. It is time for me to stay home and feed my chickens, watch my mango tree, and look at the moon. This is the most organized workshop ever and I have been to so many workshops." One of the panelists, the new novelist Genevieve, said she was happy to get the "opportunity to be updated of what is happening in the writings of the young writers." During the workshop, she often enumerated the names of writers and titles of literary works that she wanted fellows to read in order to improve their writings. D.M. Reyes described the pleasure of being a panelist in a workshop. For him, it would be "Gifts of wonder, gifts of pleasure." He also pointed out, " Even while you are listening right now, you are helping form Philippine Literature. Bago pa maging aklat, nakita ko na sila kasi nababasa ko sa mga workshop. Tandaan ninyo 'yan, bahagi kayo ng paglikha ng panitikan ng Filipinas. "A seed has been planted in you, let it grow, let it blossom, and pass it on to others para maging mayabong ang gubat ng Philippine Literature. I am going home to my work in Manila more nourished by Iyas creative writing workshop." Workshop director Dinah noted that the workshop was a two-way process. "We also learned a lot from the fellows. No matter how we criticize your works, it is still you who will decide where to bring your own writing. The seed is there and I'm sure it will grow and have really fabulous flowers. I hope you will bring with you good memories that will serve you well in your writing life." Indeed, the seeds have been planted. Even with El Niño, the beneficial rain did not fail to visit Balay Kalinungan during the Iyas workshop to awaken the literary seeds that will sprout leaves and flowers in the hearts and minds of the fellows and panelists alike. -
YA, GMANews.TV