Filtered By: Lifestyle
Lifestyle
The phantom vote in the Broadway World PHL awards
Quite sad to see the live voting statistics for the
2012 Broadway World Philippines Awards
, just because I have a sinking feeling that Pinoys are voting for "Phantom of the Opera" in most categories, without having seen the other theater productions the past year, or going to see a local production at all since forever. For example, CCP's Tanghalang Nicanor Abelardo is way way ahead of any of the other nominees for theatrical venue; Jonathan Roxmouth is even farther ahead of the four other Filipinos for best actor in a musical. The same goes for the awards for choreography (beating Denisa Reyes), costume design, feature actor, international touring production (beating "God of Carnage"), lighting design (beating Katsch Catoy), musical direction, scenic design, sound design. Australasian Lunchbox Productions, the company that brought "Phantom" to Manila, is also leading in the category for theater production. Really. I didn't see "Phantom" because I didn't think it was a local production, and the price of a ticket is equal to seeing a Repertory Philippines, PETA, and Tanghalang Pilipino production, twice—even thrice—over. Too, our Organisasyon ng Pilipinong Mang-aawit (OPM) was up in arms about those "Phantom" permits, bypassing as it did the payment of equity to OPM. Bad enough that "Phantom of the Opera" in Manila reminded us all of colonial mentality, where Filipinos proved they will spend on theater, just not local productions; bad enough that as the "Phantom" was happening, "Stageshow" and "Walang Kukurap" had half-filled theaters. That it will kick the ass of our local theater workers for a people's choice awards?
Too sad
. And while I'm not into awards, here's my two cents' worth for some of the categories, given who are nominated. This is based on what of theater I've seen the past year, many of which were reviewed in this space.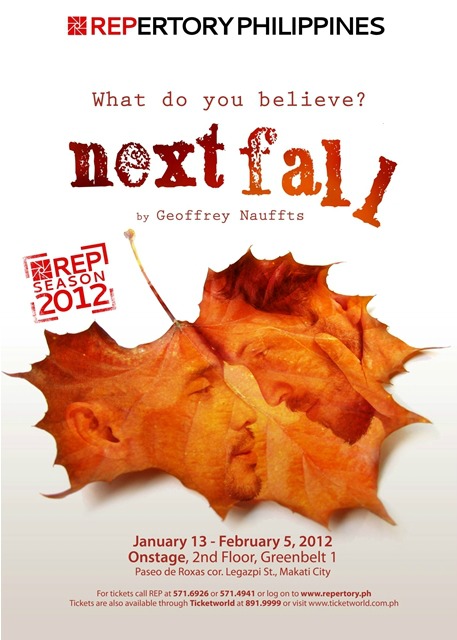 Best Direction of a Play—Audie Gemora for "Next Fall"
whose hand is in this assessment from the
review
: "Here, in this ensemble cast and a beautifully written narrative, the din of conversation is quieter than the silence that underlies it. Here, the accident is barely the point. Because what is truly accidental might be the fact of a relationship happening between two very disparate souls. What is accidental is being hit by love and finding that some compromises cannot and will not be made for it. And even then it will be sustained by many other things, including desire and humor and friendship. In truth, the power of "Next Fall" is that across the narrative it barely matters that at the center of it is a homosexual relationship. The power is in the fact that in the end, it's just about love." A close second is
William Elvin Manzano for "The Woman in Black"
who dealt with horror with the most restraint possible, holding the audience by the hand until it was too late to run.
Best Actress in Play—Lea Salonga for "God of Carnage"
is leading by a small margin, against Eugene Domingo, who really only played herself in "Bona." Lea's Veronica meanwhile was a display of neurosis that was in the carefully placed books on the living room table, the fresh flowers recently bought, the controlled voice used to engage in defense and offense. That this character would evolve into the drunk and cursing, laughing-out-loud woman in real time, without leaving that stage, engaging in banter and throwing punchlines against Adrian Pang … to say Lea will still take your heart and fill it with pride, is an understatement.
Best Actor in Play.
While Allan Edgar de Guzman in "Bona" did carry that play from beginning to end, and is leading in this category, my bet is
David Bianco in "Next Fall."
From the
review
: "And then there is Bianco, whose power here lies in the believability of a Luke who on the one hand acts on desire and falls in love, and on the other lives off of notions of religiosity and salvation and forgiveness. That the contradiction happens in a package that is caring and compassionate, but also kindly but consistently insistent on the need for belief, is the gift that is Bianco's performance.
Best Featured Actor in a Play—Niccolo Manahan in "Next Fall"
whose
take on closeted Brandon
was "one that is equally self-assured and uncertain, rational but sensitive, as it traverses that tenuous line between judgment and understanding, where what could've become a long-drawn out explanation of a particular kind of Christianity became a heartfelt conversation about making the choice to love, or not." Lou Veloso's role in "Walang Kukurap" meanwhile was just too small to be powerful, and Suzette Ranillo actually eats him alive in that one scene he has.
Best Featured Actress in a Play—Liesl Batucan for "Next Fall"
whose take on "the consistent presence of a fag hag friend provides the necessary comedy, where the characterization balances being bright-eyed and bushy-tailed, with her own uncertainties about searching for answers, and love, and everything in between." The review
here
. Anna Luna in "Bona" could've been any actress, going through the motions of, well, being an actress.
Best Crossover Artist—Edgar Allan Guzman for "Bona"
because his was a more difficult acting stretch, and
carried that production from beginning to end
, without the trappings of a musicale, over and above Eugene Domingo. Rachel Ann Go doing "The Little Mermaid" should be in a different category altogether.
Best Filipino Play—"Walang Kukurap"
because it dares to assess our silences, in the midst of notions of peace and unity and development, given government spin and the violence it cloaks. The rest of the review is
here
. P.S.: "Bona" was a badly directed play.
Best Lighting Design—Meliton Roxas Jr.
for "The Woman in Black" where it was the lighting really, and that director's careful restrained hand that allowed for the horror that was here. Katsch Katoy for "Stageshow" is a close second.
Best Actress in a Musical —Menchu Lauchengco-Yulo in "Nine."
Because did you see "Nine"? She was the one bright light in a production that was hyped up for its mainstream actresses, where her restraint throughout only really meant an even more wondrous display of anguish and anger when her Luisa finally sings "Be On Your Own" to philandering husband Guido. There was no other reason to see this production really.
Best Featured Actor in a Musicale—Jett Pangan in "Rock Of Ages"
because his "role as narrator was en pointe, practically making cohorts out of the audience, as he skillfully did the whole breaking of the fourth wall scenes." The rest of the review is
here
.
Best Featured Actress in a Musicale—Cris Villonco in "Jekyll and Hyde"
because her Emma
"is a layered portrayal of love, not as stupid and unconditional, but as bright eyed in understanding and unapologetically conventional. There is strength in the layers of acceptance that Emma comes to represent here, where Villonco moves with ease from strength to vulnerability, with a falsetto that speaks of softness and power in equal turns." And really, Eula Valdes in "Nine" was quite the disappointment. If there's anyone in the production nominated in this category and who deserves it, that would be Carla Guevarra-Laforteza. Along with Menchu, Guevarra-Laforteza was the only other believable portrayal here. And we're not even talking about the singing yet.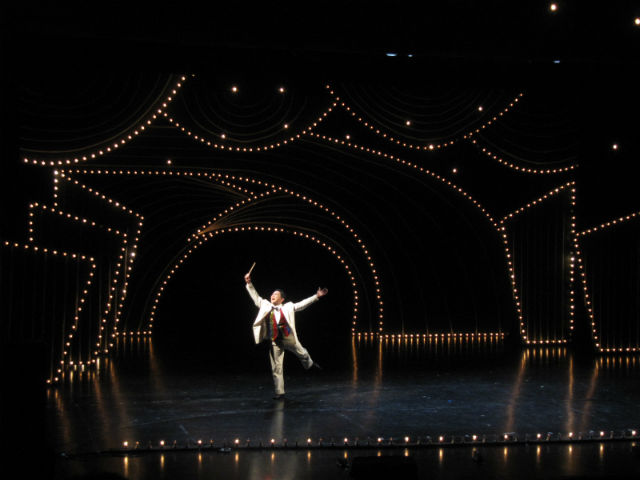 Nonie Buencamino in Stageshow. Photo by Katrina Stuart Santiago
Best Book / Lyrics for a Filipino Musical—"Stageshow"
by Mario O'Hara. From the
review
in this same space: "Here is a Mario O'Hara text, brought to life by Tanghalang Pilipino, making it an all-original Filipino production. And did I mention it's a musicale, too? That it's funny, at times risqué, absolutely what you don't expect? This is reason enough to think this in a league different from those foreign productions staged locally; then you find yourself in tears at the end of it and you know this is something rare and wonderful."
Best Choreography in a Musical—Denisa Reyes for "Stageshow"
because in this musicale, "it is the dancing that creates the cityscape and carries with it a sense of community, at the same time that it stands for imagination and emotion. This choreography can only be an up-yours to the stage productions that do nothing but mimic their foreign counterparts; it's an up-yours to an audience that thinks that there is less talent where we come from."
Best Theater Company—Repertory Philippines
if the basis is this theater season, because this set of productions resonate in different ways: "
The Leading Ladies
" "
Jekyll and Hyde
" "
Next Fall
." If we're working with the
last theater season, it would be PETA
with "
William
" "
Haring Lear
" "
Caredivas
." But really, the one theater company that's not nominated but which has had a fantastic season is Tanghalang Pilipino: "
Walang Sugat
" "
Walang Kukurap
" and "
Stageshow
." Yes, that's been going on at the Cultural Center of the Philippines, all this has been going on in Manila's theater scene, despite the phantoms of our colonial mentality.
— KG, GMA News