Filtered By: Lifestyle
Lifestyle
Beyond the beach: The untold story of Boracay's Ati tribe
Year after year, travel magazines call Boracay Island the
best beach destination in the world
. Found off the coast of Caticlan, Aklan in the Visayas, the island became famous for its fine, powdery white sand. The island's tourism industry is worth billions of pesos, and this value continues to grow with each year.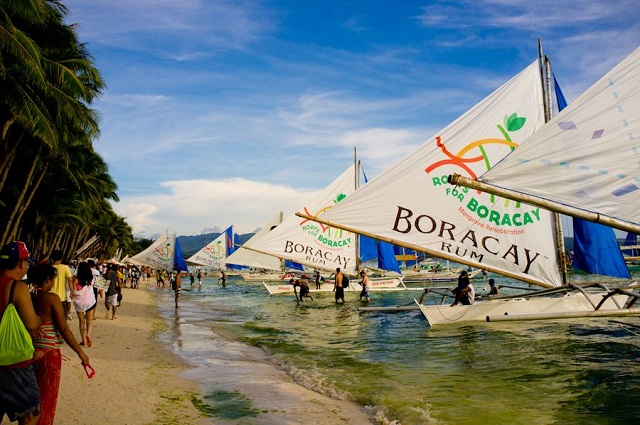 The effects of the commercialization are immediately seen upon arriving in Boracay. As soon as you get off your boat, you are greeted with advertisers' promises of excitement and happiness in exchange for your patronage. On your way to your resort, shops and restaurants line the main roads where traffic jams are common. Branches of restaurant chains line the beach walkway. The extent of commercialization even spills over into the sea in the form of boat sails doubling as floating billboards.
Tourism and its accompanying business opportunities have provided livelihood for many of Boracay's residents. The tourism industry has provided better employment opportunities for the former fisherfolk of the island; through the increase of average annual income, Boracay has also transformed its municipality of Malay, Aklan from a fourth-class to a first-class municipality. However, many residents are paid minimum wage, showing the uneven distribution of wealth on the island.
On the toughest end of this income gap are the Ati, Aklan's indigenous people and original residents of Boracay Island.
Murder on the margins
Aklan's Ati-Atihan Festival, celebrated in January, literally means "to be like the Ati." However, says Boracay-based priest Fr. Nonoy Crisostomo, this recognition is nominal. "Marginalized talaga sila," he says. [They really are marginalized.]
The Ati face high unemployment levels in addition to hotels' encroachment on their native land. Fr. Crisostomo estimates that of the 200 Ati in Boracay, fewer than 20 work in hotels; and they only get these jobs with the help of the church and the non-profit organization Daughters of Charity. But even so, they experience discrimination from their workmates because of their darker skin and eventually decide to leave. The less fortunate of the Ati end up begging on the beaches.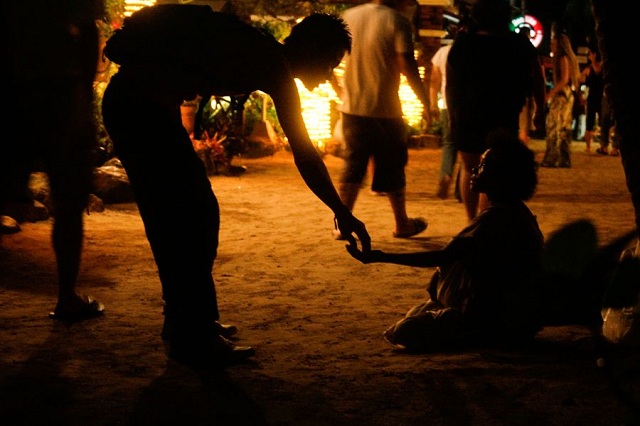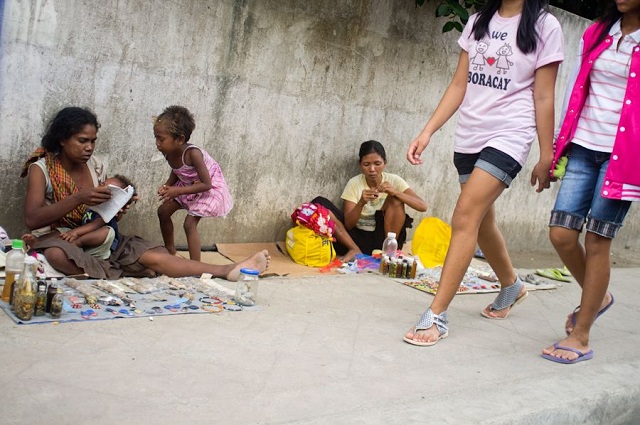 In a country where skin whitening products are a billion-peso industry, Fr. Crisostomo believes the dark-skinned Ati are placed at a further disadvantage:
"We tend to discriminate [against] others. That is a given in our culture wherever you go. Kapag dark-skinned ka, parang masama ka and less ka compared to others, di ba?" [If you're dark-skinned, it's like you're bad and a lesser person compared to others, right?]
The Ati culture of non-aggression has made it difficult for them to assert their place on the island; they would rather leave than stand their ground when faced with a conflict.
However, their difficulties were put into the national spotlight when their spokesperson, Dexter Condez, was murdered on his way home from a community meeting. Being college-educated, he was described by Fr. Crisostomo as the only Ati at the time who was able to speak well. Condez was the leading voice in their claim to land in Sitio Lugutan.
This area was awarded to them by the National Commission on Indigenous People (NCIP), but is also being claimed by three other families with businesses on the island. The suspect charged with the crime was a security guard of the Crown Regency Boracay Hotels, one of the claimants to the land.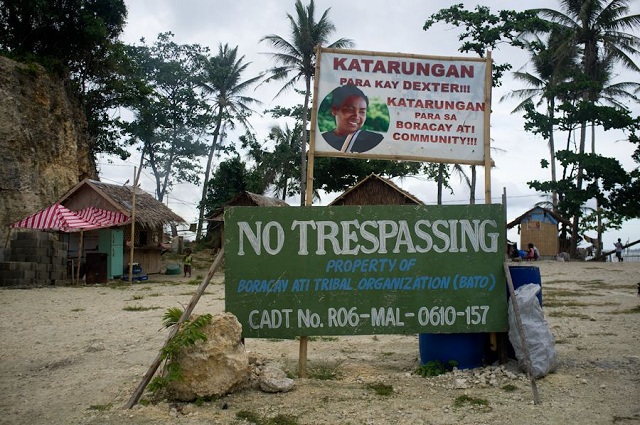 Dexter was one of the few Ati who were able to integrate with the mainstream Boracay society. He was one of the rare cases of Ati applying to jobs on the island without the help of non-governmental organizations. After working for a resort, he realized that his community needed him. The Daughters of Charity suggested that he work for the church-based Our Lady of the Holy Rosary Ati Mission Apostolate. There, he became one of the leaders, helped organize the Ati community, and focused on building up the youth. Fr. Crisostomo saw Dexter as a potential leader not only for the Ati, but for the entire island of Boracay.
Dexter's death left the Ati and Fr. Crisostomo angry. Curiosity and even empathy need to be coupled with sensitivity when asking them about it because the memory is just too painful. Some Ati say it was only after the murder gained national attention that local government officials paid attention to them.
Lourdes Tamboon, the Ati community's teacher, said that officials even used to just drive them away from tourist spots. "Wala silang pakialam sa amin," she said. [They don't care about us.]
The Ati culture has also been pushed aside by commercialization. In an article by Joycie Alegre for The Philippine Inquirer, the Ati and the island of Boracay are put into perspective:
"This revenue-generating cornucopia of delights is deplorable for its artifice, shallowness, and lack of cultural rootedness.
The real culture of Boracay is embedded in the history, collective memory and practices of its ancient inhabitants, the Atis. Sadly, mainstream Philippine society ignores and oppresses the Ati people because of their black skin, poverty, and lack of formal education."

Seeing beyond the party

In 2011, Boracay accomodated 908,874 visitors, while the following year saw 1.2 million arrivals. For 2013, the Department of Tourism is targeting 1.5 million arrivals.
Travelling to a party island like Boracay can help you take your mind off problems. But travel can be made more meaningful when you go to a place where you can learn something new about the local people and culture, and maybe even something new about yourself. And this is exactly what the Boracay of today lacks: a unique cultural identity.
Other than the beaches and nightlife, Boracay has no other major attractions unlike its regional rival, the island of Bali, Indonesia. From its temples to the cultural shows, Bali has concrete and explicit expressions of its own identity that visitors can learn from.
It appeals to a growing market that believes travel isn't just about escaping from the daily grind, but is a potentially powerful experience where you may come back with broader perspective. And given that more tourists visit Bali than Boracay, tapping into the existential depths of travel has the potential to yield greater material highs.
But Boracay still has a long way to go in terms of cultural tourism. Commercialization and the marginalization of the Ati pushed aside their traditions and with this, their identity. To Fr. Crisostomo, the problem of a lost identity doesn't only concern the Ati:
"Parang may black hole sa ating pagka-Pilipino, sa Filipino identity. Ang hirap nating ma-discover…Parang ganun ang nangyayari sa Boracay." [It's like there's a black hole in our Filipino-ness, in the Filipino identity. It's something that's hard for us to discover...and that's also what's happening in Boracay.]
Hope for the Ati
But there is also hope. Fr. Crisostomo also believes that they are in a period of rediscovery. Academics and charitable institutions have been coming to their community to study their culture to help the Ati discover what was lost. Among these are groups from the University of the Philippines, Ateneo de Manila University, the Daughters of Charity, and the Assisi Foundation.
The Ati are also receiving concrete help from these groups. For example, the Assisi Foundation gave two young members of the community, Romalyn and David, scholarships to attend the University of Southeastern Philippines in Tagum City, Davao del Norte. Taking up Social Entrepreneurship, Romalyn wants to come back and set up a business for the Ati while David is studying Anthropology to help in community development.
The local government has also begun helping the Ati. Fr. Crisostomo observed that, "'Yung tulong ng government ay naramdaman na namin pagkatapos mamatay ni Dexter. Ngayon lang sila talagang tumutulong nang husto." [We began receiving help from the government after Dexter died. It is only now that they are really helping.] There is now a police outpost in front of the Ati settlement in Sitio Lugutan and members of the army helping construct houses and facilities for for them.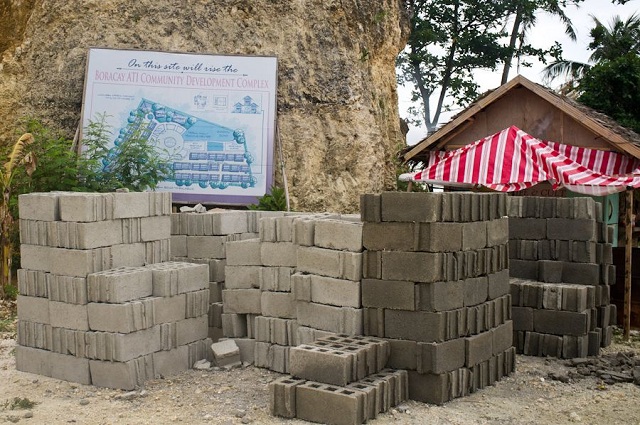 The upcoming facilities and the arrival of much needed assistance from the local government are signs of improved conditions for the Ati of Boracay. The death of Dexter Condez was a major loss for the Ati and Boracay. But this tragedy drew the attention of more Filipinos to the Ati's long-overlooked problem of marginalization and discrimination.
With more eyes now fixed on the Ati, their safety is not much of a problem as it was before Dexter's murder. With security comes a confidence to focus on their own empowerment as members of the Boracay society. The basics need to be taken care of first: housing, livelihood and education. For Fr. Crisostomo, "At the end, one of the things that could help us be more free is a certain level of economic stability."
Though the Ati still face many challenges, they have been slowly emerging in mainstream Boracay society. For example, they have begun taking charge of the choir of some Sunday masses, when before they were just shooed away by other attendees. Last April 17, at the first anniversary of their self-installation at Sitio Lugutan, the Ati ran the inter-agency meeting which involved the NCIP and other Boracay stakeholders—the first time they ran such an event.
Ati children finishing with honors is another way that they have been gaining confidence in themselves. The progress shown is good enough to keep the Ati optimistic about their future, but there is still a long way before their indigenous culture can be featured as a main attraction of Boracay the way Bali did with its Hindu identity.
A lot of work must still be done to rediscover the Ati identity swept aside in Boracay's mad rush to fame and material wealth. With the goal of comfortably joining mainstream society, the Ati must be cautious because they too are at risk of becoming as generic as the resort island.
Fr. Crisostomo says:
"Isa naming hope na at a certain point, they could really merge without difficulties, without fear, at the same time affirming their own identity as Ati." [One of our hopes is that at a certain point, they could really merge without difficulties, without fear, at the same time affirming their own identity as Ati.]
In making their place on island, the Ati need their land. The Ati are tied to their land and their struggle can only end in one of two ways: they can allow Boracay to change them, or they can become the change in Boracay.