Filtered By: Lifestyle
Lifestyle
In completely different forms, the Bard thrives in Asia
Much to the chagrin of schoolchildren everywhere, Shakespeare is alive and well—and in some cases, flamboyantly so—in Asia.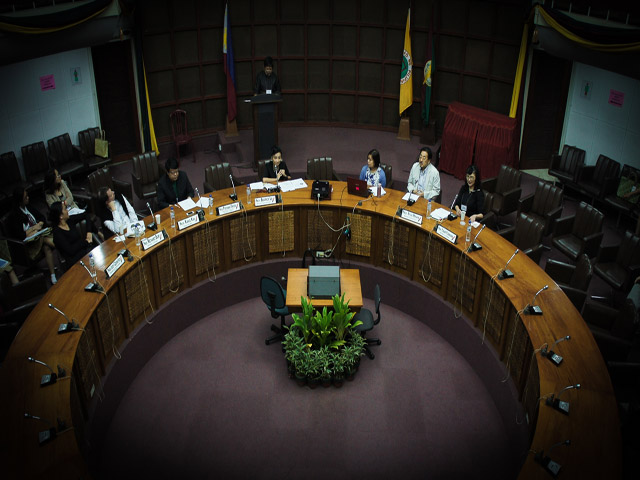 From L to R: Dr Judy Ick, Prof. Richard Burt, Prof. Kang Kim, Prof. Beatrice Lei, Prof. Ryuta Minami, and Prof. Yukari Yoshibara. All photos by Loujaye Sonido
The first-ever International Conference on Shakespeare in Asia was held last week in the University of the Philippines, Diliman. Hosted by the UP Diliman Department of English and Comparative Literature, the conference invited academics from India, Japan, South Korea, Taiwan, and the United States, as well as members of the Philippines' theatrical community to exchange and discuss views on the state of Shakespearean scholarship and performance, and its social, political, and cultural consequences, in Asia.
This was also the inaugural conference of the Asian Shakespeare Association, the first and so far only official academic organization devoted to the study and influence of Shakespeare in Asia and the Pacific.
Opened by its newly-elected Chairperson, Professor Bi-qi Beatrice Lei of the National Taiwan University in Taipei, the conference also presented papers from Professors Poonam Trivedi of the University of Delhi, Richard Burt of the University of Florida, Kang Kim of Honam University in South Korea, Ryuta Minami from Shirayuri College in Tokyo, Yukari Yoshibara from the University of Tsukuba, and Judy Celine Ick from UP Diliman.
The two-day conference ended on a high note, with a mini-film festival with parallel showings of Shakepearean films from around Asia, and capped with an hour-long dramatized re-imagining of Shakespeare's sonnets entitled "Have Thy Will," featuring Teroy Guzman, Dolly de Leon, Ricky Abad, and Frances Makil-Ignacio and directed by Ron Capinding.
It's more fun in the Philippines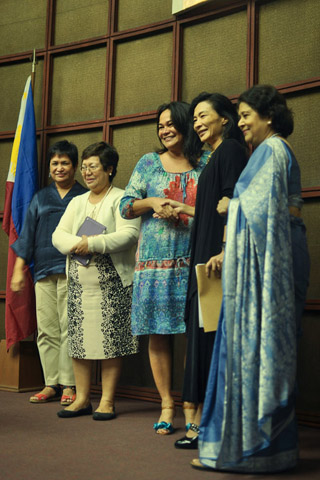 Left to right: DECL Chair Dr Lily Rose Tope, College of Arts and Letters Dean Elena R. Mirano, Dr Ick, new Chair of the ASA Dr Bi-qi Beatrice Lei, and Prof. Poonam Trivedi of the Univ of Delhi.
Contrary to conventional wisdom, Filipino education on Shakespeare actually predates the American occupation. Dr Judy Ick, in her presentation "Shakespeare: It's More Fun in the Philippines," traces the earliest known acknowledgement of Shakespeare in a Filipino context in the life and works of Dr Jose Rizal, citing the literary allusions to Macbeth in Noli me tangere and Rizal's diary accounts of watching Hamlet during his student days in 1884.
Ick also acknowledged the lesser-known Juan Crisostomo Soto, the "Father of Kapampangan Literature," for his 1887 translation and adaptation of Romeo and Juliet, titled "Ing Pamaquiasaua Ning Mete" (The Marriage of the Dead).
With the United States taking over stewardship of the country from Spain in 1899, the American educational system included Shakespeare in its Courses of Instruction, introducing the plays and sonnets to a whole new generation of Filipino schoolchildren.
The earliest theatrical performances of the plays were in schools, with the opening of "As You Like It" in the Philippine Normal School and "The Merchant of Venice" in Ateneo de Manila, both in 1910, and the performance of "Julius Caesar" in Silliman Institute (now University) in 1911, all performed with a "ridiculous fidelity," Dr Ick notes—rote productions with no room for alternative interpretations.
These performances were not solely limited to the elite learning institutions of the time. Provincial high schools also got in on the action, with Batangas High School mounting "The Merchant of Venice" in 1916.
However, of all of Shakepeare's dramas, none holds more sway over Filipino sensibility and sentimentality than the tragedy of star-crossed lovers in "Romeo and Juliet." The melodrama of forbidden young love struck—and still strikes—a chord in the Filipino masses, and "Romeo and Juliet" has racked up more adaptations and performances in the Philippines than any other play—from Soto's Kapampangan adaptation to the awit, "Ang Sintang Dalisay" (1901); the 1917 novel "Bulag and Pagibig" by Pascual de Leon, and Salvador Magno's "Romeo Kag Julieta" in Cebuano (1932).
"Romeo and Juliet" also provided more than enough fodder for the nascent Filipino film and television industry, beginning with the1951 film "Romeo at Julieta," starring Oscar Moreno and Erlinda Cortes, and inspiring a search for "The Romeo and Juliet of the Philippines" by the television show Student Canteen in 1969, with the actors Kokoy Laurel and Lotis Key winning the contest.
There have also been interpretations ranging from the farcical (1972's "Si Romeo at si Julieta" starring Dolphy, Maritess Rivera, and Panchito, which features zombies and a flight on a magic carpet) to the sweetly romantic (1989's "Romeo Loves Juliet...But Their Families Hate Each Other," with Keempee de Leon and Aiko Melendez) to the groundbreaking "Rome and Juliet" featuring a lesbian relationship between characters played by Andrea del Rosario and Mylene Dizon in 2006.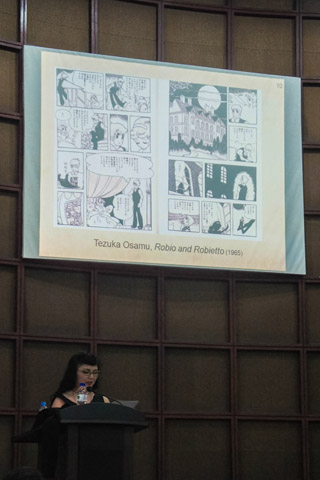 Prof. Yoshibara presenting her paper, with scans of Ozamu Tezuka's manga series "Robio and Robietto."
Naughty Shakespeares
Japan, meanwhile, has leapt gleefully into the abyss of pure Shakespearean crack.
Japanese pop culture has reveled in making Shakespeare "tacky, trashy, sleazy, and gaudy, as well as cute and queer," writes Professor Yukari Yoshibara in her paper, "Let's Hack the Flagship!: Naughty Shakespeares in Japan."
She noted that paradoxically, it is this practice of cheeky and irreverent playing around with text that reinforces Shakespeare's authority as an object of serious study.
Yoshibara also points out that as non-British Shakespearean directors and productions struggle with questions of authenticity when attempting to reinvent "the sacred text," Japan strikes out in the opposite direction and glories in presenting Hello Kitty Ophelias, vampire-slaying Juliets, and unicorn-flying Romeos in their popular manga and anime series.
Professor Yoshibara showed several examples of this trend in Japanese Shakespearean adaptations in anime series like "Ranma ½," which features a Juliet faced with a whole passel of Romeos using Anything-Goes Martial Arts to win her hand in the middle of a high school play.
In an episode of "Pokémon" that owes more to "Much Ado About Nothing" than to "Romeo and Juliet," two Nidoran Pokémon fall in love while their respective trainers constantly quarrel; and in "Kuroshitsuji" (Black Butler), a production of "Hamlet" is launched with an Ophelia played by a redheaded demonic Grim Reaper in drag. —
VC, GMA News