Filtered By: Lifestyle
Lifestyle
Calligraphers cry foul as Vatican shuts down papal scrollmakers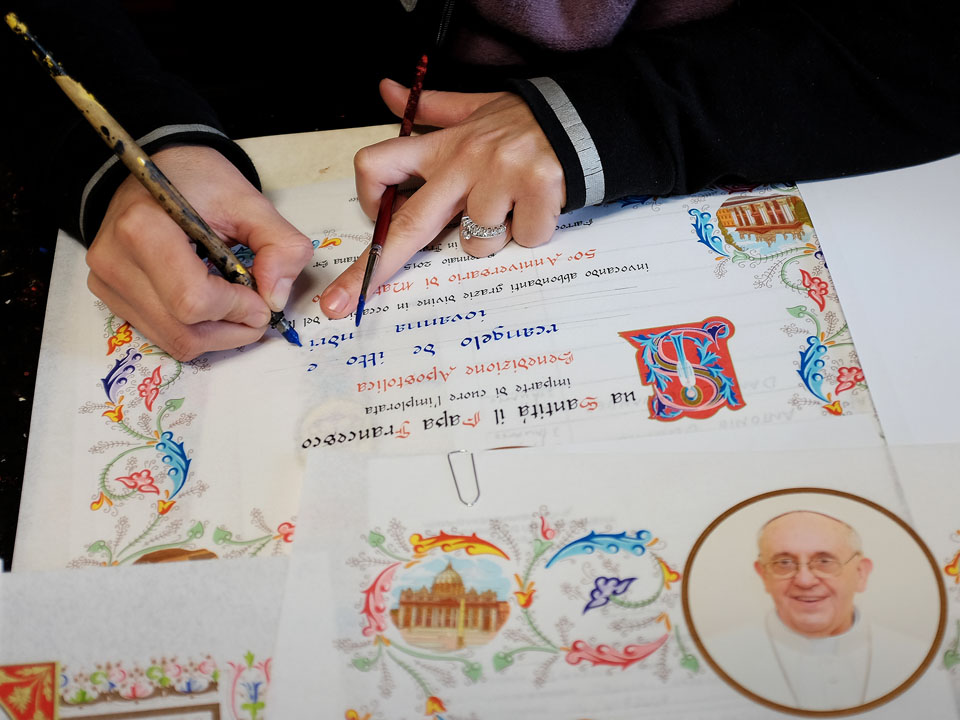 Tiziana Sereni works on a papal parchment in the Rino Pensa workshop in Rome on December 12, 2014. The Rino Pensa workshop have been making papal parchments for decades, crafting hand-painted blessing scrolls in Italy which are purchased by the faithful around the world to celebrate marriages, baptisms and anniversaries. But with the Vatican cracking down on the business amid reports of fake parchments being peddled to unwitting tourists for pricey sums, the family studio in the heart of Rome is being forced to close -- with hundreds of artisans at risk of losing their jobs. Instead of making them by hand, the parchments will be printed by the Vatican's Office of Papal Charities, which the pope's almoner, Archbishop Konrad Krajewski, says will cut costs, stamp out fakes and raise more for charity. AFP PHOTO / ALBERTO PIZZOLI
Rino Pensa and son have been making papal parchments for decades, crafting hand-painted blessing scrolls in Italy which are purchased by the faithful around the world to celebrate marriages, baptisms and anniversaries.
But with the Vatican cracking down on the business amid reports of fake parchments being peddled to unwitting tourists for pricey sums, the family studio in the heart of Rome is being forced to close—with hundreds of artisans at risk of losing their jobs.
Calligraphers and painters will have to lay down their tools on December 31, as Pope Francis tries to ensure the Church's apostolic benedictions, which were first issued about 100 years ago under Pope Leo XIII, raise as much money as possible for the poor.
Instead of being made by hand, the parchments will be computer prints produced by the Vatican's Office of Papal Charities, which the pope's almoner, Archbishop Konrad Krajewski, says will cut costs, stamp out fakes and raise more for charity.
The decision has sparked anger among artisans who point out that Francis usually prides himself on defending workers' rights and has railed against a world obsessed with profit.
"If Pope Francis really wanted to be honest he would say that blessings can be neither bought nor sold," Sabina Turtura, head of a movement to defend the papal parchment profession, told AFP.
"Instead, the Vatican's saying greater profits equal more charity, which is not very Christian," she said.
On wide desks covered in bottles of inks, tubes of paint and stickers of a smiling Francis, Rome's artisans race to finish the last orders, carefully penning in the name of recipients on scrolls framed by brightly-colored Vatican emblems or depictions of biblical scenes.
The price of an espresso
The parchments were traditionally sold for between seven and 25 euros ($8.60 and $30) in shops in the Borgo neighborhood around the tiny city state, to be shown off at weddings in Montevideo, priesthood ordinations in Manila or a 100th birthday party in Paris.
Paolo Pensa started working with his father Rino as a teenager and Pensa senior, now 92, still plays an active role in the family business, 65 years after setting up shop.
The Vatican "sent us a letter which said that from January 1st they will be the only ones authorized to produce these parchments. I'll be out of a job, as will the seven people who work with me," he said.
Pensa and Turtura have written to Francis asking him to rethink the decision to close down external production, but have found it hard to galvanize the artisans, many of whom are wary of burning bridges with the Vatican.
"Some, including my father, went to talk to Krajewski, but there was nothing we could do. They've already made up their minds," he said.
The Vatican has been embarrassed in the past by cases of fake parchments selling for over 50 euros in the pope's name, such as the one with John Paul II's blessing for the French far-right National Front party's former leader Jean-Marie Le Pen.
From the new year, a team of in-house calligraphers will handle all production, helped by a range of private collaborators and cloistered nuns who, the Vatican says, will benefit from the income.
But Pensa scoffs at that idea, saying they will earn "less than the price of an espresso coffee per parchment".
Turtura says the idea that taking control of the production behind Saint Peter's colonnade will stop people making and selling fakes is also unrealistic.
"The problem is not going to be resolved. It will always be possible to get hold of parchments without the official stamp or with a fake stamp, or see them sold for more than they will cost through the Vatican," she said.
She estimates that some 500 people will lose their jobs, including small shop owners unable to keep their doors open without selling the parchments.
"Another bit of Made in Italy will be lost," she said. — Agence France-Presse