Filtered By: Lifestyle
Lifestyle
Let's talk, says OPM legal counsel to artists against HB 4218
The Organisasyon ng Pilipinong Mang-Aawit (OPM) is open to engaging in a dialogue with critics of
House Bill (HB) 4218, or the OPM Development Act,
according to the organization's legal counsel Leo Laurente, who discussed the bill during the OPM General Assembly at Teatrino, Greenhills on February 4.
When GMA News Online asked his reaction to concerns raised by a group of artists called Musicians against HB 4218 Alliance, Laurente stressed that the bill is not yet final and the implementing rules and regulations are not yet concrete. He is inviting those who have apprehensions about the bill to come forward so they can all determine what else needs to be done together.
Read:
Independent musicians speak out against OPM bill
"If you want something changed, then let's change it," said Noel Cabangon, president of the Filipino Society of Composers, Authors and Publishers, Inc. (FILSCAP), addressing critics of the bill.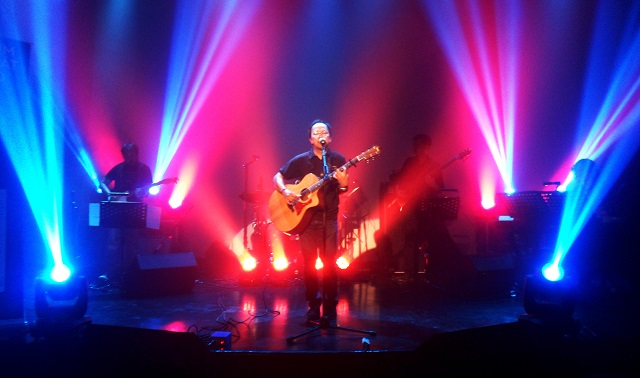 FILSCAP president Noel Cabangon encouraged musicians who have reservations about the bill to participate in the debate at the Congress.
On reservations about where the collections from equity fees will go, Cabangon explained that it will become a public fund, not a private one, and that this will be subject to auditing. He added that the equity fund is not being distributed as money, but is translated into services for musicians. "Hindi ko alam kung saan nanggagaling na paghahati-hatian daw namin 'yun," he said.
Dingdong Avanzano, OPM's corporate secretary, presented the organization's new membership benefits at the event, and these include hospitalization and accident insurance, legal services, professional workshops, dental care, and fitness and wellness.
Meanwhile, OPM president Ogie Alcasid made a clarification on the issue that the bill is preventing foreign musicians from performing in the country. "That is totally wrong. We need them for our equity," he said. Laurente also clarified that the objective of the equity fee is to put Filipino and foreign artists at par with each other.
'Stop the hearing'
However, there have been negative reactions online to Rep. Teddy Baguilat's responses about the grievances raised by independent artists about the bill, such as
describing them as "yakking like spoiled children."
In her comment on
a Facebook post by singer and advocate Skarlet Brown
, freelance artist Shakira Villa Symes asserted that the congressman should not call independent artists "spoiled brats" just because his bill is receiving criticisms.
"His reaction and aggressive standpoint may alienate independent artists further. Instead of reaching out to all groups and individuals concerned, he has a 'kayo ang lumapit' stance. Instead of hearing another viewpoint, he resorted to name-calling…and that is very un-stateman-like," Symes said.
On Baguilat's suggestion to critics to propose alternative or additional provisions, Brown mentioned that they are already preparing one and are encouraging various groups to submit position papers, the reason why they want the hearing not to proceed.
This was echoed by the official stand of the Asosasyon ng Musikong Pilipino (AMP): "We are AMP stand firm on our opposition and firmly believe that although the bill can be a big help to all concerned, fast tracking this without clear implementing rules and regulations might hinder the benefits for it was created.
We are pushing for the publishing of the implementing rules and regulations, more public consultation, and information dissemination on that matter," it said.
— BM, GMA News