Filtered By: Lifestyle
Lifestyle
MAN ON THE SIDE
'Coffee shop musician' Clara Benin is the future of OPM
The first time musician Clara Benin performed in front of strangers was at Conspiracy in Quezon City four years ago. She remembers the indie music haunt being nearly empty that evening; there were only a couple of tables with a few old guys drinking. As an 18-year-old college student who grew up in what she calls a "sheltered" environment, she says the experience was a bit of a culture shock.
"But it was fun," she reminisces.
At the end of the month, Benin will be playing the biggest show of her young career and it's safe to say there were won't be any worries about a thin crowd or inebriated older people. Thirty minutes after "Coming Home: A Clara Benin concert" was first announced, tickets were reportedly sold out. Demand was so high that they added a second night to accommodate eager fans.
The shows will also be Benin's last—for now, at least. The 22-year-old singer-songwriter says she is planning to go on an extended hiatus from performing live to rest and recharge.
"I studied music, and while studying, I was gigging and working on an album," she tells me over coffee one weekday afternoon. "It was a bit tiring din. So now I plan to take a break. I'll take my time to write and make music again. That's my goal for now."
Benin is, of course, the daughter of former Side A bassist and songwriter Joey Benin and Eva Marie Benin. The musician says her father made her take piano lessons when she was younger. "I don't want to say that we were forced to do it, but you know, he told me and my siblings, 'If you guys want to learn other instruments, you have to learn the piano first.'"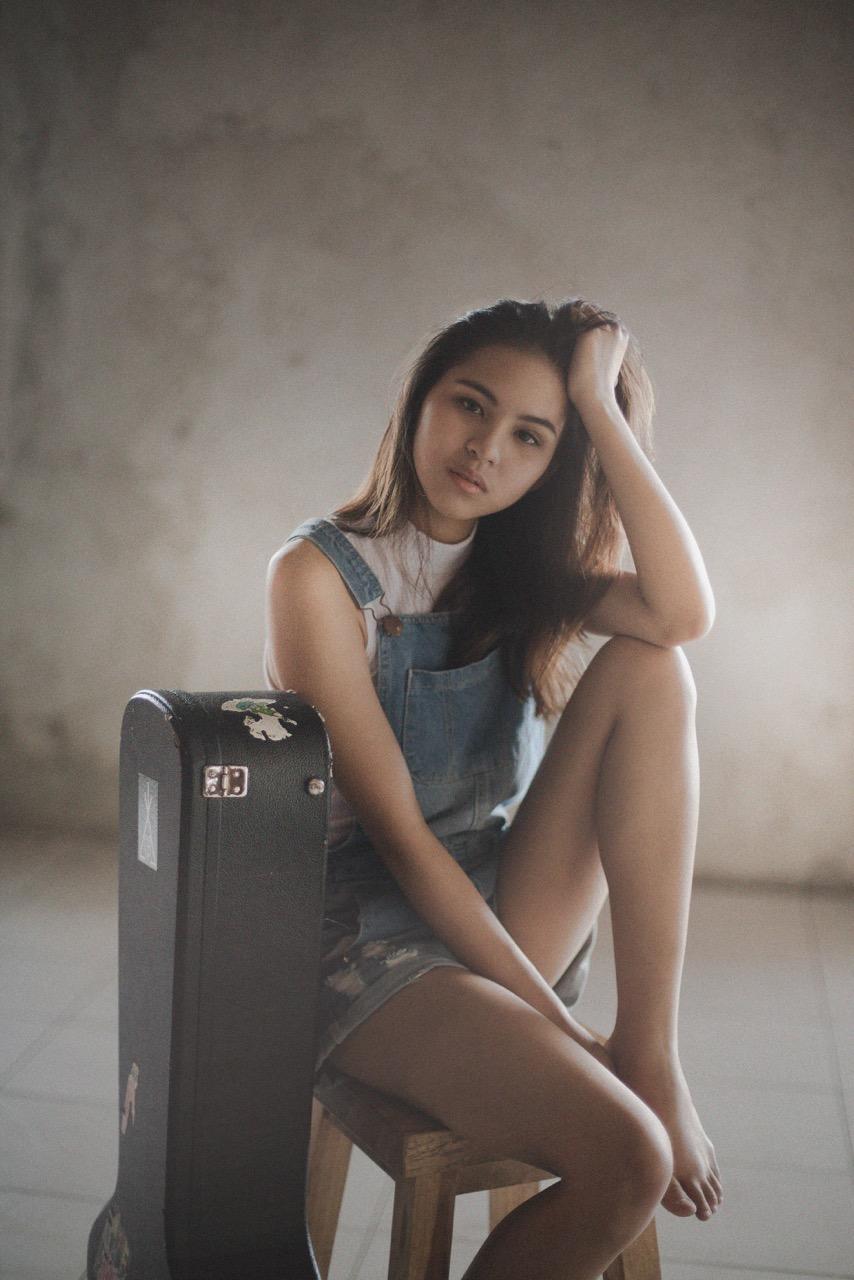 Think of a quaint café with cozy nooks and inviting sofas. That feeling of comfort and familiarity resonates in Benin's music, and even in her personality. Photos: Clara Benin
It wasn't exactly love at first play. "I didn't really enjoy it," she admits. "I didn't enjoy having a teacher telling me what to do with a piano. I wanted to do my own thing. So I was a very stubborn artist."
At 12 years old, Benin asked her father for a guitar, and she got it. "It was a classical guitar, with nylon strings. A little Fernando guitar," she says, smiling.
Her dad tried to teach the young Clara how to play, but it wasn't intensive as he was always going off on gigs with Side A. It was when her father left the band and they moved to Bacolod that Benin and her guitar got better acquainted. "There was no cable, we had very slow internet, and I was very bored on the farm. So that's when I really learned how to play."
Lots of people can strum and pluck the old six-string, but the best artists are often the ones who compose their own material and write their owns songs. While Benin, as with most artists, started out by playing covers of artists she really likes (Paramore, Dashboard Confessional, John Mayer, Oasis), it wasn't long before she put pen to paper and transformed life experiences into songs. "I was fond of taking other people's songs and doing my own arrangements, changing up the chords, making the song a bit faster or slower. Eventually I just realized that if I can fix songs and make them completely different, why not just try to make my own music? That's kind of how I started exploring that area."
She can't remember the first song she ever wrote, but the first one she was confident enough to post online to let other people hear was one called "Closure", which she co-wrote with her best friend. She has since released a full album called Human Eyes, and an EP called River Child, which is a part of her college thesis project.
Soft-spoken and delicate, almost fragile and waif-like, Benin channels guitar-wielding songstresses like Jewel, Michelle Branch and Dia Frampton. When I first heard her during a gig in Route 196 in February 2014, I was immediately struck by her laidback demeanor and effortless, beautiful singing. Many people are impressed by power and bravado when it comes to female vocalists, but Benin shuns that in favor of low-key and contemplative.
In previous interviews she has referred to herself as a "coffee shop" musician, and the description couldn't be more apt. Think of a quaint café with cozy nooks and inviting lounge chairs and sofas. That feeling of comfort and familiarity resonates in Benin's music, and, indeed, even in her personality.
In the few short years she has been part of the local indie gig circuit, Benin has amassed a following that could only be described as rabid. She has performed in venues both intimate and massive (she was on the same bill as Kanye West and Wiz Khalifa). She has written a song ("Araw At Gabi") for a movie (Red) and has lent her voice to a catchy fastfood commercial ad. Clearly she's part of a new generation of Filipino artists who are doing their own thing and unshackled from the demands of the major label system.
It's a little sad that she is choosing to hit the brakes at a point when her career is clearly on the rise, but I take comfort in the anticipation of the songs that will come out of this self-imposed break. I have no doubt they will be a gift to OPM and all those who believe in the purity and transformative power of homegrown music.
I kid her that it probably won't be long until the noontime variety shows start calling.
"I wouldn't mind, just as long as I get to play my own songs," she says. "And they don't ask me to dance." — BM, GMA News
Coming Home: A Clara Benin Concert is happening on July 29 and 30, 8pm at Teatrino, Greenhills, San Juan. Tickets for both shows are reportedly sold out, but if you want to try your luck, call Ticketworld at 891-9999.
Paul John Caña is a magazine writer and live music geek. He is also co-founder of libreto.org, an online collective of writers and artists. Email him at pjcana@gmail.com or follow him on Twitter and Instagram @pauljohncana.