Filtered By: Lifestyle
Lifestyle
Prehistoric images, protest art in Hadrian Mendoza's 3 stoneware exhibits
Virginia-based stoneware artist Hadrian Mendoza has been exploring many things—adopting pre-historic images, dueling with protest art, and interacting with his inspiration and mentor Jon Lorenzo Pettyjohn—in three separate shows ongoing in three different cities.
Pre-historic influences in Cebu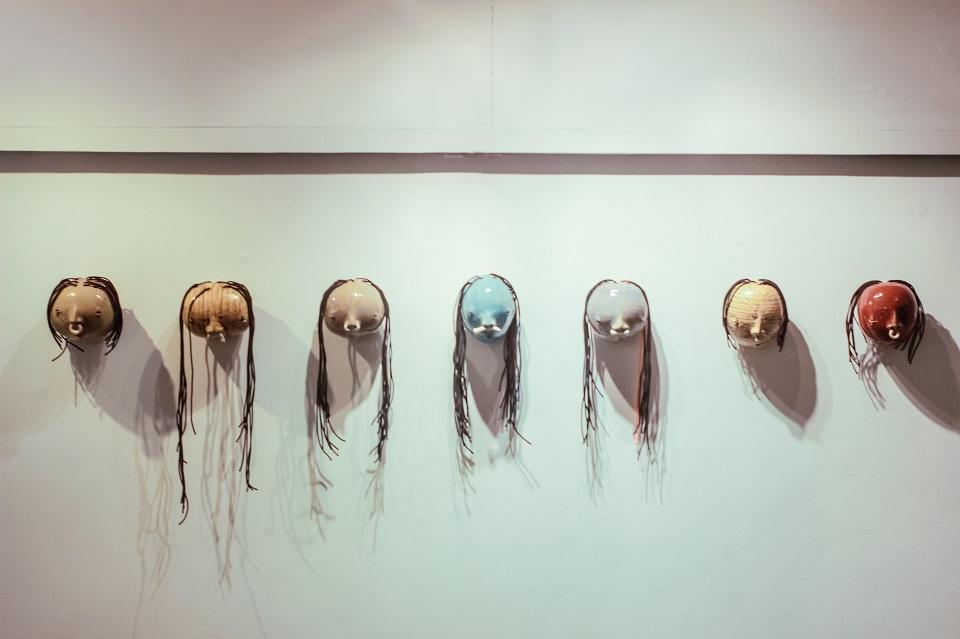 "Warriors." Photo: 856 G Gallery
Mendoza, 42, is known for his expressive sculptural art works. With an eye for ever-morphing shapes and a peripatetic hunger for experimentation, he has produced surprising creations and post-modern expressions.
In an exhibit at 856 G Gallery in Mandaue, Cebu, Mendoza showcases potteries inspired by Bulol, the stylized wooden rice god of the Igorots of northern Luzon, and the Maitum, the anthropomorphic jars discovered by archaeologists in Pinol Cave in Sarangani in 1991.
For Mendoza, adopting the rich images of indigenous Filipino peoples has been a fascination since he became fixated with Bulol in late 2000. "After exhausting the possibilities of Bulol in post-modern interpretation, I feel it's time to move on—with Maitum jars," he says.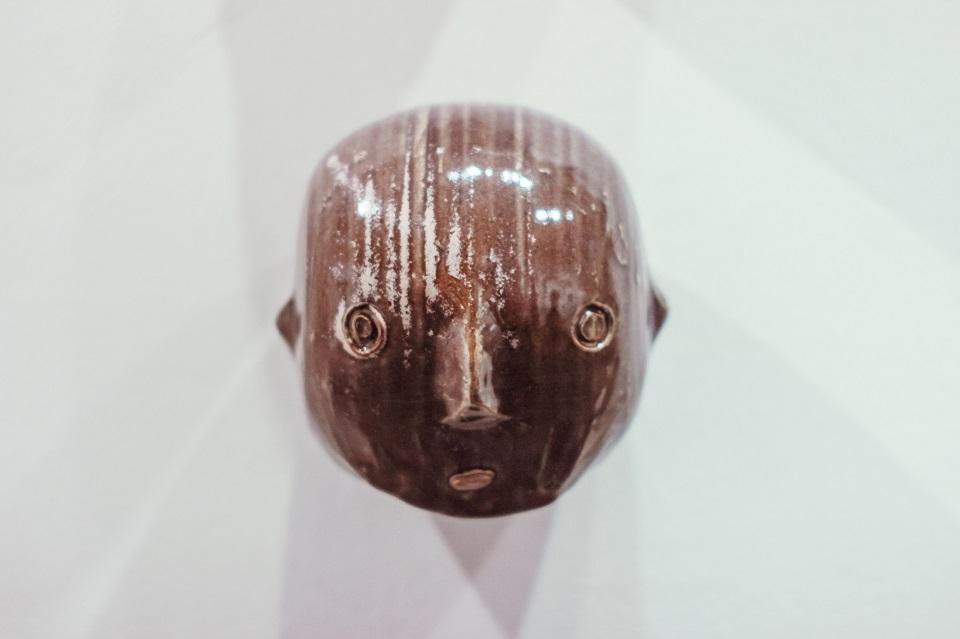 "A Drop of Red" (Bulol). Photo: 856 G Gallery
Mendoza has hands that can create a sui generis work of art based on even the most copied iconic ethnic images in the Philippines. With Mendoza's morphing, the Bulol and Maitum jars become a fusion of the old and the new—like old idols that forever shine with new light. "For me, they also talk about the future," he says. With a deep sense of the hybrid and the colonized in a post-modern world, Mendoza keeps oscillating between the global and the local, between himself and the other.
Art as protest in Pasay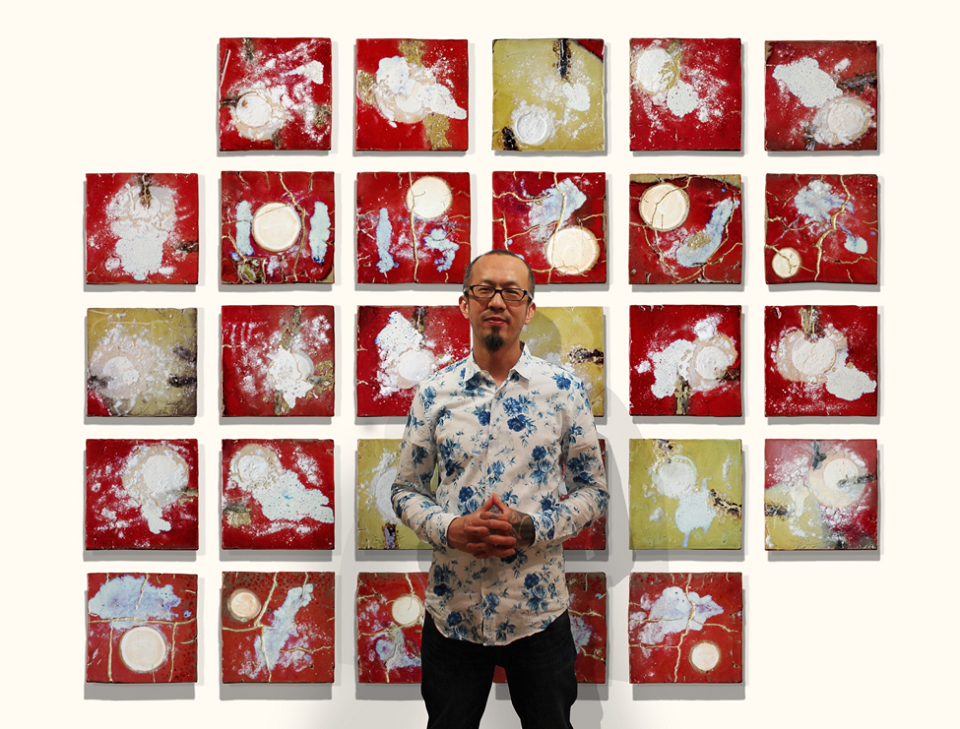 Mendoza poses in front of "Blood Moon." Photo: Galleria Duemila
Mendoza speaks with contemporary voice—against extrajudicial killings in the country's war on drugs in his show "A Drop of Red" at the Galleria Duemila in Pasay City from August 5 to 31. Although he has adopted a critical voice, his pieces at Duemila are pensive and poetic.
His "Pusher" is made of several heads, installed tightly together, creating an essence of prison without bars. This installation succeeds in portraying crime and punishment—a judgment on those who have victimized others.
"Blood Moon," made of 28 square pieces on wall signifying the 28-day drug rehabilitation program, is very poetic: the colors red, white, and blue kaleidoscope the Philippine flag, and are reminiscent of Mendoza's old iconic pieces that talk about "roots and belonging from distant shores." Red also means life, a negotiating stance for forgiveness or a plea for life as against death for grave mistakes.
"A Drop of Red" is made of abstract round sculptures on wall that Mendoza calls "clouds." The red and white yarns that fall from them are "white rain stained by several strands of red (blood). Explaining the art forms' narrative, he says, "As blood falls on Philippine streets, the rain from above washes blood away, but memories (of suffering or death of others) are long lasting."
The round-cloud objects also mirror Mendoza's iconic "heads" (he has been making them for the past four years) but without faces.
"All the pieces in the Duemila show are about dark times, or angst. It's a reality. I don't want to preach about what is right and wrong," he explains, adding he has intensified on feeling more than on the fusion of form and ideology in protest art.
Indeed, many critics believe that protest art stands more on statements than on form; that protest artists should be challenged more to create angry artworks without words.
Collaboration with his mentor in Baguio
A third show, "To Another Dimension" at Gallery Indigo in BenCab Museum in Baguio City, opens on August 12 and will be on view until October 1. Mendoza joins his mentor Jon Lorenzo Pettyjohn, who is in a class by himself.
For almost all Filipino potters, Pettyjohn, 68, has been a kiln warrior, an unbeatable creator of strikingly poetic and masterfully done functional pieces.
"Jon would say, 'You and I were student and teacher in the past. Now we are colleagues.' But for me, he will be forever a teacher. I could not have done a more perfect two-man show," says Mendoza.
"It is about how we have influenced each other. He has influenced me about being classical. I've influenced him to become more modern. The more we outdo each other, the better for both of us. I think we have reinforced each other to be what we are. It's like we interact differently—apart, but with one soul."
The earth, wind, and fire in the kilns of Pettyjohn and Mendoza have made the Philippines a rich center of stoneware pottery in Southeast Asia. — BM, GMA News
Galleria Duemila ((02) 831 9990) is at 210 Loring Street, Pasay City, Metro Manila. Hadrian Mendoza's exhibit "A Drop of Red" is on view until August 31, 2017.
856 G Gallery ((032) 344 3039) is at 856 A.S. Fortuna St., Banilad, Mandaue City, Cebu. "Homage" is currently on exhibit.
BenCab Museum is at 6 Asin Road, Tuba, Benguet. Hadrian Mendoza and Jon Pettyjohn's exhibit "To Another Dimension" can be viewed through October 1, 2017.