Filtered By: Lifestyle
Lifestyle
Interior designer finds new calling in painting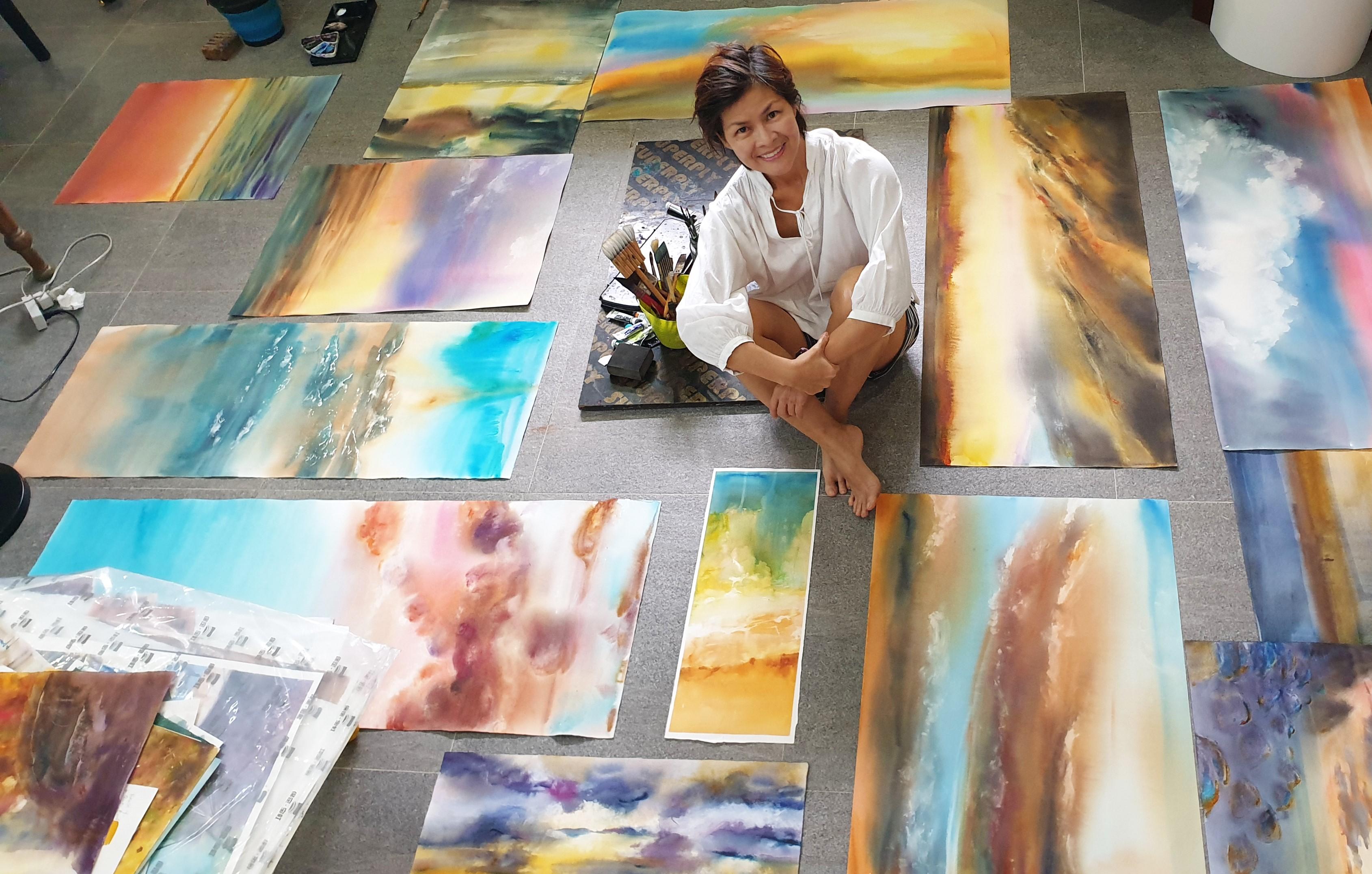 Early in the morning as the sun rises, Pinky Cruz Peralta would put on her rubber shoes and go for a run in her village in Las Piñas. And it is during this time when she would get inspired seeing the beauty all around her.
"I get exposed to a lot of cloudscapes. Some would be downcast while others would show a full spectrum of colors," Pinky, an interior designer, said in an interview with GMA News Online.
"I am the first recipient of all that, without knowing I will use them for a show someday," she added.
That show is titled "On The Edge," which opened on Saturday, Nov. 28, at Gateway Gallery in Cubao, Quezon City, and will run until Dec. 12. It is Pinky's first solo art exhibit, something she didn't imagine she would get to do someday.
On exhibit are Pinky's watercolor cloudscapes, depicting downcast grey skies to those bursting with color, showing fiery oranges and warm yellows. The blue skies contrast well with the white clouds, showing calm and harmony in her paintings. The brushstrokes are fluid and not hesitant, showing that the artist has confidence in wielding the brush and creating such beautiful scenes in an Impressionist, ethereal style.
"God ordained for us seasons in our lives. I didn't realize I would be a painter," Pinky said.
Four years ago, she was in a period she described as a "drought."
"I began to question the rut I was in. I didn't notice I was busy. God put into remembrance that I had this in me, that I have to do something else," she said.
One day, she was in a mall when she saw a watercolor supplies shop. She stopped, went in and said, "Give me something for beginners."
"The rest is history. I never looked back," she said.
Since then she has been painting while overseeing her interior design firm and running a farm and bed-and-breakfast in Alfonso, Cavite, called The Weekend Farmer.
Being close to nature at the farm, Pinky paints what she sees around her as a form of thanksgiving to God. She also paints urbanscapes and seascapes. "My favorites though, and I gravitate toward them, are landscapes, nature," she said.
"I am not conscious of my style. I paint the way I want to … One thing I know, I am drawn to watercolor's best traits: luminosity and fluidity. I may never find another medium that soothes me and flatters my impatience like watercolor does," Pinky said, who studied interior design at University of the Philippines.
With watercolor, she said "there is a challenge. I can control 50% of it. The rest, 50%, is depending on the flow," she said.
Since the start of the lockdown, Pinky has done more than 50 paintings. Many of them are of images she has seen while running early in the morning—skies, water, land.
Those early morning runs are also moments she spends with God in prayer, and she feels His gentle nudge as she looks at the sky: "You paint this" or "Why don't you paint something that would glorify Me?"
And so she paints. "I want them to see God there and have hope. I feel I am a channel, partnering with Him," Pinky said. – RC, GMA News