Filtered By: Lifestyle
Lifestyle
WATCH
Chinese New Year dragon graces set of '24 Oras'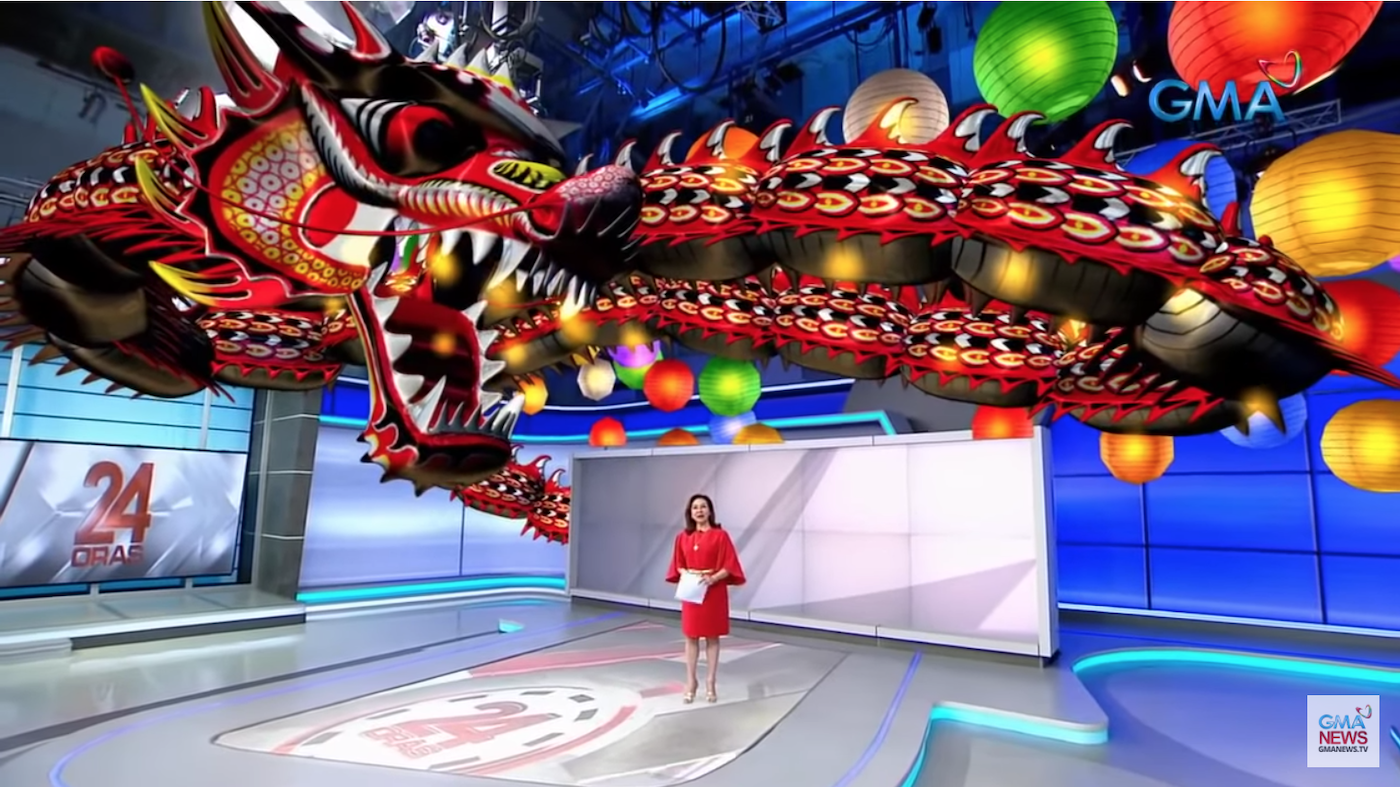 Viewers of "24 Oras" on Friday were in for a treat as the Chinese New Year dragon graced the set during Mel Tiangco's report.
While she gave the introduction on the segment about the hushed celebration of the Lunar New Year in Binondo and Pasay City, an animated dragon swerved across the set and colorful lanterns were seen near the ceiling of the studio.
Just before Mel segued to Tina Panganiban-Perez's live report in Pasay, the dragon stopped its dance, its huge face close to the anchor.
Many social media users were amused by the scene, with some of them comparing Mel to "Game of Thrones" character Daenerys, the "Mother of Dragons" in the series.
For John Patrick Pineda, for instance, he said: "Daenerys can choke. Mel Tiangco the new mother of dragons."
Others, meanwhile, said the veteran journalist was either a firebender from "Avatar: The Last Airbender" or the real fairy of the Dragon Flame from "Winx Club."
Mel Tiangco: Dracarys!!! pic.twitter.com/rljz3jTObS

— Elmo (@elmoswooorld) February 12, 2021
Mel Tiangco be learning firebending soon pic.twitter.com/iTbOhDIDqe

— ces ? (@_felixfelices) February 13, 2021
Mel Tiangco as Bloom, the fairy of the Dragon Flame. ????? https://t.co/rtSiZLStj4

— Heighdrinn Neil (@NheyyyGopez) February 13, 2021
Mel Tiangco of the House Targaryen, First of Her Name, Queen of the Andals, the Rhoynar and the First Men, Lady of the Seven Kingdoms, Protector of the Realm, Queen of Meereen, Khaleesi of the Great Grass Sea, the Unburnt, Breaker of Chains and Mother of Dragons. pic.twitter.com/9X4lnd6Aqr

— Atty Marlou Mendoza (@Malooooong) February 13, 2021
According to GMA vice president for news programs and specials Michelle Seva, they came up with the idea to use state-of-the-art simulation to create "a dragon dance inside the studio for the Chinese New Year."
"This is in line with our objective to come up with elements to spruce up the newscast and make news presentation more attractive," she said.
"I thought a virtual dragon was a good idea because of all the restrictions of COVID in the celebrations."
The GMA VP said the visuals were executed by a talented graphics team, director, studio cameramen, and visual immersive operator.
"So it really takes a village, starting with an idea or concept, visualization, GFX creation, studio plotting and execution."
When the Taal Volcano erupted last year, Mel also became a trending topic after the "24 Oras" set transformed into the Taal Lake, with the volcano right beside the anchor.
Many people found it hilarious and said they were concerned that Tita Mel was "stranded." – RC, GMA News