Filtered By: Lifestyle
Lifestyle
Late gallerist Norma Liongoren honored by daughter Hannah at Art Fair Philippines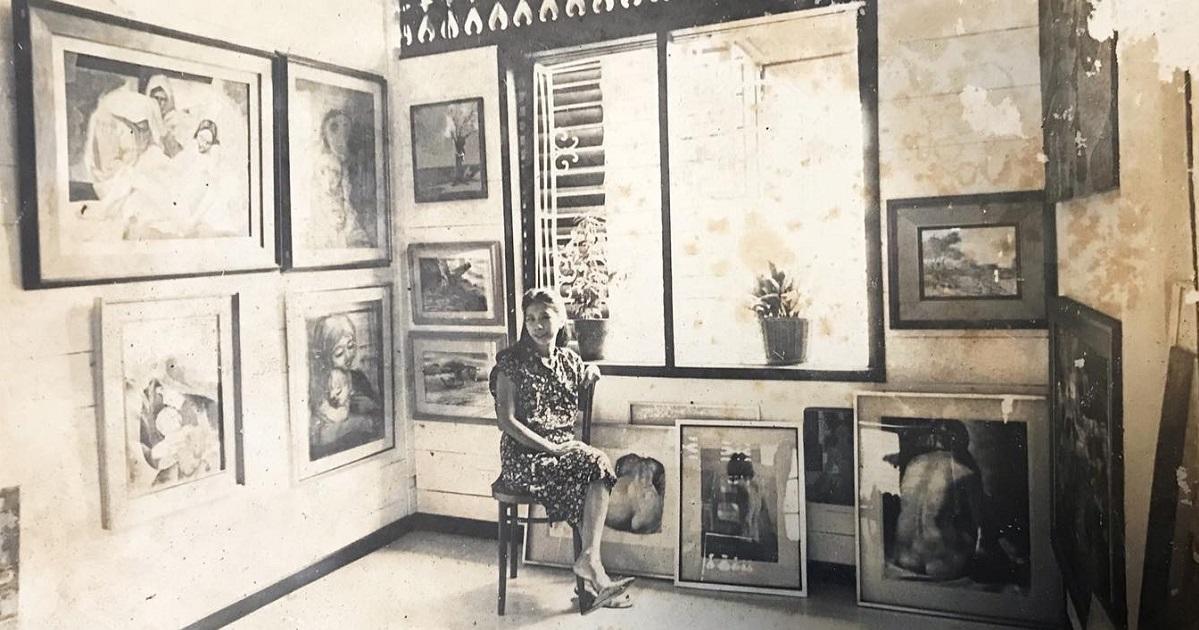 For the first time, Art Fair Philippines has tributes to honor two late art world personalities: Norma Crisologo Liongoren of Liongoren Gallery and Albert Avellana of Avellana ArtGallery.
Norma Crisologo Liongoren's tribute was curated by her daughter, Hannah Liongoren, who is a United States-based illustrator and designer, who does exhibition design.
To put together the tribute for her mom, titled, "Norma Liongoren: Reading Between the Lines," Hannah had to find a way to navigate the artworks since most of them existed before she was born.
"You have all these works of art and the main author, which, in this case, is my mom, is no longer there," Hannah said, "You have the art there as a point of reference, but you don't necessarily know what the intent is, right? Or what the narrative is of those artworks."
"You can only base it off memory and then, you can also ask people around, but it's no longer—it's not going to come from the person who acquired them, you know, or the person who was the main steward of these works. So, the concept, when it comes to the tribute show, is just this analysis of how do you navigate—like, from my lens, from my perspective, as the person who is reading between the lines, basically, how can I tell my mother's story based on the works that [were] left with us?"
The tribute is anchored by portraits of Norma in the nude and as a pregnant woman by her husband Alfredo Liongoren and family friend Danilo Dalena, respectively. Made ten years apart, the nude drawing was sketched immediately after the birth of Erik, her first child, in 1975, while the portrait by Dalena was painted while Hannah, the youngest, was still in her mother's womb in 1985.
Hannah said Dalen's portrait of her mom while pregnant with her is very personal, as Dalena is her godfather. She also grew up with the piece on display in their living room.
"It gave me a sense of identity, almost, because it showed a pregnant version of my mom that I never got to see as someone who is the youngest in the family, right? I never got to witness her as a pregnant woman, and it just so happened, there was this, like, glorified version of her as a pregnant woman," she said.
"I think that's the byproduct of seeing portraitures of yourself and your parents—you get to think about your history, and I think, pay attention and be mindful of that—those datapoints in your life," she continued.
"The pregnant portrait—it's an amazing privilege to see a version of your mother at a point in her life that she's celebrating, and it just so happens that you're inside. It's like a window to a period in time that's recorded in this form."
Hannah also said that the tribute is composed of her mother's seminal work.
Some of Norma's seminal projects include the "Walong Filipina" exhibition series (1991-2016), Larry Alcala's "Slices of Larry's Art" (1995), "Manikako" (2009), and National Artist Victorio Edades retrospective "Edades: From Freedom to Fruition" (2011).
Norma's non-art background as a nurse, a research assistant at the then Population Center Foundation (now the Philippine Center for Population and Development), volunteer work for the NAMFREL during the 1986 snap elections, and various social and political work are experiences that informed how she ran the art gallery as its matriarch and designated "midwife of art" by her peers.
"She's very unconventional as a gallerist," said Hannah. "If something moves her, she's known to help. She's very responsive to whatever calamity is happening in the Philippines and trying to solve problems head on."
"She does a lot of fundraisers for people and for NGOs using her platform," she said, adding that 100% of the proceeds went to the beneficiaries.
Hannah also shared that some of the people her mom helped were cultural workers, like a University of the Philippines professor who needed funds for her cancer treatment and a sound artist who was in a vehicular accident.
During Typhoon Yolanda, she said her mom even took in affected families and provided them with shelter inside the gallery.
"She felt compelled to go and adopt families who lost their homes from the typhoons and so, we had 20 people in the gallery. It's that head-on in terms of solving the problem," she said, adding that it's "almost like the urgency that arises from her" and "this idea of care in the moment is very, very strong."
In addition to helping people, Hannah said her mom also advocated for Filipino culture.
"It really is multifaceted, the way her brain works, you know, as much as she can, she would find ways in championing our local culture," she said.
For instance, Norma spearheaded "Malong ni Mama," a donation drive for survivors of Typhoon Yolanda in Guiuan, Eastern Samar. They went the extra mile to make the relief packages sustainable with pieces of malong.
"You would also appreciate how much of the way she was an effort to care for a lot of things, a lot of problems and people in our community, which is, like, there's a lot of it. There's a lot of mothering that needed to be done," she said.
"That's the thing, I think, with our community, with us, here in the Philippines, you have to be all over to be able get the job done, and there's just one of her," Hannah said.
"If she can multiply herself, she would want that," she added. "She wanted to do it all."
—MGP, GMA Integrated News