Filtered By: Lifestyle
Lifestyle
KC Concepcion's closet fights child hunger
Have you ever wanted to own an authentic Hermes sac or a Prada bag? Log on to Ebay.ph and visit KC's online closet where Megastar daughter and actress KC Concepcion is auctioning her pre-loved designer bags for a bargain price.

For shopaholics and designer lovers, this is guilt-free shopping at its best. KC is the Philippines' Ambassador against Hunger for the United Nation's World Food Programme (WFP), and all the proceeds from KC's Closet Fights Child Hunger will benefit the WFP's Emergency Food for Education Initiative. This means every peso you pay will help feed school children in conflict-affected areas of Mindanao. The charity auction includes items such as bags and dresses that carry a sentimental value for the young star. Among the first items auctioned were a red dress she wore in one of her mother's concerts, a multi-colored dress that she wore the first time she was interviewed in an entertainment talk show, and some of her favorite bags. "These are clothes that have been worn (just a few times to events) or TV appearances," KC says. The virtual store is hosted by Ebay Philippines, the local arm of the international Ebay online marketplace, where thousands of people buy and sell goods everyday, mostly at marked down prices. Unlike most Ebay fashion stores though, KC's closet features high–ticket items with four- to five–figure starting bids. But if you're an avid shopper (with an altruistic heart), you'll see that you're still getting the items for a bargain while helping fight hunger for thousands of children.
What is the United Nations World Food Programme?
---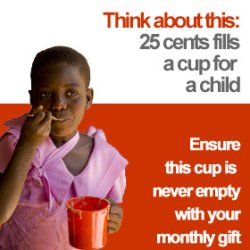 ---
- The World Food Programme is the world's largest humanitarian agency dedicated to fighting hunger worldwide. - Started in 1962, the organization specializes in getting food to where it is needed most, such as areas affected by war or natural disasters. - The WFP is funded entirely by donations - The WFP's goal for 2010 is to give more than 90 million people in 73 countries the food assistance they need - Aside from KC Concepcion, WFP's Ambassadors and Partners include Drew Barrymore, Sean Connery, Rachel Weisz and Penelope Cruz. World Food Programme 5/F GC Corporate Plaza 150 Legaspi Street, Legaspi Village, Makati City +632-7502561
www.wfp.org
*Photo from
WFP Facebook page
KC's favorite orange Hermes bag is up for grabs with a starting price of P30,000. If you know your designer numbers, the bag is definitely a steal, with Hermes bags ranging from $1,000 to $4,000 (roughly P43,000 – P172,000) apiece. Be warned though: you'll have to outbid 10 or more potential buyers who are willing to pay more for the same item. Since the bag was auctioned last April 28, the price has jumped from P30,000 to P98,000. Prada bags usually retail for $1,000 - $3,000 but at KC's closet, you can get your hands on a chocolate brown Prada bag for a fraction of the price at P27,000. If no one else outbids you, that is. In case you have a smaller budget but still want to shop and donate, you can take a pick from KC's lower-priced bags from local designer Aranaz or branded dresses and tops which are mostly below P10,000. Items are usually put up for auction for 10 days, which gives more time for people to bid and for the amount of donations to go higher. A WFP Ambassador since 2008, KC has been helping fund WFP initiatives in Mindanao. Stephen Anderson, WFP Philippines Country Director and Representative, is grateful for KC's efforts to promote the program. "Of course, because of her celebrity status, she can give a voice to the people and she can talk about the cause. She can be very outspoken in a positive and proactive manner. For us, it's been a very positive experience and we're very proud of her dedication," says Anderson. "We hope that this will be a very successful initiative and certainly I can say that the proceeds from this are going to a good cause." The WFP's Emergency Food for Education Program currently supports around 70,000 children in Mindanao. "It makes a big difference for (the children) because they're living in conflict-affected areas where it's harder for them to remain in school, not only because of the conflict but because of the poverty. (Providing meals in schools), helps attract (the children) to school and keep them there," Anderson says. "This is a proven intervention worldwide and we're very excited that (KC) is our number one advocate," he notes.
– JBG/YA, GMANews.TV
Raid KC's closet and fight child hunger at http://www.stores.ebay.ph/KCsClosetFightsChildHunger