Filtered By: Lifestyle
Lifestyle
Theater review: Why 'Haring Lear' moves
There was no way to end watching "Haring Lear" for me but in tears, which is to say I got lost in this adaptation more than I would any other theatrical production, which is to say if the goal of this version of William Shakespeare's "King Lear" was for it to echo familiar in these current times, then it can only have succeeded. Granted that this might be precisely the reason for its failing, for it to be deemed not tragic enough, or an adaptation that ends less powerful than it should. But much might be said about the visceral, the gut, the way in which what unfolds on that stage grabs at you by the neck, and carries you from one end of the narrative to another. You do not kick and scream.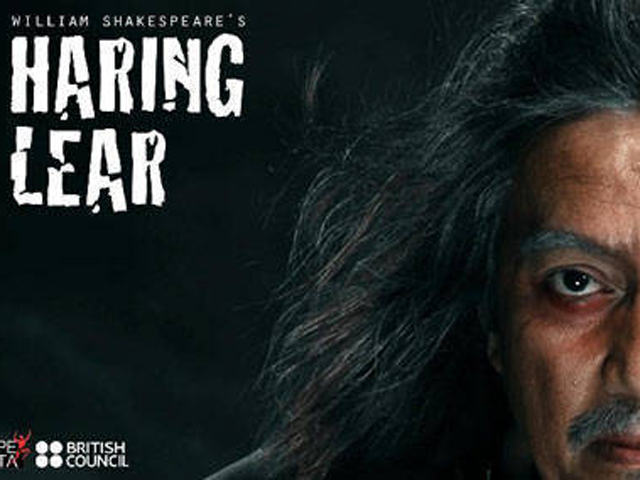 It's difficult after all not to be enamored by that stage to begin with. Looming large and dark with drama instead of dreariness, that set is able to capture notions of royalty and its undoing, without grand displays of wealth. In fact it renders this space familiar to some extent, like those epic koreanovelas unfolding before your eyes, men in skirts included. Make that hot men in skirts. Yes we got costumes that work, and makeup to boot, without losing the thick layer of macho that's here. Welcome the sexy in Shakespeare. Which is also what kicks in about this Tagalized "King Lear." There is a layer of sexy in the Filipino that's used here, where there is surprisingly no need to adjust to a particularly different theatrical (which is to say deep and difficult) Tagalog, or to the British accent expected of the Shakespearean drama. Where the shifts from Filipino to English and back is done as a matter of course, fluid and with nary an uncertain bone, also taking the audience on that ride without question. In this sense this translation is adaptation is retelling; in that sense right here is Shakespeare undone, redone, reconfigured so we might own it as ours, if not do it one better. We owe this gift of a translation to National Artist Bienvenido Lumbera. And we owe the fact that this adaptation works to a set of actors that do not lose it at any point, even as there's a crazed absurdity to this narrative lending itself as it does to references to current times. Where violence and death is a dancing barely-clothed male snuff artist, and the fool as puppet is also crazed conscience who is therefore the most rational voice of all. Where Edmundo and Edgardo engage in a fight scene that is more choreographed wrestling than anything else. Where rain and forest and the natural world are symbols turned on its head in the task of rendering the King's turn to insanity. Where the conditions that surround Gloster's wish to die, is funnily controlled by the false insanity of Edgardo. Where the all-male cast forces the audience to get over its preconceived notions of gendered roles, and deal with the fact of woman in the three children of Lear. Which brings us to praising in no uncertain terms Nor Domingo, Garry Lim and Abner Delina Jr., playing Lear's daughters Goneril, Regan and Cordelia respectively, where their first foray onto that stage was already revelation of the weight of their characters. Domingo's and Lim's Goneril and Regan do foreshadowing like no other, where the grand words of love for their father happen with eyes already speaking of the vile and vicious that's coming. Delina who also plays the fool/puppet must take credit for being lithe and light on that stage, where he is the swiftness in insane thoughts, the ironic voice working with necessary frenzy. The counterpart of sorts for Lear's daughters are Gloster's children Edmundo and Edgardo, here played by Jay Gonzaga and Myke Solomon, here two differing and different machismos, both familiar for their fire and fury. Here Solomon would seem to have the more difficult task not of playing the fool, but of doing naiveté – all the more difficult with the smoldering sexy he does like the back of his hand. Which of course might be said as well of Gonzaga – the smoldering sexy, I mean – but at least Edmundo's character requires that layer of lust and desire. Jack Yabut's Gloster here is made out to be a version of Lear, like two sides of the same coin of fatherhood, of suffering in the face of being betrayed by one's children. Yabut traverses that line drawn from being powerful patriarch to being fooled father, that by the time he is deemed foolish by his real son Edgardo for wanting to commit suicide, all of it makes sense as part of this character's (d)evolution, where the son he thought was a threat to him turns out to be the one who saves him. Then of course there is Teroy Guzman as Haring Lear, who begins with the old and ends with the powerful, who starts off as the King and ends up dying as father to Cordelia. In between, Guzman reveals a Lear that is not so much (d)evolving into insanity, as he is just shifting towards it as a matter of course, as if it is exactly what's expected, as if it is his most logical evolution. Instead of cowering in fear or getting lost in confusion, Guzman's Lear is one that struggles in his fall from grace, and here is its gift: he is not weakling in the conventional sense, as he is one to kick and scream despite the inevitable outcome. Here is how Guzman is able to take us by the hand through Lear's psyche, walking through storm and natural calamity, and you don't want him to let you go. He comes out of it more sane – more real – than any of us. This Lear is by all counts quite awesome. This production even more so. All things considered I forgive what might be seen as the forced layers of nationalism here, I forgive its references to contemporary notions of power and empowerment, oppression and corruption, I forgive whatever uncomfortable laughter it invoked in the audience. Because right here is a production that's larger than any of those things, precisely because it references and refers to us, as audience and spectators, ones who cannot just be watching, removed and distant, but necessarily engaged and involved in a narrative written by Shakespeare in the 1600s, but is about third world Philippines in the year 2012. That to me is a feat in itself, one that director Nonon Padilla must take credit for. Of course I am first to admit: I enter the theater ready to be surprised, sometimes to my own detriment when I find it involves blood spewing out to the audience and I'm in a pretty dress. Save for those, uh, hazards of the trade, I find this sense of surprise to be crucial to my spectatorship of theater and any other art form for that matter, as it allows for what unfolds to have a life of its own, extraneous to what my expectations might demand of it. Of course in the case of "Haring Lear" it could only be expectations exceeded, complete with a clutched heart and tears streaming down one's face while singing "Lupang Hinirang." Oh yes, here is where it ends for this adaptation. And in the hope of a repeat of this play happening sometime in the year, it seems fair not to spoil it more than I already have.
— KG, GMA News
"Haring Lear" was directed by Nonon Padilla and translated by National Artist Bienvenido Lumbera for the Philippine Educational Theater Association (PETA), with production design by Gino Gonzales, costumes by Mila Estadilla, Arlene Crisostomo and Rene Cubar, makeup by Ricci Chan. Performances were held at the PETA Theater from Jan. 27-March 4, 2012. Katrina Stuart Santiago writes the essay in its various permutations, from pop culture criticism to art reviews, scholarly papers to creative non-fiction, all always and necessarily bound by Third World Philippines, its tragedies and successes, even more so its silences. She blogs at http://www.radikalchick.com. The views expressed in this article are solely her own.