Filtered By: Lifestyle
Lifestyle
Homeschooling as an alternative to sending kids to school
Mainstream education in the Philippines has been around for more than a hundred years. The idea of sending your child to a conventional school has been so ingrained in our psyche that schools are normally considered students' second homes, while teachers take over as parents inside the classroom.
By the time children start to walk and talk, parents start to canvas for the most reputable school that will raise them best, and one they can afford at that.
But a new movement led by the Homeschooling Association of the Philippine Islands (HAPI) is changing the landscape of education by advocating homeschooling in the Philippines. Established in 2009, HAPI is an organization composed of homeschooling families, as well as various accredited schools who offer home school programs.
Its chairman Edric Mendoza quickly clarifies, "Homeschool is different from home study." Home study is schooling supervised by a teacher or a tutor who drops by a student's house.
"Home school, on the other hand, is a form of education where the parent is the teacher and the child is the student," Mendoza says to distinguish the two forms.
HAPI believes parents have the option and capacity to educate their children themselves.
Mendoza adds, "the challenge for all of us is that the school system has been there for a while, so we think by default that it is not our job to do it for our kids. So you know what, we need to dispel the idea, that we need a school to do the teaching for you."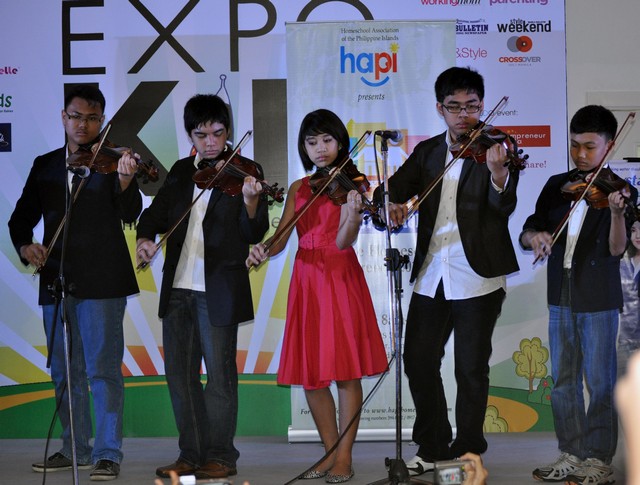 Homeschoolers with their impressive musical rendition during the HAPI press conference at Expo Kid 2012. Photo courtesy of HAPI
How it works
Homeschooling has two existing movements. At the other spectrum is the loosely structured homeschooling, where basically everything goes. There are no rules, like teaching music for a whole year, or finishing grades 1 to 5 in two years. At the other side of the pole is the highly-structured homeschooling. It can go as extreme as a parent that simulates the classroom experience with a desk, blackboard, flagpole, even uniforms and IDs as teacher and student.
HAPI advocates homeschooling in the middle of the spectrum, where parents enroll their kids in existing schools with home school programs accredited by the Department of Education.
Examples of these accredited schools are The Masters Academy (TMA), Kid's World, and Heritage Academy.
"There are assigned consultants who will literally walk you through the entire program. Some are hands-off where they will show you the materials you can use. Then you can just check with them from time to time," Mendoza says.
It will be up to the parents to create the schedules and teach their children according to the curriculum. As far as parents are concerned, the classroom can be anywhere—whether at home, at the playground, coffee shop, wherever they feel they can teach their kids.
A homeschooling father himself, Mendoza shares a typical week in his nine-year-old son's homeschooling: "Typically, we cover three academic subjects a day: Monday to Friday for Math and Science, Tuesday and Thursday English, Filipino and History."
Since they are not confined to a typical school's 7 a.m. to 4 p.m. schedule, homeschoolers usually devote their mornings to academics, while afternoons are for extracurricular activities, like theater and sports.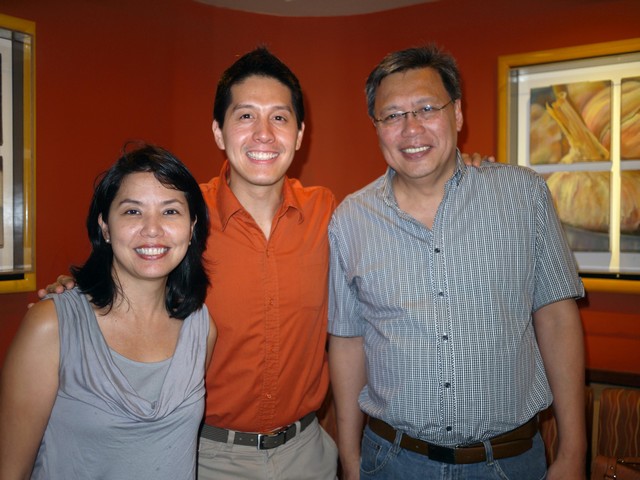 HAPI homeschooler parents (L-R): Bambi Lozano, project coordinator; Edric Mendoza, chairman; and Gerry Argosino, president. Photo by Alina Co
Time and commitment to homeschool
Homeschooling, however, would be a big feat for parents who both work full-time. One parent has to devote his or her time to oversee the education of their children.
Though difficult, it is not altogether impossible, HAPI's Project Coordinator Bambi Lozano says. She works full-time for HAPI, while homeschooling her nine-year-old daughter.
"There are no words to describe how hard it is. Sometimes it gets…," Bambi clutches her head, pulling her hair to complete her sentence with a laugh. She definitely has her hands full, but is thankful to be working in a home school environment that supports her.
"What I do is I bring my daughter to work and find time to teach her there," Lozano shares.
But all the craziness and hectic schedules aside, at the end of the day, these parents reap the fruits of their hard work.
"Parenting your kids 24/7 is no joke, but it is very rewarding. I realized when raising my four kids, I have only one shot at parenting, and one shot at being the main influencers in their lives," Mendoza says of his experience in both raising and educating their kids.
For Lozano, the bond that forms between the parents and the children is priceless.
HAPI hopes to encourage more parents to homeschool their kids.
"The misconception is that homeschooling is for the celebrities, for kids who are sick, or it's only for those who can't afford good schools. HAPI is succeeding to clear the air and letting the Filipinos know homeschooling can be for everyone." –KG, GMA News
On May 19, HAPI will hold the 4th Philippine Homeschool Conference 2012 at the 5th floor of St. Francis Square, Ortigas Center with the theme "Laying a Strong Foundation." Visit www.hapihomeschooler.com for more details.