Filtered By: Lifestyle
Lifestyle
Martha Atienza's three-screen story of the sea
(Updated 8:05 a.m., August 14)
- It was almost certain to me that Martha Atienza, the Filipina-Dutch experimental filmmaker and visual artist, would be
one of the three winners
of the Ateneo Art Awards 2012, together with Riel Hilario and Maria Taniguchi. She was given residencies in La Trobe University, Australia, Artesan Gallery in Singapore, and in Liverpool in the UK. The story of her work, "Gilubong ang Akon Pusod sa Dagat (My Heart Was Drowned in the Sea)," an experimental film/video art installation projected on three screens, starts with her father.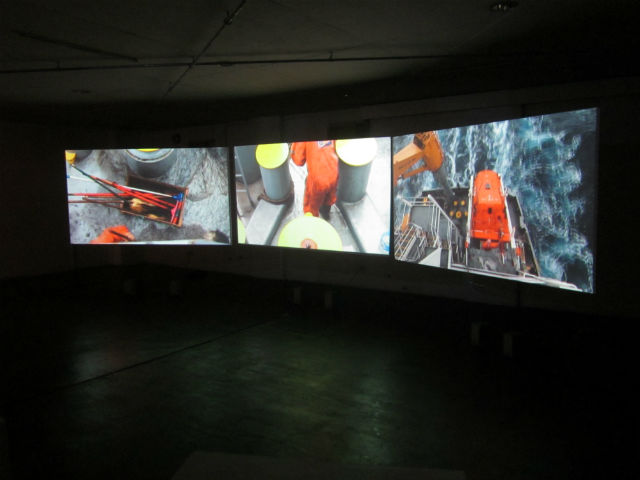 "Gilubong ang Akon Pusod sa Dagat (My Heart Was Drowned in the Sea)" starts with the artist's sea captain Cebuano father.
Atienza's father was one of the first seamen from Bantayan Island in Cebu province. Most of the menfolk derive their livelihood from fishing, and Atienza's work juxtaposes the lives of fishermen and the seafarers from the island. (Her brother, who works on a barge in the Netherlands, appears in the film.)
She cites her family legacy and her time abroad in Rotterdam as an inspiration. "The work has been building up in my mind for years," Atienza says. "It feels like all my work before this has been in preparation for this. I have always been obsessed with reality, as if I could not let the moments pass without keeping them forever by capturing them with a camera."
Atienza studied at Brent International School Manila and the AKI Academy of Arts and Design in the Netherlands, and during her post-secondary studies, she worked on two early film projects. These dealt with her connections to her dual heritage.
"I filmed on the riles in 2003 till 2006, every year that I came back to the Philippines from Holland," she says. "I was obsessed with the idea that people's lives were interrupted every 20 minutes by a train passing through their space." She saw how their lives contrasted with the not-so-far-away business world of Makati. One version of her Riles project available
online
is a three-screen one, similar to the present work.
The other project involved her Dutch great-aunt, whom Atienza visited every Sunday until the aunt passed away in 2006.
She originally wanted the videos to be for her memory. "The nurses at the old people's home were suspicious of me," she recalls. "They didn't believe that we were family, she being a Dutch lady, and I being a mix of Dutch and Filipino having partly grown up in the Philippines. I was interested in our difference in cultural background, and our huge generation gap (she [being] a 90-year-old and me being in my mid 20's)." The camera was running in the background while she went on her normal visits, and the result of this was an intimate glimpse at an encounter between generations entitled "Passage."
Story of her parents
But it was the discovery of 8-mm film clips shot by her parents, back when her father was a sea captain, that spurred her on the journey that resulted in "Gilubong." "What was once a story in my mind became real and my thoughts wandered to solve the mystery of understanding my parents, and specifically my father whom I do not know so well," she says.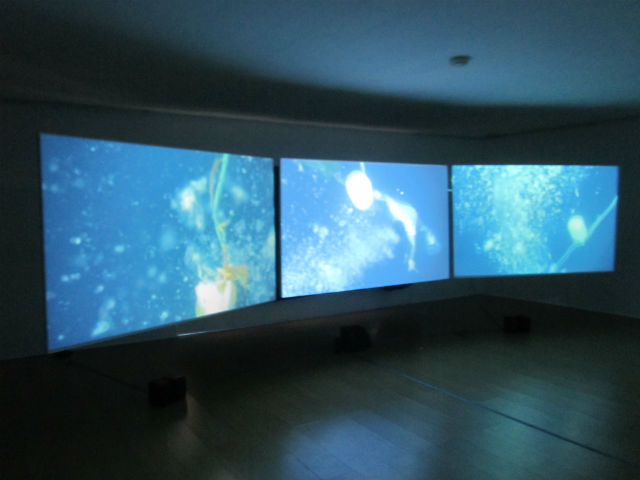 Filipina-Dutch experimental filmmaker and visual artist Martha Atienza turns to her roots in "Gilubong ang Akon Pusod sa Dagat."
Atienza was the cinematographer for experimental filmmaker John Torres's 2009 film "Revolutions Happen Like Refrains in a Song," and she has also documented, among others, the Philippine government's negotiations with the National Democratic Front in the Netherlands.
In 2010-11, she undertook the process of filming "Gilubong" in her hometown of Madridejos on Bantayan Island, on a cargo vessel traveling through Southeast Asian ports, and on a riverboat (in Dutch, a binnenvaart), among other locations. (The project was made with funding from the National Commission for Culture and the Arts and the private foundation Office of Culture and Design.) It was in the process of filming that she discovered that the contrast between seamen and fishermen could become a source of fruitful dialogue.
In large part, making the film/installation eventually involved the community. A six-month series of dialogues and screenings spurred lively discussion, also drawing attention to issues that not only focused on the disparity in income between seafarers and fisherfolk.
"Many topics came out," she recalls, "[including] a generation growing up without fathers, the impact of the damage to the environment especially the sea (it being the main source of income on the island), money issues, and the reasons why there is [discord] within the community." In a sense, Atienza is proud to say, "We all made this together."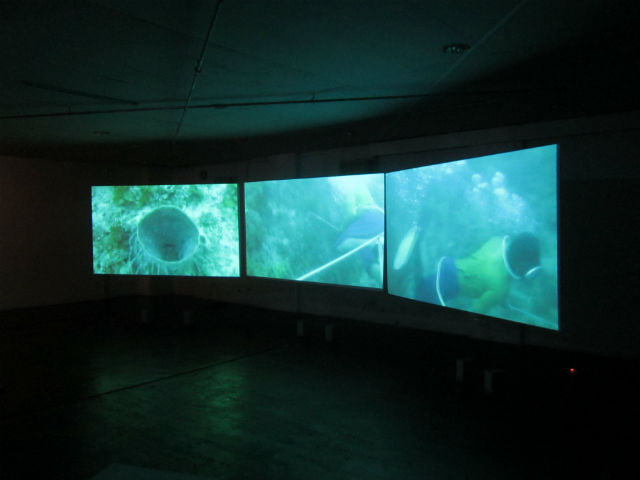 The experimental film/video art installation had its "world premiere" on Bantayan.
The installation had its "world premiere" on Bantayan, where groups Atienza previously got together gathered to watch the film and react to it. Not long after, Atienza was invited by the organizers of the Cinemarehiyon Festival, which in 2012 was held in Bacolod, to include her installation in the video art segment of the NCCA-sponsored event. Lisa Chikiamco, who is Atienza's curator, recalls that "people were coming up to us and telling us that this was one of the best things they saw at the festival."
It was brought to Manila where, one quiet afternoon in April, she finally had the chance to show the film to a small number of guests, including her father. As it apparently was on Bantayan Island, the discussion was lively. It was the first time, her father admitted, that he had seen any of her work.
There are plans to bring the installation to Rotterdam, where some of the footage was taken, and where, she told GMA News Online, a large number of Filipino seafarers are based.
Atienza will have the chance to travel again as part of her Ateneo Arts Awards win. However, the journey that she took to make "Gilubong" may have been, so far, the most fruitful she has ever undertaken. "[This project is about] finding the answers to all the questions I have about my father and the Philippines, and about understanding the people of Madridejos." –KG, GMA News