Filtered By: Lifestyle
Lifestyle
Martial Law fashion: The Imeldific and the Third World look
Imelda Romualdez Marcos has been known for her beauty, elegance, and sense of fashion.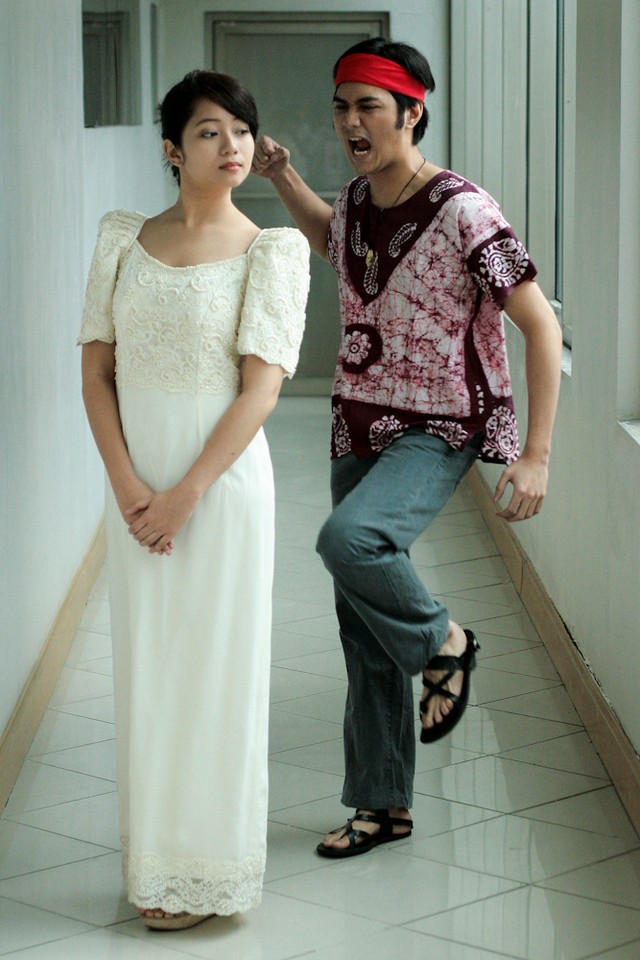 During the Marcos regime, First Lady Imelda Marcos went about town in a butterfly-sleeved terno, perfectly coiffed hair, and designer shoes. Activists, meanwhile, would march on the streets in batik shirts, jeans, red bandanna, and strappy step-ins. Photos by Roehl Niño Bautista
Ever since her husband Ferdinand Marcos became President in 1965, she would attend events with perfectly coiffed hair, delicately tailored modernized terno, Givenchy or Chanel shoes, and dazzling diamond jewelry. For charity work, she would be in heels, and wear silk, cashmere scarves, pearls, and big sunglasses.
"Never dress down for the poor. They won't respect you for it. They want their First Lady to look like a million dollars," Imelda reportedly said, as
written
in Beatriz Romualdez Francia's book "Imelda: A Story of the Philippines."
Truly, the term Imeldific wasn't coined after her for nothing. Excessively dressing up is her normal on-the-go look.
But this was in stark contrast to the way most Filipinos dressed during the Martial Law years. Many Filipinos went for comfort dressed in bell-bottom jeans, Bang Bang pants, strappy sandals, tubao kerchiefs, batik shirts, and statement tees, while sporting long hair a la Beatles.
The tubao kerchief is a handwoven ethnic cloth made in Mindanao with a colorful flannel pattern. It was traditionally used by the Maguindanao and Maranao ethnic groups.
During the Marcos regime, activists wore the tubao in different ways: as headbands to fix their hair, as covering for the eyes whenever authorities sprayed tear gas during rallies, and as covering for their faces to hide their identities, hoping to avoid being picked up by the military. Some also used the tubao as a scarf wrapped around their necks.
If it's not the tubao, it's a red, white, or yellow bandanna that activists wore to rallies.
Batik shirts were also part of the "Third World style" during the Marcos regime. According to
Expat.or.id
, the word batik is thought to have come from the word 'ambatik' which means "a cloth with little dots."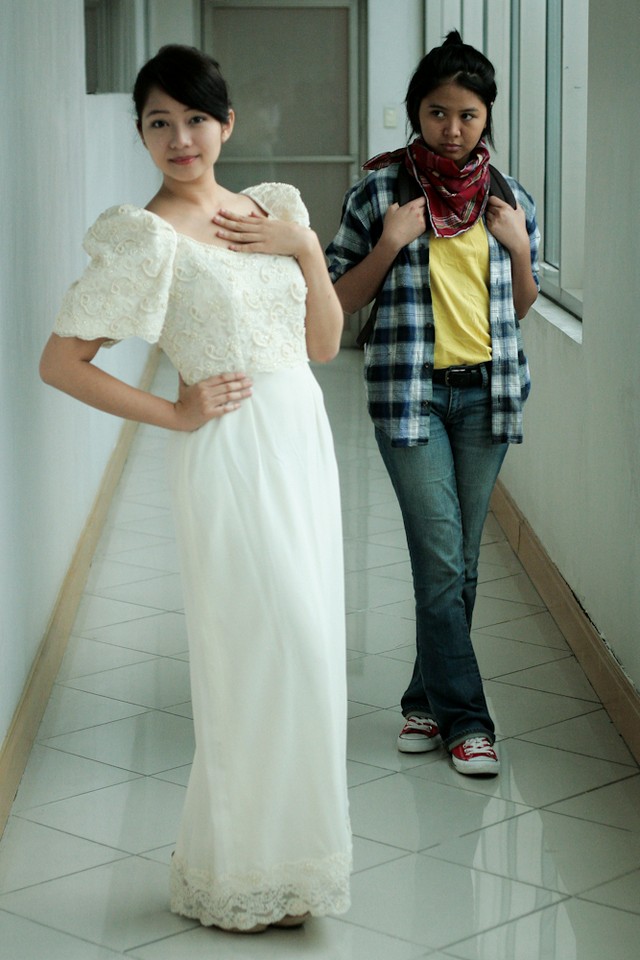 "Never dress down for the poor. They won't respect you for it. They want their First Lady to look like a million dollars." — Imelda Marcos
Batik shirts, usually tunics, were made using cotton or silk. They were usually dyed in different colors and showed intricate patterns.
During the 70s, batik shirts were cheap and the style was easy and perfect for the Filipino lifestyle. Many wore them every day pairing them with jeans, Chuck Taylors, or sandals.

Statement tees were also in vogue back then. They were just regular basic shirts with white dove prints, peace signs, and other anti-government signs that expressed activists' sentiments for the Marcos government.
3,000 pairs of shoes?
The world knew Imelda not just as the First Lady, but also as the woman who had lots of shoes.
"I did not have three thousand pairs of shoes, I had one thousand and sixty," she reportedly said, and this quote was included in the book "Nina Garcia's Little Black Book of Style."
In contrast, some Pinoy activists wore Our Tribe sandals, which are thick-sized leather step-ins. The straps on the sandals crisscrossed (not like the gladiators of this generation) and they are very comfortable.
Sneakers, mostly in canvas, were also widely used, as were rubber shoes, since the activists went for comfort as they spent long hours marching and attending rallies.
TFD necklaces, pasiking backpacks, and Imelda's stones
Imelda hated "ugliness."
"It is terribly important to do certain things, such as wear overembroidered dresses. After all, the mass follows class. Class never follows mass," Imelda reportedly
said
, as cited in "Ang Katipunan"'s October 1980 issue.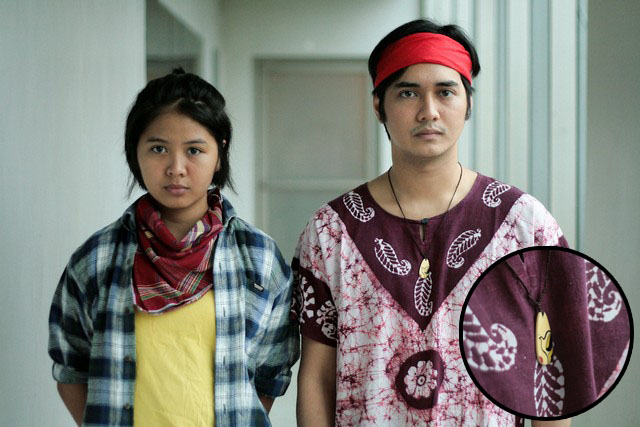 On Gelle: Some activists wore tubao kerchiefs in order to protect themselves and hide their identities during rallies. On Andrei: The TFD necklace has a white dove that represents freedom and also has a quote from the Bible at the back.

While Imelda wore genuine gems and diamonds, activists would proudly wear their Task Force Detainees (TFD) necklaces during imprisonment. It's usually a braided necklace with a guitar pick-like wooden pendant, made by detainees behind bars.
TFD necklaces were very symbolic during Martial Law because the pendants have symbolisms like the white dove, peace sign, and anything that says freedom from this suffering. At the back of the pendants were quotations from the Bible or famous peace quotes.
During that time, the pasiking backpacks were very iconic as well. They're made from rattan and originated from the Igorots of Cordillera Valley. The Igorots used the pasikings as baskets for their vegetables and other things.
Some citizens during the 70s used pasikings as a form of support for the indigenous people. Activists brought them to rallies with much pride. –KG, GMA News