Filtered By: Lifestyle
Lifestyle
Theater review: Restraint and resonance in 'Walang Sugat'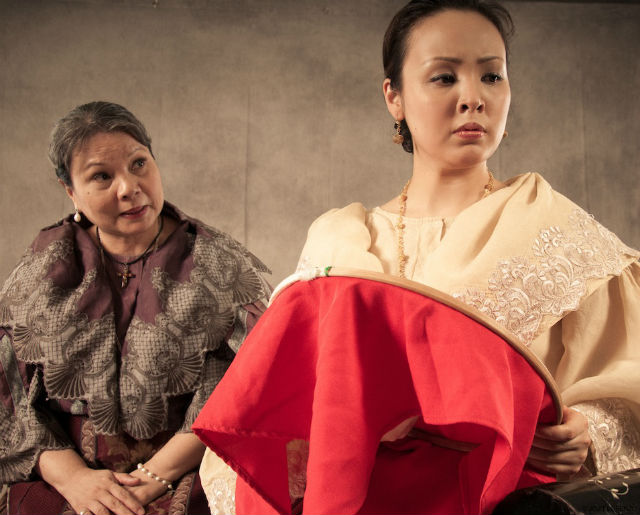 When you are promised a contemporary version of an old theatrical text, especially when it is of and about the past, you enter the theater with wariness. And especially for something like "Walang Sugat," a classic Severino Reyes sarswela written in 1902, this can only be a promise one takes at face value. This is after all set in 1896, its Filipino is the Tagalog of old, the kind that we strain to understand, its music more classical than anything else. Women are in baro't sayas, the men in camisa de chinos, they're all in sapatillas. The stereotypical story of forbidden love, layered with class disparity, within a time of revolt. It is not so much old, as it is of the past. Making it more current isn't a task for the weak, or for one without vision. The promise could just be an insistence on the past being important, full stop. The promise of contemporaneity meanwhile, is the one promise that's doomed to fail. Of course it is also rare that you have someone like Carlos Siguion Reyna at the helm of a production such as this. Suffice it to say that the promise is one that he keeps. So we are treated to the love story of Julia (Cris Villonco) and Tenyong (Noel Rayos), embattled to begin with because Julia's mother Juana does not approve and has practically betrothed her to Miguel (Gino Ramirez), son of rich Filipino Tadeo (Lou Veloso). They are also in the province of Bulacan at a time of revolution, a context difficult to ignore. Tenyong's father is killed at the hands of the friars, and the son expectedly joins the Katipunan to seek revenge, if not to survive: the lines are clearly drawn after all between enemy and friend. There is no in-between. The story, of course, is a familiar one. Yet there is still a pleasant surprise in the fact of this sarswela's lightness, its ability to begin with a courtship that's young and innocent on the one hand, and engage the audience in the seriousness of revolution and its repercussions on this young couple on the other. The narrative is swiftly told, and this is something that this production plays up even more, making it all the more engaging for this contemporary audience. That is, you are surprised by the modernity of the set by Tuxqs Rutaquio, a well-envisioned gathering of platforms of different heights that allows for the power structures within the sarswela to be visually represented by character movements onstage. Credit must also go to choreographer Nonoy Froilan, whose artistic take on the grand ensemble numbers remind one of revolutionary precision and movement-as-one, even as it navigates the complex set. And then there are Salvador Bernal's costumes, where the baro't sayas not only change with the times in the story, but more importantly are a merging of the classic and expected—pale colors, flimsy, lacey hems—and the deeper and darker, more modern versions. Credit must go as well to James Reyes, who did additional costume design, and who I imagine must have had much to do with the deconstruction of the saya—the skirt—which played with disparate prints and patterns that in the hands of the less talented would look like an uncoordinated crafts project. Instead, the baro't sayas here make you want to get those skirts and include versions of them in your daily wardrobe. Instead, you almost think this is the anti-saya, even as it keeps to aspects of it that are important to the narrative, like when Julia's servant Monica (Jennifer Junglaus Villegas) must unravel in it after a tryst with Lucas (Jonathan Tadioan), Tenyong's servant. It is in this sense that restraint seems to be one of the more crucial aspects of this production, seeing as it can technically go crazy with wanting to make this more interesting to a current audience and forget to keep the integrity of the original sarswela. You know that this production of "Walang Sugat" strikes the balance because its references to the issues of today don't startle you, neither does it remove from the original. Credit can only go to Siguion Reyna who dealt with the difficult task of refusing to sermonize about Spanish friars and the Pinoy Church, even when it would've been the easiest thing to do. Instead he treats us to skillful hyperbole, where you realize that while these friars are of the past, the exaggerated portrayals allow for these to echo in the present. Exaggeration is the name of the game, and given Jelson Bay's portrayal of Padre Teban, it is funny to the point of absurd, even as it works seamlessly with the Reyes original. Of course this is the gift as well of that cast, especially those in the minor roles. The, uh, mature flirtation between Juana and Tadeo works because it is in the hands of Manikan and Veloso, who are able to make it truthful yet absurd. The same goes for the courtship between the servants Monica and Lucas, where both Villegas and Tadioan do the right amount of current comedy without sacrificing the period within which the characters exist. Villonco is as expected en pointe, able to make Julia rebellious without being unthinking, woman in love without being forlorn victim. Her ability at believably matching playfulness with hard-headedness, innocence with astuteness, is what breathes life into a Julia that a contemporary female audience might learn from. Of course in that sense she outshines Rayos, whose accent and enunciation of the original Tagalog of Reyes was inconsistent, and delivered a Tenyong that was too leading man for comfort. Ah, but you forgive that, as you would instances when members of the ensemble had voices too weak for the music, and the moments of melodrama with the Philippine flag. Because the production itself is swift, you forget quickly enough, and can only be enamored by what unfolds on that stage, of the past as it is, yet resonating in the present for those who have heart for nation. Here is "Walang Sugat." Here is the Philippines in the year 2012.
— BM, GMA News
"Walang Sugat" is a sarswela with libretto by Severino Reyes, and music composers Mike Guison Velarde Jr., Fulgencio Tolentino and Constancio de Guzman. This production was directed by Carlos Siguion Reyna, with musical direction by Chino Toledo. "Walang Sugat" opened Tanghalang Pilipino's 26th Theater Season. Katrina Stuart Santiago writes the essay in its various permutations, from pop culture criticism to art reviews, scholarly papers to creative non-fiction, all always and necessarily bound by Third World Philippines, its tragedies and successes, even more so its silences. She blogs at http://www.radikalchick.com. The views expressed in this article are solely her own.
Photo courtesy of Tanghalang Pilipino.