Filtered By: Lifestyle
Lifestyle
Beyond Komikon: Young creators bring komiks to life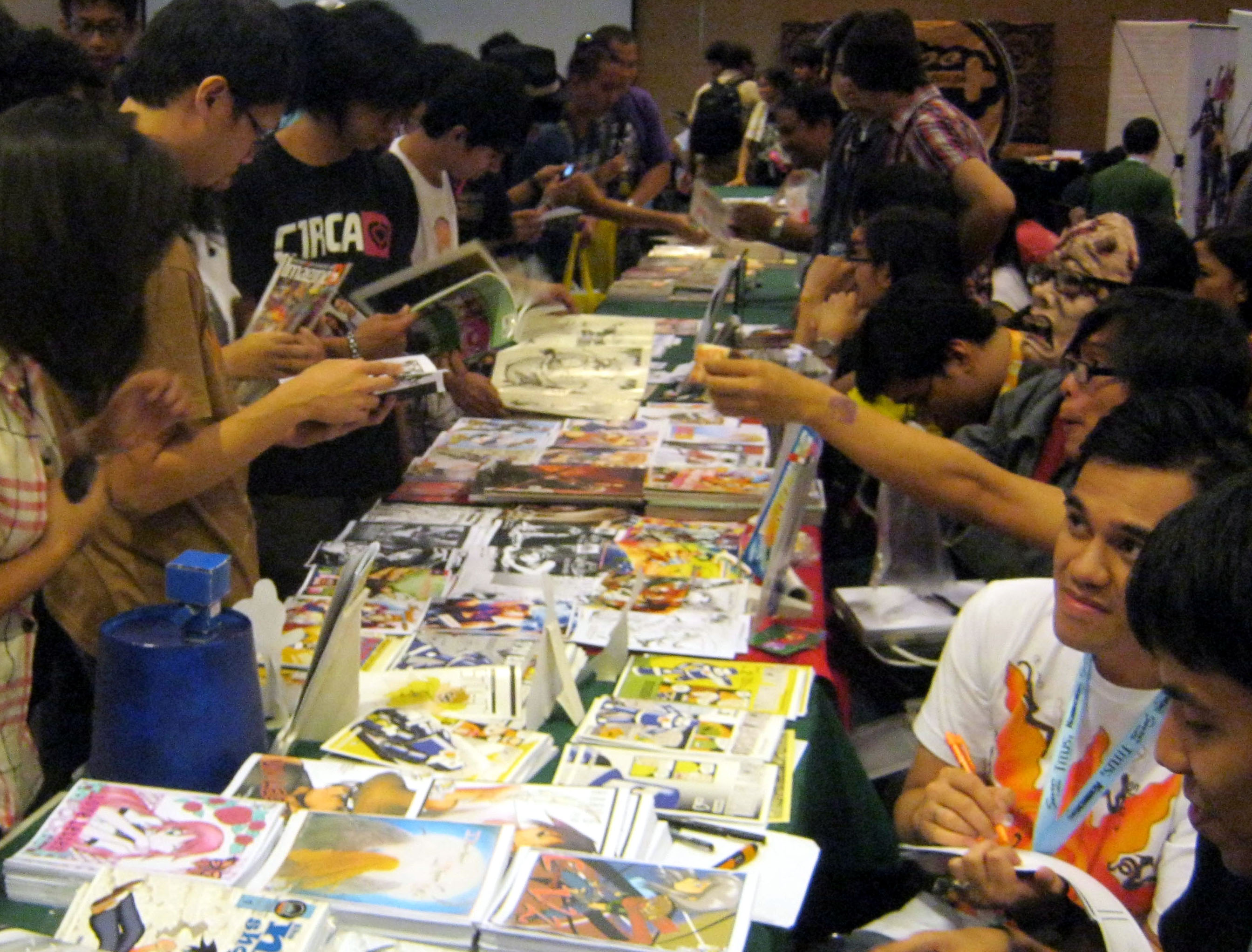 Fans of comics flocked to the Komikon 2012 at the Bayanihan Center in Pasig City Saturday to hunt for old issues and the latest published graphic novels. Earl Victor Rosero
The day of the dead may be approaching but there is nothing lifeless about the Philippine comics community. The big turnout of both fans and talented creators at last Saturday's 8th Philippine Comics Convention, popularly known as Komikon, is an indication that komiks, as a literary medium and an art form, is still breathing.
Media coverage always tends to go back to the Golden Age of Komiks, the heydays of Darna and Pedro Penduko on the newsstands in the 1950s. While it may be true that the current local comics industry suffers in comparison to the hefty revenues generated before by publishers Gasi and Atlas, the new generation of Filipino comic book creators is still a force to reckon with. With the help of technology, the upstarts combine their youthful creativity with online platforms that may make Mars Ravelo and other komiks legends green with envy.
Viral comics
Komikon special guest Dexter Soy is a fine example of how the Internet has leveled the playing field in mainstream comics.
Marvel Comics discovered Soy
when "Trese" comic book writer Budjette Tan tweeted his Thor fan art last year. This led to his break as an artist for "Captain Marvel," penciling and coloring its pages.
"I'm still finishing issue 8 and then my editor said they will give me a new title to work on," Soy said.
The artist draws comics from his home in Pangasinan, inspiring artists outside Manila to achieve their dreams in comics with the help of the Internet.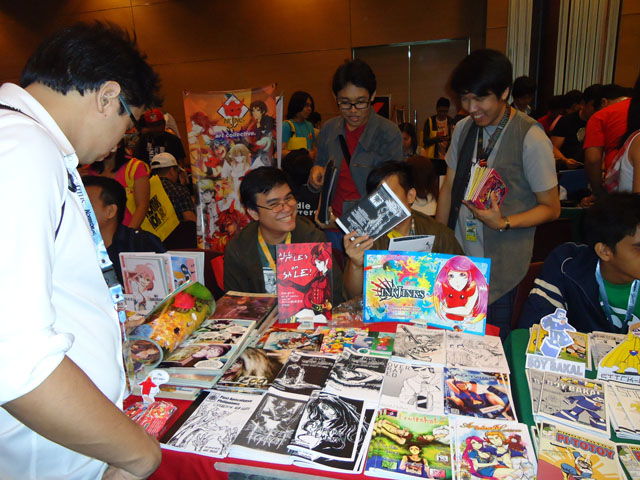 Young comic book creators are Komikon's stars. Jerald Uy
Rasel Reyes, a computer programmer from Cavite, for example, got his share of fame via his webcomic, "
Liga ni Likeman
." The semi-autobiographical strips revolve around Likeman, a guy dressed in a superhero costume whose only power may be "liking" Facebook posts that usually gets him into trouble.
Being a newbie in the indie comic scene, Reyes used Facebook to promote his comic book. "Medyo kinakabahan ako kasi first time ko. Nagpa-contest ako, 'share' our poster, at nagpa-raffle ng copy ng comics at keychain," Reyes said.
For "
Mama Nature Environmental Hospital
" co-creator Jether Amar, social networks can help reach a larger audience. In one day alone, one of their comic strips was shared more than 300 times. "Priority namin na mabasa ang comics namin. Sa tingin namin, mas maraming audience sa Internet," Amar said.
Web comics
"
Work in Progress
" illustrator Teddy Pavon, meanwhile, thinks comic creators should find ways to monetize their works.
"We don't have a problem in terms of creativity. I think the problem right now is how to convert that into something profitable kasi right now we are all experimenting in terms of styles and stories. We haven't been able to capitalize it in terms of like finding something to back it up. If we can find that, I think that will really be a big break," Pavon said.
"
M.O.U.S.E.
" illustrator Pilar Esber, on the other hand, believes that a quality web comic can still be profitable even if it is free. "It does not matter if traditional or digital. If there are many people who demand printed (copies), then print it," she said.
Esber also suggested adding a "donation" button on the webpage to offset the costs of creating comics.
Mobile comics
Local comics have also taken advantage of the touchscreen technology on mobile phones. Noel Pascual, writer of "
Crime-Fighting Call Center Agents
", said getting works out on these devices can help creators reach a greater audience.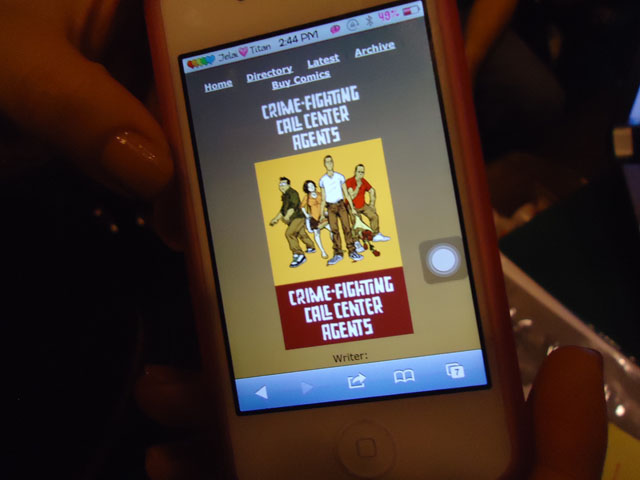 Mobile Comics: Crime Fighting Call Center Agents Jerald Uy
"We have this product pero nakakapagbenta lang kami tuwing may mga events like Komikon, which is great na may mga ganitong events. Pero minsan we were thinking na baka we can expand our reach by going digital, by having it out on mobile devices," Pascual said.
MobyToons.com, a digital entertainment portal, welcomes comic book creators to showcase and sell their comics through phones running on Android and i operating systems. Users can opt to read the comics for free by reading installments of a comic book title.
"We are particularly interested in supporting independent comics creators because nakikita ko na sila 'yung weak 'yung capacity to market 'yung comics nila. With this setup, they can sell all year round, 'di lang sa Metro Manila, kundi sa Pilipinas at maging global," explained MobyToons.com creative director Bong Modesto.
Digital comics
Creators of the hit Filipino-made manga "
Drop Dead Dangerous
" took their work to the global stage by having digital copies of their comics available on online stores DriveThroughComics, Graphic.Ly and Balloon'D. Writer Chad Cabrera said they took this path because they felt there were not enough websites locally to help showcase their works.
"You do not have a lot of options. It's easier for us to get into European and American websites that talk about comics. Mostly the old school way—you send it, they will put up posts," Cabrera said.
Komikon special guest Michael David is one of the first Filipino comics creators to have his comic books, the
Kubori Kikiam series
, made available on Kindle and Nook tablets. David's book was a subject of a complaint though when an author did not like his book's thumbnail image placed next to David's on an ebook store website and called the comic book "cheap."
"Napakamot na lang ako ng ulo," David said. He then imagined the author being told that he could view the thumbnails differently by setting the book titles in alphabetical order on the page. In this kind of situation, David would rather use his sense of humor rather than bicker with people who do not see comics as a legitimate literary form.
Ashcan comics
While many are going online and mobile, there are still a number of comic book creators producing quality work in ashcan or photocopied comics. There is Ace Enriquez's "Mang Jose," a collaboration with Parokya ni Edgar singer-guitarist Gab Chee Kee, about a superhero for hire based on the song with the same name.
"I used to direct their music video at katuwaan lang," Enriquez said. "Basically inspired siya sa nakita sa music video. May additional characters, at ngayon, visually ang bago, mayroon na siyang bigote."
All of their books were sold out in the convention, including "Manila Accounts: 1081," a story featuring a character inspired by the late veteran artist Tony de Zuñiga, who
passed away last May
. De Zuñiga worked in local comics before becoming the first Filipino tapped to draw for Marvel and DC Comics.
"Back then kasi when we visited Mang Tony at his home for the Jonah Hex signing, I asked him if okay lang ba na pwede ko siya gawing character sa comics. Natawa siya then he said, 'Why not!' And I took it as a blessing," writer Aaron Felizmenio said.
De Zuñiga's legacy comes in full circle as a comic book character created by the hands of the young creators he inspired to improve their craft. He is gone but a new generation of writers and artists makes it certain that Philippine comics will continue to live for years to come. –KG, GMA News