Filtered By: Lifestyle
Lifestyle
Art Review: The 2013 Art Fair goes pop!
Like a bubble that has burst to reveal art like we haven't seen it in recent years, one that is as accessible as the mall can be, if not even more so.
Think parking lot. Think: Art. Really.
The stretch of the imagination of Art Fair Philippines (AFP) organizers has paid off, and right here they have found space that is just way too cool for art, or is as cool as art? Granted you are on the same page about art as I am.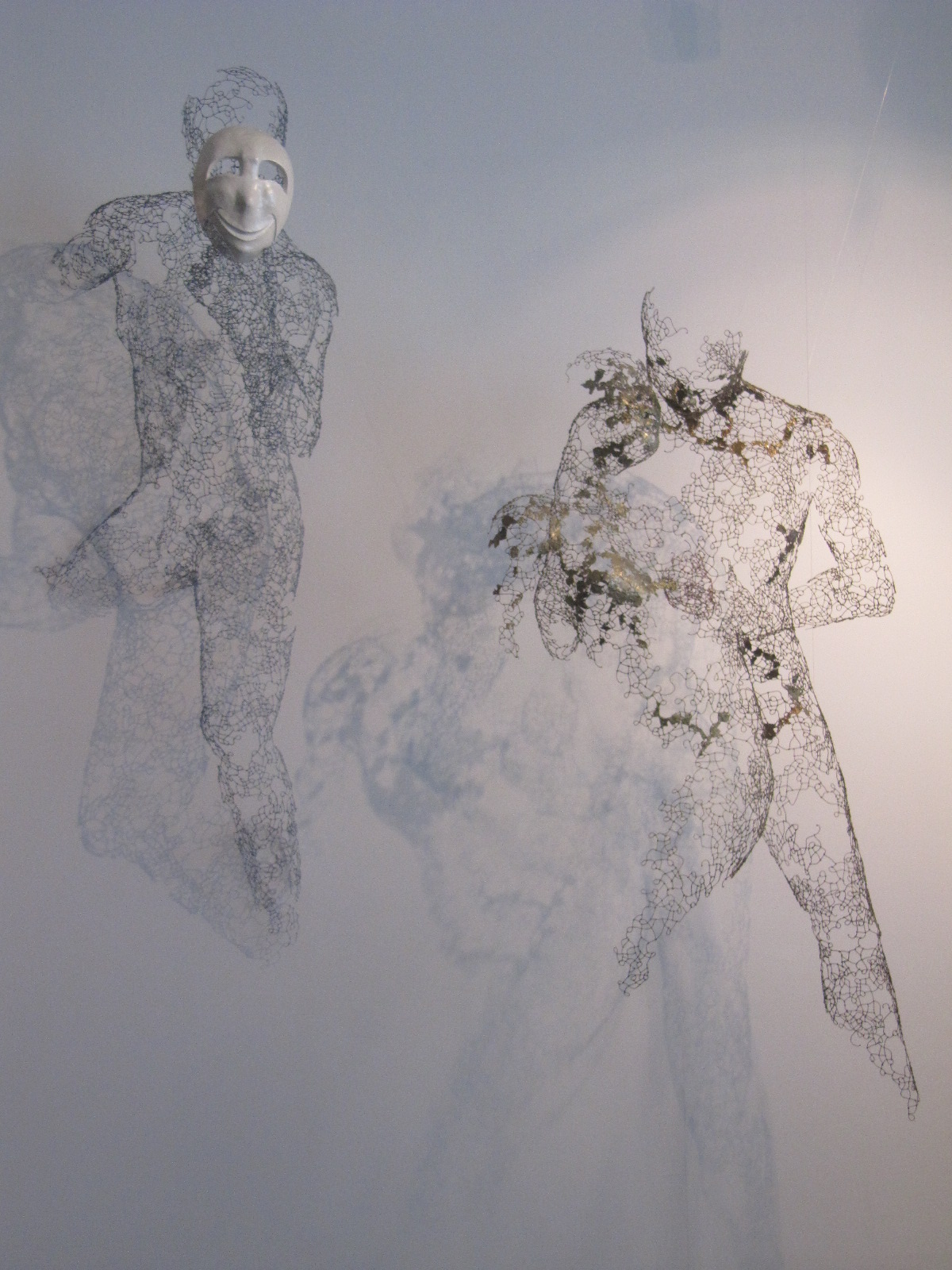 Alab Pagarigan's copperwire sculptures at Altromondo
AFP in a parking lot
That is if you are one to think it cool that one of
Ronald Ventura's giant bul-ols
stands in the middle of a shopping complex, and if you can stare and be fascinated by the assemblage of kinetic sculptures that is Gabby Barredo's "Asphalt." There is too, at the center of the AFP's debut, Ventura's smaller bul-ols, ones exhibited before but which seem new in this incarnation, where storage and tables allow for the imagination of waste and excess and forgetting vis a vis this symbol of prosperity.
By the entrance is Peewee Roldan's reconfiguration of those ubiquitous San Miguel Beer crates into frames, if not altars, one after the other, with icons unconventional, combinations of photos and bottles and knick-knacks strangely familiar. Surprising, too.
When we first heard about Art Fair Philippines, what surrounded it was an air of mystery, if not the beginnings of controversy. News broke after the ill-attended and badly put together ManilArt 2012, during which the absence of the bigger more productive galleries, the ones who churn out exhibits every month, could only be a huge gaping hole. The claim of being the only art fair in the country was crucial to ManilArt as annual State-sponsored event. It would seem after its 2012 run that it will not even have that to fall back on. It might as well admit to what it has become: a bigger version of the Art Center of SM Megamall. Yup, tiangge is the word for it.
A class all its own
In this sense, Art Fair Philippines isn't giving ManilArt a run for its money. It's just in a class all its own.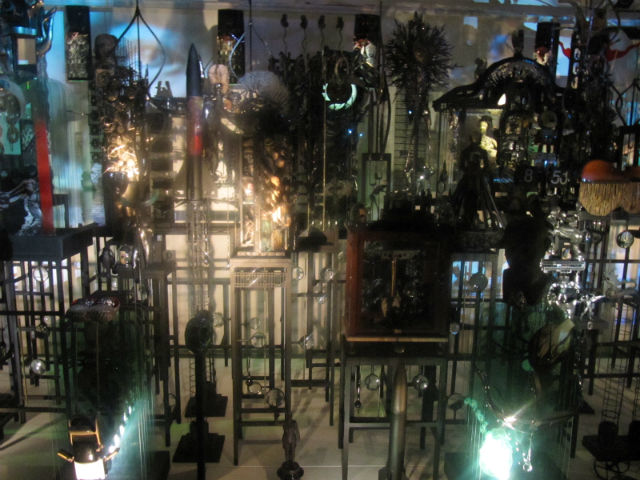 Part of Gabby Barredo's "Asphalt" installation
And, yes, we might just drop the names of Ventura, Roldan and Barredo, but it is also the names of artists, old and new, in these 24 gallery spaces that will resonate: to see that rare Manansala, for example, or that beautiful Lee Aguinaldo, if not the Cesar Legaspi and Roberto MA Robles over at Gallery Duemila; to see those David Medallas over at Salcedo Auctions; to find Secret Fresh outdoing itself in designing its space, doing a combo of toys-as-installations and framed works on walls painted bright red; to welcome the spanking new 1335 Mabini through a love-it-or-hate-it exhibit that has a gold Romeo Lee welcoming you into a space of seeming excessive mess.
Probably the bigger achievement here is having encouraged galleries not just to use their spaces for selling art, but to see it as space for a curated exhibit, like proof of what it is that their galleries do. Here it would be restraint that renders a space different, especially given the galleries that didn't seem to think much of curation, if at all.
Tool diptychs, lightboxes, objects on a table
Say Finale Art File's Bembol dela Cruz exhibit of diptychs of life size tools for unearthing, with one painted in the context of its function, another the tool itself painted over in one color and put against a plain black backdrop.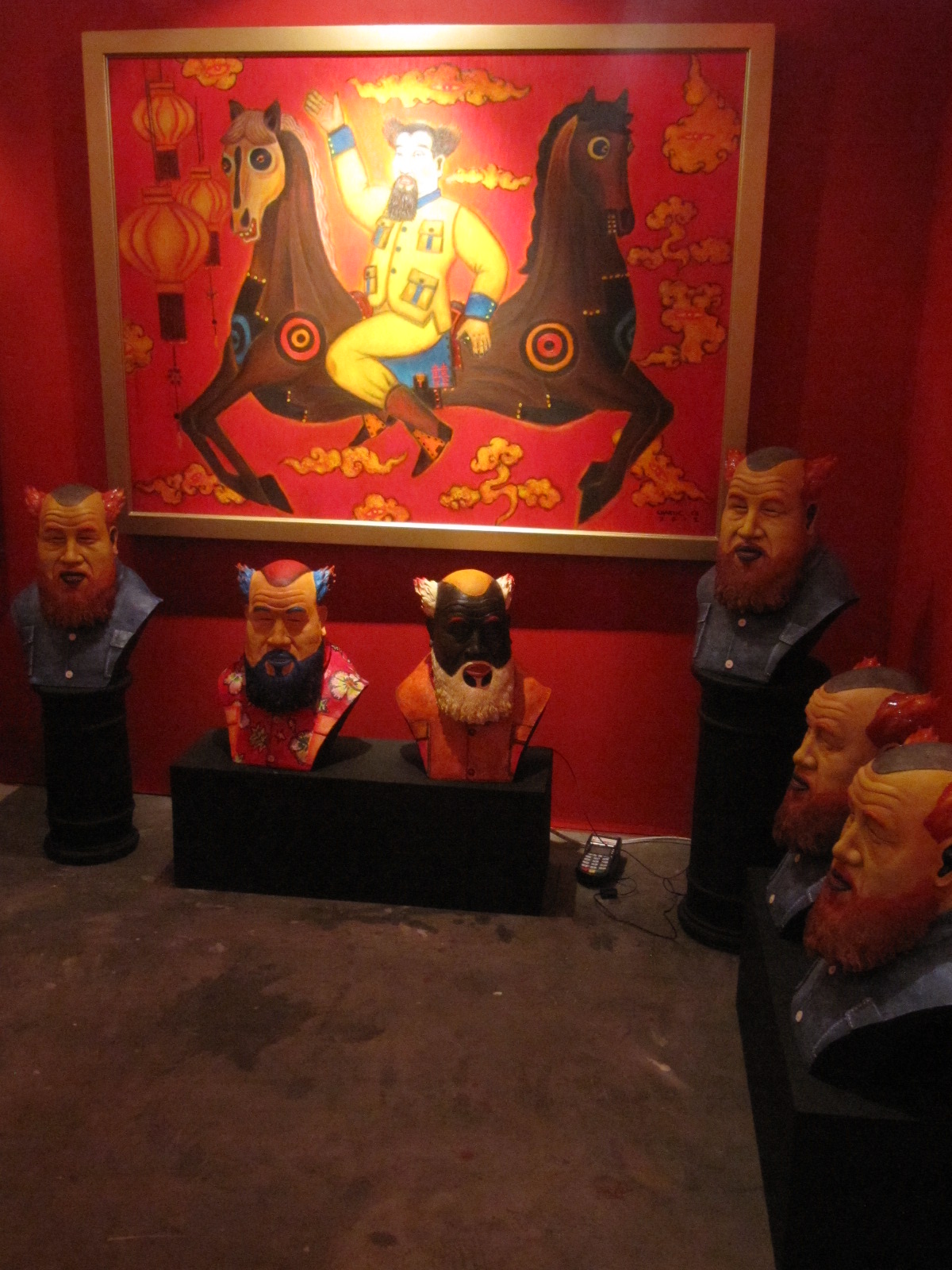 Charlie Co sculptures
Tin-Aw Gallery was the other space that dared feature only one artist in Mark Justiniani, where "Mimefield" is about a play with construction and destruction, that renders the spectator fascinated if not floored, as it forces the senses into imagining scale and depth, an imbalance that is all at once familiar and infinite.
Drawing Room's use of space was also interesting, with one shelf cutting across all three walls, on top of which were framed works by various artists, one leaning against another, inviting the spectator to browse through the works. Altromondo's "Habitus" was another well-controlled space, working with instant recognition of a house, even as the works defamiliarized aspects of home.
Made up of works by four new(er) artists and Anton del Castillo – now thankfully working away from his play on toys (he's done those enough, I think) – the effect is one that is playful but also powerful.
Del Castillo's lightboxes recreate closet and cabinet spaces on one wall, as Alab Paraganan's copperwire sculptures of abstracted incomplete bodies come out of another wall. Carlo Aranton's "No. 22 (Prognanz Variable)" is a rendering of a seemingly incomplete last supper, even when it all seems logical still; in the same way that his wooden clock installation "Now O'Clock" is a magnet and aluminum rendering of endlessly turning hands. Adeodatus Sta. Juana's "Moog" is the perfect counterpoint, where the colors of sky and sea are offset by the human figure on a boat painted in stark white.
But probably the one space that outdoes all the other spaces here is mo_space with its "objects" exhibit. It is nothing but a black wall, and a large wooden table. It is nothing but a set of objects on the table, all seemingly scattered at random, yet also speaking of order, as if a thought process.
As such, there is the task of understanding that is about touch and engagement with these objects: Agnes Arellano's hand sculptures formed into the rhyme about a church and steeple and people in stark white; Roberto Chabet's two pieces of dark brown monay, Louie Cordero's mini sculptural rendering of his paintings, MM Yu's box of contact numbers and addresses of artists.
The play on conceptual work, and rendering them as mere objects on this table, and then engaging the spectator in another act of play is the power of this mo_space exhibit. Worth the P100 and more Along with the Ventura and Barredo installations, it is already worth the P100 bucks you will pay to get into this fair.
Except that 2013's Art Fair Philippines will give you so much more. My notion of "more" of course was a fulfillment of the promise of tightly curated exhibits across these spaces, but it also seems about right to find that not all galleries will think of exhibits as they will think of selling. And when you find that those galleries that will think of putting up a real show will actually knock it out of the ballpark, then a balance is achieved.
There's a lot of coolness here really, a comfort in the casual, a sense of community no matter its crises. It's a lot of what contemporary art is about, as it is the landscape of Pinoy art, its making and its market, as we know it in these times. And we can go on and on about what's wrong with it, but one cannot deny how cool it all is. And it isn't even about how it's happening in a carpark. – KDM, GMA News
Art Fair Philippines is ongoing until February 10, 2013 at The Link Carpark, 6th Floor, Ayala Center Makati. Entrance is at P100, students with IDs get in at P50, Makati students with IDs get in for free.
---
Katrina Stuart Santiago writes the essay in its various permutations, from pop culture criticism to art reviews, scholarly papers to creative non-fiction, all always and necessarily bound by Third World Philippines, its tragedies and successes, even more so its silences. She blogs at radikalchick.com. The views expressed in this article are solely her own.