Filtered By: Lifestyle
Lifestyle
Welcome to Tahereh Mafi's dystopia in the 'Shatter Me' series
Tahereh Mafi
is a girl. It's a fact that she never fails to include in her author bios and online profiles. It's probably because people often wonder about it when they come across her unusual name on the covers of her "New York Times" best-selling young adult books, "Shatter Me" and its sequel "Unravel Me", which she came to the Philippines to promote last March 2 with a book signing event at National Book Store in Glorietta, Makati City.
The "Shatter Me" series follows Juliette, a 17-year-old girl who can kill people just by touching them. Her ability has brought her to the attention of a dystopian global regime called the Re-establishment, who, after locking her away for years, now wants to use her as a weapon against a growing rebellion.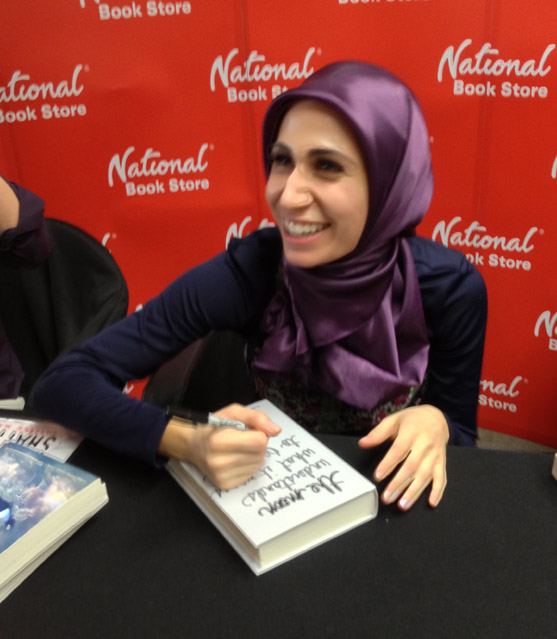 Tahereh Mafi is the US-Iranian author of "Shatter Me and "Unravel Me". Both books made it to the "New York Times" young adult best-seller list.
Sort Me
25-year-old Mafi was born in Connecticut, USA to Iranian parents. She is the youngest in a family that includes four older brothers. When she was growing up, she "lived in the library," where she read anything that she could get her hands on and eventually discovered one of her all-time favorite books.
"The super obvious answer here is Harry Potter," she said. "I was the same age as Harry when those books came out, so I was waiting for my letter from Hogwarts. I'm still waiting for my letter from Hogwarts. I am definitely not a Muggle."
Despite being a lifelong reader, Mafi never thought writing was something she could do until she started reading young adult fiction again after graduating from college.
"When I was five, I wanted to be a chemist. . .until I discovered just how much math there was in chemistry," she admitted, and added that if she did not become a writer, "I probably would have wanted to be a fashion designer."
Teach Me
Mafi's first attempt at writing turned out to be "a terrible book about a girl with magic eyelashes."
Having no training in creative writing or any experience at writing fiction, Mafi taught herself how to write by keeping on creating stories even if they don't quite work out.
"I wrote five manuscripts before I wrote 'Shatter Me'", and each one taught me how to write a book," she explained. "The first one taught me that I could [actually] write a book; it taught me how to finish this 500-page beast. The second one taught me how to edit. The third one taught me how to edit while writing a book. The fourth book taught me how to write elegantly. The fifth book taught me something about plot and structure."
Hear Me
"Shatter Me" came about when Mafi was struck one day by the vivid image of a girl who was "curled into herself in a dark corner. She's terrified, and she's been locked up for a crime she didn't intend to commit."
She continued: "I sat down to try to capture her voice. It really was very compelling and I could feel it in the way that writers can sort of hear people talk to them in their head. I began to ask myself questions about who she was and. . .what could she have done that no one would want to be around her, that she wouldn't be allowed to be a part of the world. And I thought that just being in contact with her could be lethal."
The dystopian setting seemed to just fit in with the kind of character Mafi created. Juliette lives in a "worst possible scenario" for our world where Mafi can justify how she came to have powers and imagine how everyone else would adapt.
"What if what we were doing to the environment actually affected people?" she expounded. "Will we be genetically modified as a result of what we were putting into the environment?"
Juliette's voice and her chaotic inner world informed the unusual narrative style that Mafi employed for the series. The prose is peppered with introspective metaphors, strikethroughs, repeating words, unconventional sentence structure, numbers, and omitted punctuation marks.
Mafi also used this intense and emotional style to great effect when the boys come in for the inevitable romance: there is Adam, who has watched Juliette from afar for years and who believed she wasn't the monster they were making her out to be, and then there's Warner, the enigmatic and ruthless leader of Sector 45 who covets Juliette with arguable intentions.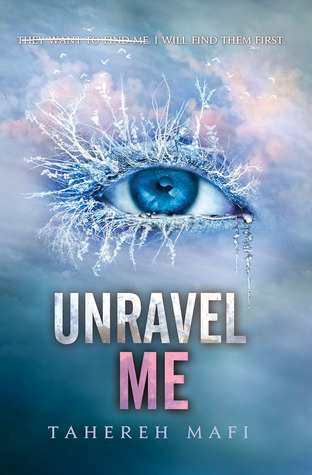 The second book in the YA series.
Accept Me
Although Juliette is a very flawed character, she is the kind of teenager Mafi wishes she could have been. "I really wanted to write about someone who had undergone extreme difficulty and came out of it with compassion and grace and dignity and empathy for others, because that's what I think real strength is."
Ultimately, it is also Juliette's journey that Mafi hopes readers, especially teenagers, will take something away from.
"At its core, 'Shatter Me' is a story about a girl trying to find herself in a world that's trying to tell her who to be. It's about her finding her voice, and standing up for who she is and who she wants to be, and really believing in herself. More than anything else, it's about accepting who you are despite labels; it's about owning who you are. "
Untitle Me
The final book of the series, which is still untitled, is scheduled to be published next year. An e-novella set between the second and third books is also in the works for release in December.
"I'm currently calling the third book 'Untitle Me'. My mom is really into trying to title my book. She doesn't know anything about 'Fifty Shades of Grey', so I had to explain that to her and why 'Unshackle Me' wouldn't work," she disclosed with a laugh.
Whatever it ends up being called, readers ask only one thing from Mafi and the series finale: Amaze Me. – KDM, GMA News All photos by Leia Pabular