Filtered By: Lifestyle
Lifestyle
Beyond granny chic: The beautiful crocheted art of Aze Ong
Aze Ong is one person we can't quite label, but artist, performer, crafter, designer, and free spirit all come close. When asked how her knitted work turned into what it is for her today, she says, "I never knew that I was making art."
Her interest in the craft started in grade school with her Technology and Home Economics class. From the first purse she purled, she already knew that crochet was something she loved.
Working her way through a primarily right-handed craft with her inborn left-handedness, Aze has turned the craft commonly deemed "grandmother's pastime" into something really quite magical.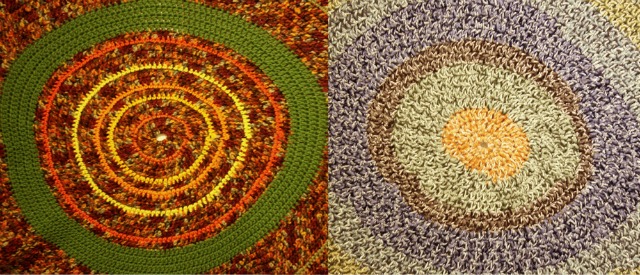 Radial patterns in Aze Ong's crocheted art
"Maybe I have this talent" she says, explaining how she has never followed a pattern or counted the stitches she makes. She gets the yarn she likes and just starts knitting without knowing where the threads will take her. From color combinations to the final output, nothing is decided. All she knows is that she doesn't want to create just "the usual doilies."
Indeed her pieces sound a unique personal style that is quirky, vibrant, very artful, and really quite fun.
A diverse body of work
Her installations and works include humongous bags, lamps that make patterns on the wall, large interactive spreads that make squeaking noises when pinched, and even musical instruments inspired by the rain-stick.
"I dance my works," she says, explaining her kind of performance art. Clad in a wrap-around skirt that has bells for tassles and a midriff-bearing shrug reminiscent of 80s silhouettes, she lets the drumbeats of her co-performer guide her in a spontaneous dance. "Whatever happens on stage, 'yun na 'yun," she says happily.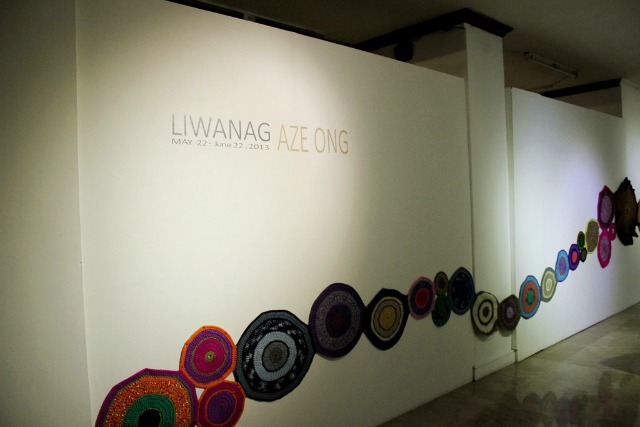 'Liwanag' at the NCCA Gallery
A recurring title in her works is "Liwanag" which represents the "light in experiences," this being the inspiration for her work. In her 10th solo exhibition at the NCCA Gallery in Intramuros, she presents her crocheted creations in the form of a fashion show. Aze has created many "wearables" before like hats, necklaces and shawls, but this is her first time to present actual clothing.
From performance art to fashion
As with many of her callings, venturing into fashion happened seemingly by chance for Aze. She needed a new outfit for one of her dances and she thought, why not crochet something to wear?
From there her works evolved into what can be considered a refreshing take on granny chic. Among the pieces are flared skirts, wide shawls, long skirts that can turn into tube dresses and some delightfully wonky hoodie jackets.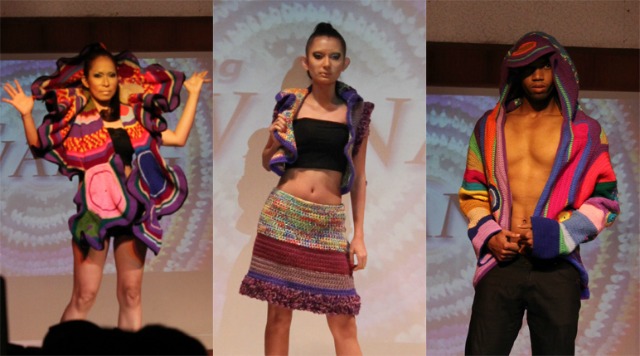 Wonky hoodies, colorful vests and quirky shawls
"Parang canvas ko 'yung tao," she says, noting that these creations are still artworks—the only difference is that they can be worn. In fact some of the models at her show made their way down the runway clad in actual installation artworks from her past exhibits.
Aze works with many materials, incorporating beads, shells, semiprecious stones and even stainless steel wires and wood into her knitting. She looks forward to trying some papier-mâché in the future. This is the only mention she makes of future plans.
Going with the flow
"I never considered this a business. It's a calling, it's a passion," she says, when asked if she has plans to open up a shop. This is the first time ever that her works have been made available for purchase.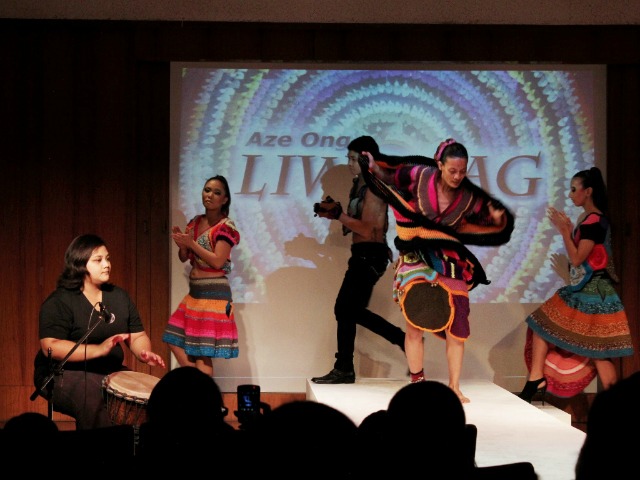 Aze Ong wraps herself in her crocheted creation as she takes a bow at the end of her show 'Liwanag' at NCCA Gallery.
"I usually create for myself... I think it's time na i-share ko siya sa iba," she says.
"I think wala pa masyadong gumagawa nito eh... so this is a first, and medyo struggle siya kasi... art, tapos tumatawid sa performance art, fashion... kung saan-saan. So I think kung saan ako i-lead ng tadhana... sundan ko na lang! Anyway everything falls into place."
It may be inconceivable for some that something as apparently structured as knitting could become so spontaneous and still have such beautiful results.
"It just happens," says Aze with a happy shrug. She sounds as in awe of herself as everyone else is. —KG, GMA News
Aze Ong's "Liwanag" collection is available for viewing and/or purchase at the NCCA Gallery on General Luna Street in Intramuros, Manila. For inquiries, call (02) 527-2192. The exhibit will run until June 22, 2013.