Filtered By: Lifestyle
Lifestyle
A love story, in sickness and in health
"Money & Marriage" was the first book that best-selling author Ardy Roberto co-authored with his wife, Tingting. It would also be the last, as Tingting passed away four days before the book launch.
The bittersweet launch
was a befitting celebration for the authors, whose own love story was just as extraordinary.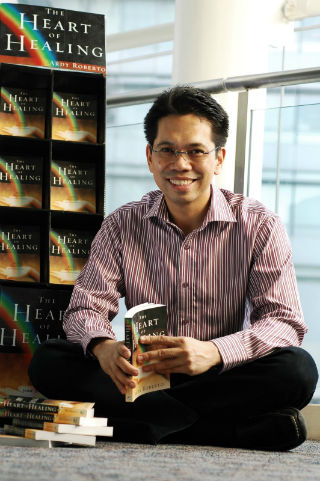 Author Ardy Roberto on healing and helping each other through the grief: "We're all in this together."
To have and to hold
Some 20 years ago, Ardy was at a noontime meeting with his editor, Floy Quintos, about "A Decade of the Good Life," a coffee table book project on Cruz's restaurants.
It was not love at first sight. Ardy had just broken up with a girlfriend he thought he would marry. Tingting had also just ended a relationship. They became friends over working on the coffee table book together.
"There was this taxi that stopped and I still remember as if it were yesterday: I saw her stepping out of the taxi, I saw her. I saw her legs, I saw her dress, I saw her face... it was like when I saw her she really… impacted me. It was like an Instagram photo." Ardy said.
Ardy recalled that he kept looking at her and at the pasta dish she was eating, prompting her to ask him, "Do you want to share my dish?"
"Hindi pa kami magkakilala, she already offered to me. Later, she said 'Omen na pala yun, na I'd be feeding you for the rest of my life.'" he said.
She always caught a ride home with him. On one such day, she said, "Keep on driving." Her reply to his "Where?" was "I don't care, just keep on driving."
For Ardy, who had been a dormer from Ateneo, the only special place he could think of was Loyola. "I drove all the way to Loyola, parked in the dorm and took her to that bench that overlooks the Marikina Valley. That was the first time I held hands with her and from there parang naging M.U. na kami."
From this day forward
After five years, they began to talk about getting married. "We almost broke up because I was fooling around. I was playing the field... At that point akala ko she would split up with me, because I cheated on her by seeing my ex-girlfriend." he shared.
At the time, things were not going well for Ardy. He was launching a retail business in Cagayan de Oro. "To make a long story short, everything that could go wrong went wrong." Ardy lost his life savings, including what he planned to spend for their wedding.
For better, for worse
Ardy was not a religious man, despite a Catholic education. "That was my motto in life, I just wanted to have fun and live life the way I wanted to," he said. But the debt he was in pushed him to prayer.
"I remember saying this very simple, beautiful prayer: 'God, if You're real, just lift this heavy burden off my chest," said Ardy, who at the time lay in bed, immobilized by his anxieties. "As soon as I prayed that, suddenly, it seemed like a burden was lifted off."
At the time, Tingting was going through a spiritual renewal. "She had become a Christian at that time, and she wasn't telling me anything. And all of a sudden she didn't want to have sex anymore, she wanted to be pure. If we were going to get married, she wanted to stay that way. I realized that something strange was happening. She started to bring home Christian books. She started to go to Bible study. But she never invited me."
Immediately after Ardy said his prayer, Tingting knocked on the door, looked inside, and announced that she was leaving. "I thought she was going to leave me, but she said, 'No, I'm not leaving you, I'm going to a Bible study.'" said Ardy. He decided to go with her.
That Bible Study marked the first time he opened a Bible in almost a decade. Ardy liked the pastor's sincere approach. "Every issue that my heart was carrying or was burdened about, the Bible was keeping me alive. It wasn't Theology 101, it became life advice, it became life. It became wisdom."
For richer, for poorer
Through Kaisahang Buhay Foundation, they adopted their son Joshua, now five years old. Ardy shared that this was another instance when God helped them. While Ardy felt the calling to adopt, Tingting was hesitant.
"If He can heal me miraculously, then He can give me a baby miraculously," Tingting would say. At the orientation, Ardy prayed, "I cannot change her heart or force her into this, so if it's Your will, can You be the one to speak to her and tell her everything's going to be okay?"
The next morning, Tingting asked, "Okay, where are we going to pick up the boy?"
She was fiercely protective as a mother, Ardy said. "She was saying 'Dapat noon pa tayo nag-adopt, wonderful pala.' So all her misconceptions about adoption were just swept away by Joshua." They founded The Adoption Forum, an avenue for potential adoptive parents, lawyers, and social workers.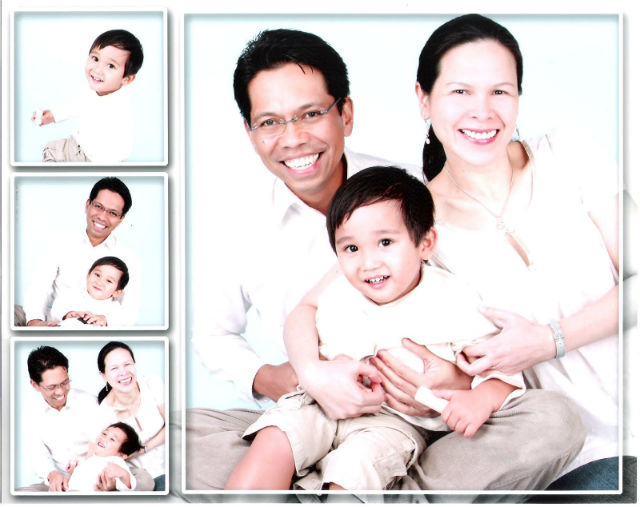 Happy family: Ardy, Tingting and Joshua.
In sickness and in health
Their shared faith would keep the couple strong, especially when their vows to stay together 'in sickness and in health' were tested. Five years after their marriage, Tingting was diagnosed with lupus. "It took about six or seven months, she was near-death already before she was properly diagnosed," said Ardy, who wrote about the experience in his book, "The Heart of Healing."
Tingting's healing was a miracle."We really, really had a good, I'd like to say, bonus 12 years after that first encounter," Ardy said of them both.
Every trial they faced became an opportunity to share with others. "I believe that God gives us a mess, and I think He gives you that power to make it into a message." said Ardy.
He writes books to help people get out of messes he himself experienced. Apart from "The Heart of Healing," there are "Ang Pera na Hindi Bitin" and "Money & Marriage," the last co-written with his wife.
The book came out while Tingting was in the hospital. Holding the first copy, she said, "O, by Christmas, I'll be home. This will be our Christmas gift to everyone."
Christmas and New Year came, but Tingting remained in the hospital. She was set to go home on January 5, but caught pneumonia the day before. Ardy said of the ordeal, "I was already writing people na whatever God is up to, whether He calls Tingting home to our house or calls her Home to Heaven, you know, I said I'm all right with it. I am at peace, and I hope I will be ready for it. And true enough, He called the day she was supposed to go home. Pala, she was going to go home to God."
As with all his other trials, Ardy chose to share, even as he struggled. While Tingting was still in the ICU, he would go to the Bible for strength and post about it on Facebook. He had this to say about it: "Little did I know that a lot of people were being touched and inspired by it. There was a time when I wanted to stop posting. 'God, can I stop na? I'm tired, I don't want to reveal everything' and then no. I'd get the impression that Facebook was my mission field."
Meanwhile, the hospital became his wife's mission field. "She'd be the one praying for them. She would be the one giving advice. She'd tell the singles, 'Look for a husband who is like my husband. It's the biggest decision you will ever make, so make sure.'" she said. Her doctor described her will to live as "off the charts."
"I just want to count my blessings and just think of it that way," said Ardy. "I was so privileged to have been married to someone like her. She was really one of a kind."
One of her favorite verses, Psalm 90:12, inspired Ardy to post daily during their time in the hospital. "'Teach me to count our days so that I may develop a heart of wisdom.' When she was in the ICU, that's when I started counting...naging telenovela siya that people would tune in to. People would tell me that's the first thing they read in the morning. I'd just tell people what was going on in my mind, or with Tingting that day."
'Til death do us part
After she died, people told Ardy to continue. "Now I count the days that she's in Heaven, that day that she was called home, and the days that I've been grieving and living a new life," said Ardy, who eventually went on leave from posting. For his birthday that April, he broke the fast to thank everyone for their greetings, and to share his son's birthday wish for him.
"He just told me that the day after that morning I asked him 'What was your birthday wish?' I shared mine. He said 'Well, it's the same the first one, but I also wish that Mama would see us from Heaven, that we're happy, blowing out the candles. And I also wish that she'd be happy seeing that you're happy. And I also wish for Dad that you'll have a new wife,'" he shared.
When grief ambushes him, Ardy cries out to God. "And then I just feel that God is there, reassuring me that there's hope for me, there's a future for me, he reassures me that I will have a new family. That someday I'll remarry," he said. "When a person has hope for a future, it lifts him out of the present that may not look so good," said Ardy, who shared he copes by making sure he's in the company of family and friends. "I don't isolate myself and be a hermit."
He also writes. "Aside from the blog, I also have my own personal private journal that I keep away from the public eye. That's between me and God, so that helped me."
Ardy also attends GriefShare support group in Greenhills Christian Fellowship in Alabang. He said of it, "You're in the presence of people who share similar journeys. They say that every grief experience is unique, but you're able to identify with other people." Through Facebook, he was able to meet other people who were also grieving. "It becomes like an avenue of little blessings even in suffering and hardship and sadness. There's redemption. We're all in this together."
— VC, GMA News
Photos courtesy of Ardy Roberto