Filtered By: Lifestyle
Lifestyle
Vesti: Sending out the message about Mindanao culture
When Martha Rodriguez moved to Manila to pursue her studies, she was not prepared for the misconceptions she had to face. As a teenager from Cagayan De Oro, Rodriguez dealt with assumptions from her classmates about her religion, culture and background—and sometimes even ignorance about the region she calls home. "The worst part is for [some] people in Manila, Filipinos at that, not to even know where Mindanao is," she said.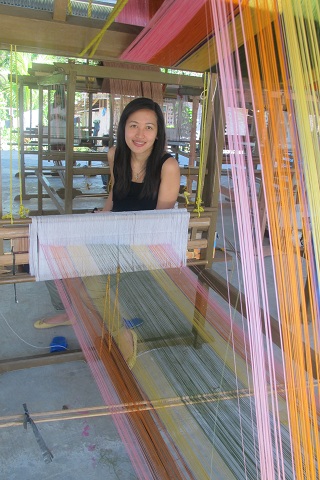 Vesti designer and proprietor Martha Rodriguez
The experience sparked her determination to "showcase the beauty of Mindanao and build Mindanao pride." As Rodriguez furthered her studies, she would find herself spotlighting the region in school projects and term papers.
But it was when her mother asked her to design a gown for her that inspiration struck. She decided to use Mindanao silk and went to visit weavers in Laguindingan to buy the fabric.
Arriving at the site, Rodriguez was overwhelmed by the piles of abaca, dupione and silk, left there because a buyer had cancelled their order. "I felt the strong urge to buy all the fabrics," she said.
And so Vesti was born in 2011.
"Vesti" in Russian means to send out a message, and Rodriguez's message comes through loud and clear in her company's products.
"The hero in each Vesti collection is the Mindanao handwoven, indigenous textile," she said. "My design process is in reverse: usually designers do their sketches first, then choose the fabrics and execute the designs.
"In my case, I search for the textiles first then use it as an inspiration to create the bags."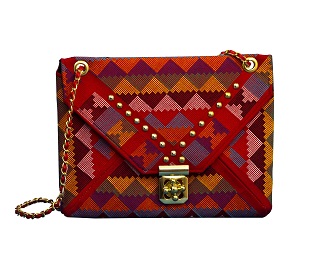 The Angela clutch in red
The bags are made from fabrics like t'nalak, woven by the T'boli of South Cotabato, and yakan, from the Yakan tribe in Zamboanga.
Only 24 bags of each design and color are made, and prices range from P499 to P2,299.
Rodriguez continues to search for new textiles from indigenous tribes in Mindanao, and says that upcoming collections will present these materials in new ways. This year, Vesti will launch a footwear line.
Through Vesti's sales, Rodriguez provides monthly sustainability for the weavers and, as the company grows, plans to focus on the necessary steps to help the weavers exit poverty.
"My heart forever belongs to Mindanao and I really love what I do," she said. "Vesti is not just a message, but I feel is also my calling."
— BM, GMA News
Vesti bags are available online and in select stores in Metro Manila and some provinces.

Photos courtesy of Vesti
.