Filtered By: Lifestyle
Lifestyle
Book Review: A bag of tricks and treats in 'Demons of the New Year'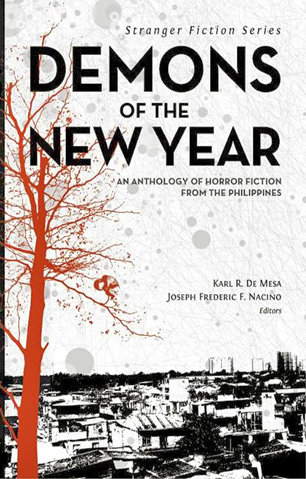 The cover of "Demons of the New Year." University of the Philippines Press
"Within these pages, you will find tales of haunted houses, demon hunters, monster pop stars, and more," promises the back cover of "Demons of the New Year"—and boy, does it deliver.
Edited by Karl R. De Mesa and Joseph Nacino, "Demons of the New Year" is the third, horror-themed installment of the Stranger Fiction series of short story anthologies (the first two being the fantastical "The Farthest Shore" and the science fiction-anchored "Diaspora Ad Astra").
But to call the book horror-themed is imprecise, as "Demons" is not simply every kind of horror mashed together haphazardly, like stolen body parts sewn together a la Frankenstein.

The two editors state in their separate introductions that the theme is specifically "hauntings," and the haunters may not necessarily be ghosts or demons, although there are enough stories for either one.
Ghosts haunt the vacationing aunt and niece pair in Catherine Batac Wilder's "The Kambubulag" and the dying abortionist in Kenneth Yu's "Little Hands, Little Feet."

Demons, meanwhile, haunt like that one dumb night you and your cousins decided to mess with the occult in Carljoe Javier's "Demon Gaga" or like the drug-like succubus the protagonist of Yvette Tan's "Grotesquerie" keeps returning to in times of stress. Or the cold, clean vengeance one politico means for another as a demonic pact is sealed like an insurance plan in Rommel A. Santos's "Best Served Cold."
But, as these stories demonstrate, just about anybody can be haunted by just about anything: whether this is the precocious kindergartener and the beings hiding behind Christian figures in Marguerite Alcazaren de Leon's "K-10 Mushroom"; the grown man searching for his runaway childhood home in Tyron Caliente's "Dark Moving Houses"; or the bad luck and superstitions following the protagonists of Don Jaucian's "The Different Degrees of Night" and Eliza Victoria's "Salot," respectively.
And let's not forget the zombie children in "Brother and Sister," Dean Francis Alfar's retelling of Hansel and Gretel; or the bad-ass demon-chasing girl in Karl R. De Mesa and Gani Simpliciano's short cliffhanger of a comic, "Fist of the Magdalene" (or "The Magdalene Fist," as it's billed in the table of contents).
Not every haunting is frightening (many of the local horror movies come to mind)—and neither should they be. To be haunted by something, in my experience, means to also call up feelings of acute regret or embarrassment or to give into a guilty pleasure.

That said, the anthology feels like a mixed bag, and I'm not quite sure if this is due to the tonal changes of the individual pieces—and this is coming from someone who cannot sit through a horror movie from start to finish without covering her eyes.
The stories of the first half were a delight to read, if only because you're compelled to see how the characters get out of their messes (or don't); particularly disturbing in a good way was "K-10 Mushroom"—what if everything you've ever known in your short life was wrong?
Some of the stories of the second half were a little too experimental for my taste, whether this was due to unconventional punctuation ("Dark Moving Houses," which also embodies the narrator's problem of not knowing where anything or anyone is) or a chaotic slice of a very strange, very big world ("The Different Degrees of Night," partially solved by interspersed, italicized descriptions of the living, rotting city).

There were also a couple of typos here and there, and a couple of switched gender-specific pronouns, too.
Proving also that horror is not for everyone is the comic "Fist of the Magdalene," found at the end of the book and printed in pretty glossy paper.

A reader can easily get lost in the unsettling details of Simpliciano's sketchy lines—among them, the sadistic fetishes acted out in a drug lord's den, insects crawling out of orifices, poles impaling pregnant demons by the throat.
The thing about horror is, even though it can make you screw your eyes shut, how can anyone help not looking, wondering how this is going to end, wondering what happens next?
Horror brings out your demons and makes you seek closure. I would like to know what happens in the comic's next installment, just as I would like to know the fates of the characters in certain of the stories. I would also like to know if the Stranger Fiction series has another book coming up.
Minor errors and personal tastes aside, if you're newly-come to Philippine horror in literature, "Demons of the New Year" is a good overview of what the local scene has to offer. — JDS, GMA News
You can get your copy of "Demons of the New Year" for P240 at your local bookstore. An e-book edition is forthcoming from Flipside Publishing.

Karl R. De Mesa edits and writes for GMA News Online.