Filtered By: Lifestyle
Lifestyle
Albert Andrada: The visionary behind Paris Hilton's Grammy dress
Albert Andrada was filled with excitement when he started talking about Paris Hilton at the 2014 Grammy Awards,
where the heiress wore the Filipino designer's fully-sequined ivory dress
.
The dress was part of the designer's "Chinese Empress" collection from last year's Philippine Fashion Week.
"It's not about me, it's for the whole Philippines," Andrada said. "I just get too excited when I talk to people. I'm so proud of being a Filipino. People come to me and call me every hour asking about it."
Haus of Milani, a fashion house for the stars created by celebrity stylists, saw Andrada's clothes online.
"It only started in social networks. When they started looking at my dresses... They messaged me if I'm interested in sending clothes to Haus. They asked me if I'm interested [since] last year," he told.
Hilton received mostly positive feedback from
pundits at Marie Claire magazine
, while Sheknows.com even referred to the socialite as the
"surprised best dressed"
at the event. Other websites and fashion blogs also included Hilton in their best-dressed lists.
"It's a Chinese-inspired dress. It was fully sequined and embellished with white opal crystals and white sheer tulle [that's] skin-tone. If you see it from the back, it's like you're nude but you're not because there's skin-tone lining and skin-tone tulle," Andrada said.
But even before Hilton sashayed down the red carpet, another celebrity had been eyeing the dress: Jennifer Lopez.
"The first client that got attracted to the dress was actually J.Lo," Andrada told GMA News Online. "But the fitting was too tight for her, although she was kissing the dress already. So, I thought I didn't have a chance to dress up a celebrity."
"The other morning, when I woke up and I opened my phone—I was so surprised when they were tweeting already. They were all over Instagram, they were all over Facebook. I'm so happy for the reason that I'm a Filipino, I'm so proud... I'm so proud," he added.
Shanghai Nights at Spiral
Andrada has another reason to celebrate: as part of its celebration of Chinese New Year, Sofitel Philippine Plaza Manila showcased his "Shanghai Nights" collection at its restaurant Spiral.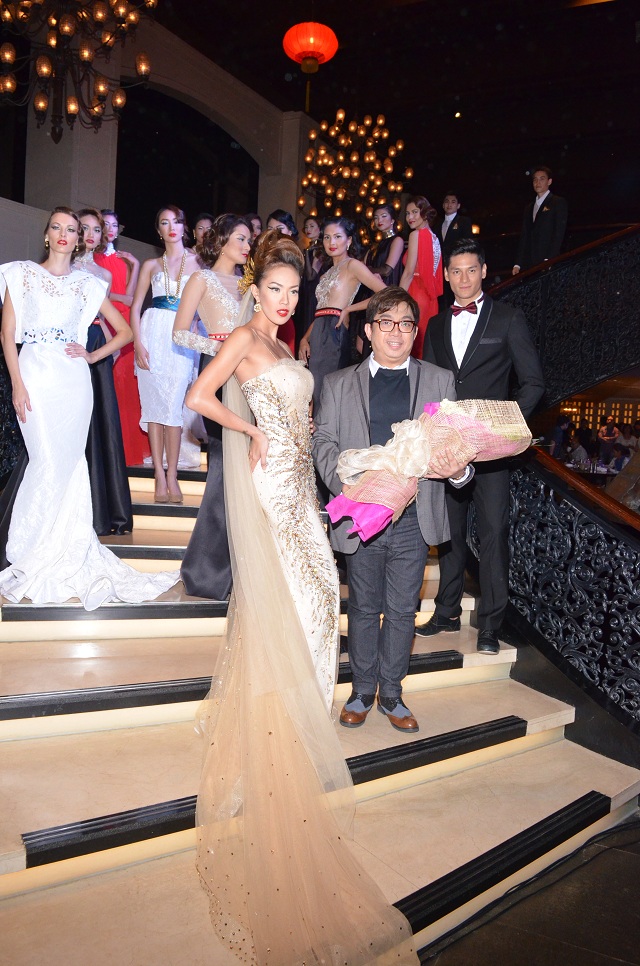 Andrada and his models at Sofitel's 'Shanghai Nights' event. Photo by Daniel Tan
"I find Sofitel to be a very nice hotel, I feel at home here. I find the people around very warm and every season, they have something for everybody, especially in fashion, too. I just get inspired by collaborating with them," the designer said.

For the 15-piece collection, the designer created elegant pieces using wrinkled taffeta, chinese brocade, chiffon, duchess satin, and french lace fabrics.

According to Albert, "I called it Shanghai Nights because in Shanghai, you see a lot of reds in the Chinese lantern during this time of the year and I used amethyst because it is a lucky gem for them. Also, I used lots of gold, white, and black."

And just like most of his shows in the past, the designer concluded the show with a striking and sophisticated beige wedding dress made of tulle, encrusted with Colorado topaz, silver, and gold Swarovski crystals, all the while stressing that not all brides should opt to be "sweet."

"I think, I would like to show the people that you could wear anything and you don't have to be the sweet bride, you could also be the sophisticated, and the elegant bride," he said.

"I crystallized it [because] my aesthetic is always opulent," he added. — BM, GMA News