Filtered By: Lifestyle
Lifestyle
KPop fans and stans: A deeper look into the Pinoy Hallyu fandom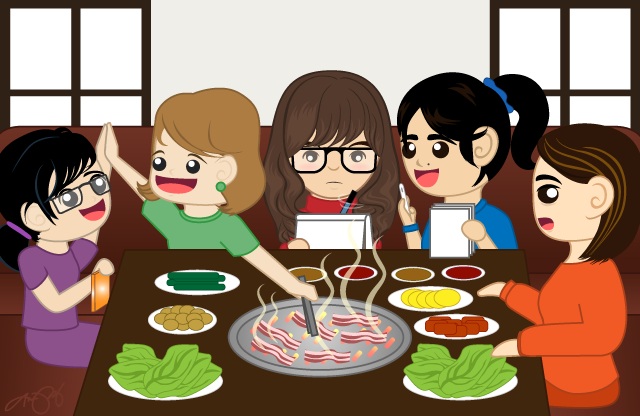 To better understand the Filipino Hallyuwave fandom, imagine a group of five girls in a Korean restaurant: the young and enthusiastic ones, the dedicated fan artist, the event organizer and the 'retired' fan. Illustration by Analyn Perez
Imagine a group of girls in a Korean restaurant, gathered around a grill table cooking Samgyeopsal (grilled pork belly barbecue). Each is brightly dressed, wearing the "official" fan color of the artist they love. They communicate in a strange language that probably wouldn't make sense to most Koreans or Filipinos: "My ovaries have exploded! Chang-ho oppa bias! Stans!"
The two on the left—the girl in purple and the girl in green—are squealing loudly. Their boundless energy suggests they are in their teens. They hold up the latest album of their favorite KPop group while occasionally applying Korean brand glittery lip gloss.
Everything is coming up Korean in the Philippines. Hallyuwave has developed into a strong subculture among young people, mostly KPop and Korean drama fans. Business has also been booming for Korean products, from electronics to cosmetics. And the influx of young Koreans to the country to learn English has ensured that many malls now have instructions translated in Hangul to go with Chinese. Filipinos are also starting to appreciate Korean cuisine, with Korean restaurants popping up in the metro. Korean culture definitey does not begin and end with Hallyu, but Hallyu inspires the greatest devotion. Who are these fans, and why are they drawn to Hallyu?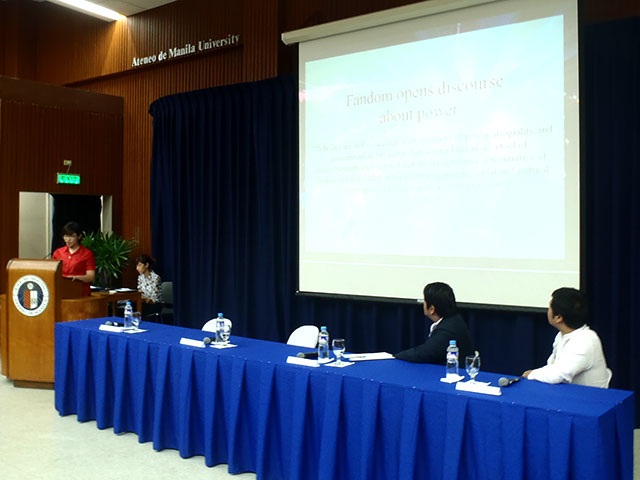 The panel for "The anatomy of the Hallyu Fandom" at the AIKS Conference on June 19 at Ateneo De Manila University (from left): Dr. Catherine Deen, Prof. Patrick Capili, and Gilbert Que.
A scholarly take on the hallyu craze
"Fandom is a fuel of trade," said Catherine Deen, one of three scholars who spoke about the hallyu phenomenon in the forum "The Hallyu Mosaic in the Philippines: Framing Perception and Praxis" at the AIKS (Ateneo Initiative for Korean Studies) Conference on Korean Studies last week.
In their studies, Deen and fellow speakers Patrick Capili and Gilbert Que surveyed hundreds of fans and major KPop fanclubs in the Philippines, categorizing the fans based on their activities and level of affinity with their idols.
Finding a haven in the fandom
In the academics' survey, most of the respondents confessed that they don't "fit in," but found a refuge in KPop. Being in a fandom is a personal experience, and a fan's affinity with her idol is an avenue for her to explore her creative side, according to Capili's presentation.
To go back to the five girls in the restaurant, this fan is the girl in red. She doesn't join the conversation much, but her hands are very busy, sketching her KPop crush on her drawing pad. Even though she stays largely quiet, her drawings have turned her into a viral celebrity on social media websites and groups.
KPop fanfiction and fan art are on the rise in communities, social networks and sites such as Wattpad, Livejournal, and DeviantArt. One of the best local examples of this J.P. Adrian Dela Cruz' novel, "The K-Pop Star and I," which has been published and is now available in major bookstores.
On a deeper level, some fans can identify with their idol, whether it be his or her image, character or struggles in life. Korean idols push this kinship further by fan services, such as taking selfies using a fan's camera or even going to the lengths of calling a fan's mother at a concert.
Get-togethers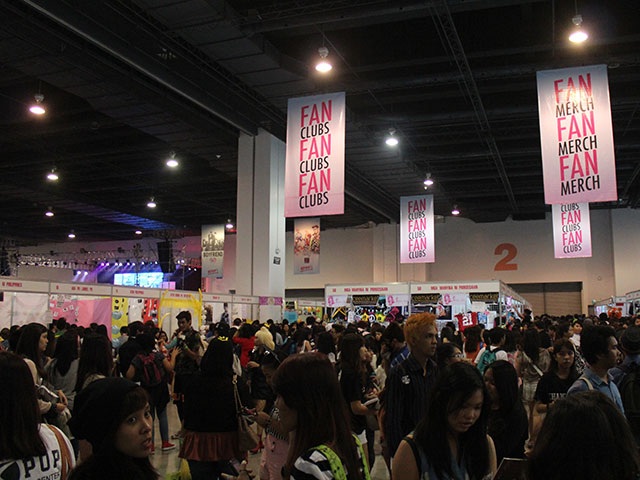 Fans meet at concerts and at gatherings such as the 5th Philippine KPop Convention last December.
Next to the girl in red is a girl in a blue shirt. She is constantly texting and shuffling photocopies cut in half. The girl in blue says to the group, "Our fan club is organizing a fanchant event next week and we're trying to invite as many as possible. Because [insert group name here] will be having a concert next month.They'll be here for just one night, we better let our oppas know how much Filipino fans love them!"
Fan clubs often organize events or projects dedicated to their idols. These can be fanchants (cheers made during concerts) or just a simple gathering with other fans. Fandom can create a bond among young people who see themselves as "outsiders" in everyday life, but who now have found others who share the same interest. Thus is formed "social capital," in which they create their own network with people who have the same affinity for Korean celebrities, whether just within their own group, or among people watching a concert together.
In April 2010, Super Junior held their first concert in the Philippines. Since then, KPop concerts have become a staple of the local concert scene. Some concerts are not exclusive to one artist only; there are also group concerts, such as the Dream KPop Fantasy Concert last February which featured six groups that entertained their Filipino fans. It is at these events that fans can truly have the ultimate KPop experience.
Annual conventions and fanclub activities are also among the many ways fans can "spazz" for their idols. Sometimes KPop artists are invited to perform at conventions. Much like a comic convention, fan clubs and fan stores set up their booths in these events.
But these kinds of gatherings are not just about "spazzing." The annual Philippine KPop convention has been donating part of its earnings from the event to the Gawad Kalinga foundation. Last year's KNation, with the help of Korean star Xander Eusebio, collected donations for the victims of Super Typhoon Yolanda. Individual fan clubs also organize charity works, such as the local TVXQ's fan club Cassiopeia Philippines' Dong Bang Day (DBD), during which fans give a lending hand to organizations such as PAWS and Gawad Kalinga.
Growing up and moving on
In our image of Kpop fangirls, the girl in orange keeps on shaking her head as a sign of disagreement with the two youngest ones on the left. She's seen it all and has become cynical. Among the group, the girl in red is the only one to agree with her points—because unlike the two younger ones, who absorb new artists like a sponge, our girl in red is focused on one artist.
But the girl in orange has stopped being a "stan" a long time ago. She still appreciates KPop, but no longer to the degree of the other girls.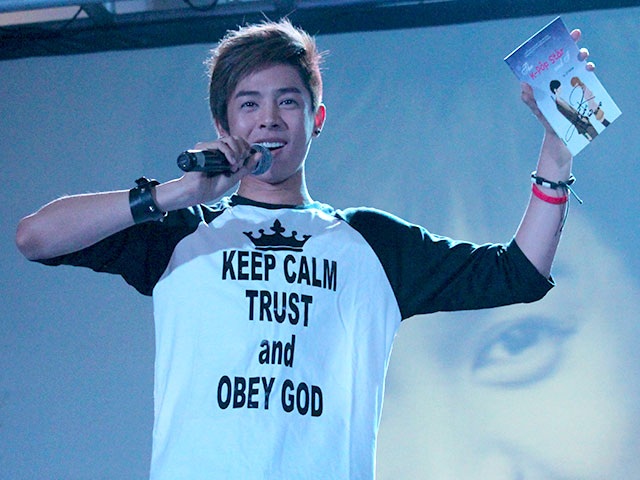 KPop star Xander Eusebio holds up J.P. Adrian Dela Cruz's book "The K-Pop Star and I."
The girl in orange has traded the "Chang-ho oppa" who has enthralled her whole teenage and young adult life for another idol, like Benedict Cumberbatch.
This brings us to Gilbert Que's presentation, which was about "stagnant and retired" fans. People grow up, their tastes change, and they move on—even fans who have dedicated their entire youth enamored of everything Hallyu and have spent a small fortune on it. Later in life, some of these fans become "stagnant," which means they narrow their attention to only on one artist, don't buy as many products endorsed by Korean celebrities as they used to, and participate in fewer fan activities.
"Retired" fans, however, give up being Hallyu fans altogether. Some of them even shift back to Western media, and soemtimes this results in apathetic behavior towards younger fans or younger artists. This doesn't mean that all of them reject the idea of Hallyuwave; they are simply fans who outgrew their fandom and have moved on to other fandoms or to more "mature" things such as careers or married life.
Fandom can be just a phase in many young people's lives, but what they learn from it or what they become interested in because of it can last a lifetime. Most fans learn how to read and write in Hangul, and some even apply for fellowships and scholarships offered by Korean institutions. Unknowingly, they do their own part as unofficial ambassadors to Korea.
The two countries have had a close relationship since at least the Korean War in the 1950's. Former President Fidel V. Ramos fought in the war, and Ninoy Aquino covered it as a correspondent. And when the Philippines needed help, South Korea deployed medical teams and troops known as the Araw (Sun) contingent to help rebuild areas hit by Typhoon Yolanda and help its victims for an entire year.
Is KPop killing OPM?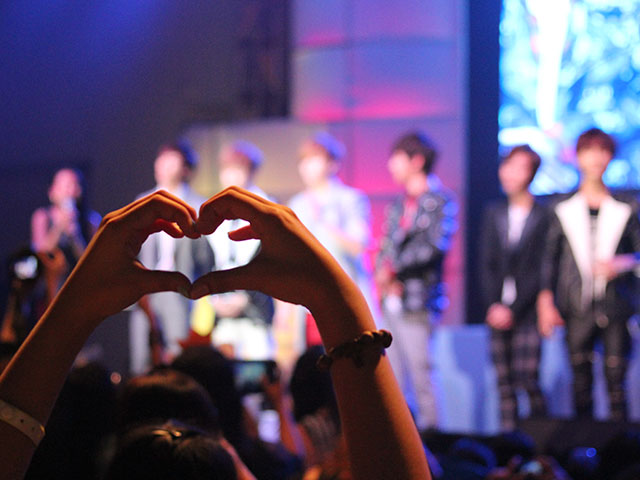 For Hallyu fans, their heart belongs to Kpop.
With Hallyu sweeping through young Filipinos, KPop has drawn flak from some Pinoy music fans who point to it as one reason the local music industry is underperforming. Is OPM dead?
"Maybe we are just waiting for another Eraserheads or Rivermaya," Deen said when asked about OPM's lackluster sales. "I think we have to learn from how Korea train their artists, [and how they] package them... in terms of talent, we have that, but in terms of [packaging], kulang. I think we have to sell our talent."
While Kpop is huge globally, a bigger wave than Hallyu is hitting our shores: globalization. Hallyuwave is just one part of it. We are a nation still hungry for identity. Foreign trends keep coming to our shores and we welcome them, but in order to make our own impact, we must find our edge, sharpen it, and let it grow. The Philippines has a wealth of skill and talent; if we learn how to utilize these, maybe someday we will not only be fans, but the subject of adoration ourselves.
— BM, GMA News