Filtered By: Lifestyle
Lifestyle
Cab driver transforms vehicle into a 'garden taxi'
Taxi driver Richard Bulaclac has hit upon an idea to make the ride more interesting for his passengers: by taking his name literally.
The Davaoeño, who has been driving a taxi all over Metro Manila for the last four years, has filled his cab with flowers and transformed it into what he now calls the "Garden Taxi."
Richard Bulaclac lives up to his name by filling his cab with flowers and (below) flower imagery. Photos by Katrina Son
Bulaclac said that he was one of the many people who left their home in the provinces to find a better-paying job in the big cities with which to sustain his family.
However, he soon found out hat fortune is as hard to come by in Metro Manila as it in Davao. He set out to work hard as a taxi driver, all the while thinking of his wife and three kids. He has not seen them in more than three years.
Lonely and homesick, Bulaclac thought of a way to cheer himself up other than the constant texts and phone calls he has with his loved ones.
He decided to decorate his taxi with flowers, bit by bit, inside as well as on the hubcaps.
Because of its unique design, the cab's passengers have been happily sharing their taxi ride experience and sharing it on social media.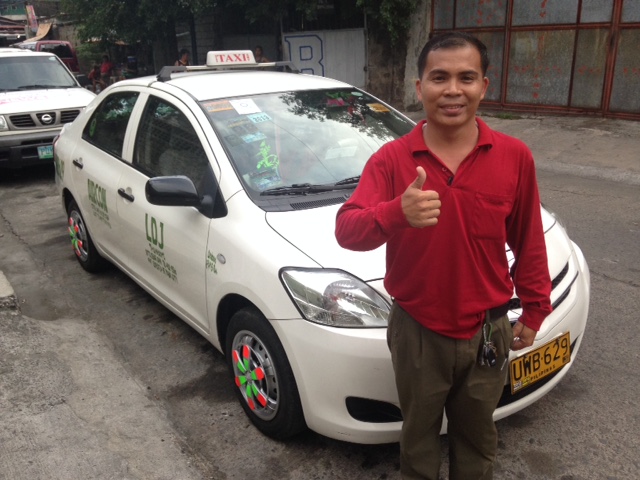 Bulaclac could not be happier for all the positive response he has been getting, especially now that the Garden Taxi has been a boost to his income as many passengers are seeking it out to say that they have ridden in this uniquely decorated cab.
Bulaclac looks forward to the day that he saves enough money to finally go back to Davao to be with his family.
GMA News was able to help out this super dad on Father's Day: Bulaclac was able to talk to his wife and kids on Skype.
After the conversation, Bulaclac expressed his gratitude and said that it was all he needed to muster up the courage to face life's challenges and keep working for a better future for his three children, as well as for him and his wife.
— with Bianca Rose Dabu/BM, GMA News