Filtered By: Lifestyle
Lifestyle
Dictators, like Marcos, are right to fear writers – Mario Vargas Llosa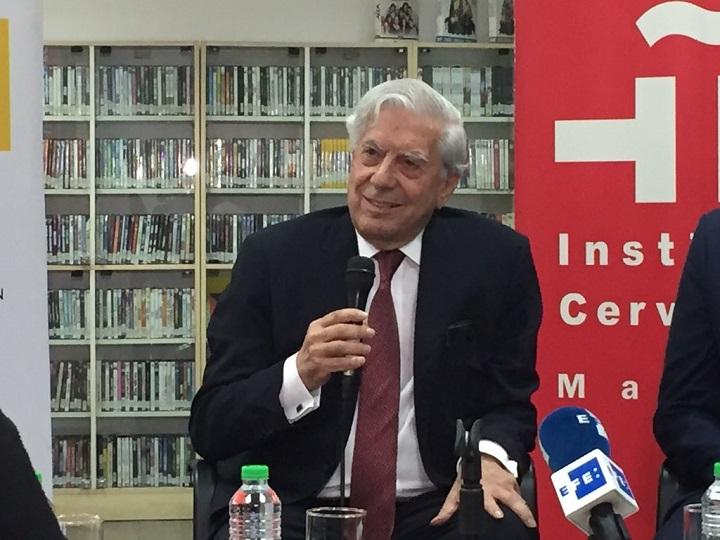 Nobel laureate Mario Vargas Llosa speaks to the press at the Instituto Cervantes on Thursday, November 3, 2016. Photo: Aya Tantiangco
As far as Peruvian writer Mario Vargas Llosa is concerned, reading and writing are subversive acts by default.
"Dictators [and] dictatorships are right in being suspicious of this kind of activity, because I think this activity develops in societies a critical spirit about the world as it is," the Nobel laureate told the media during a press conference held by Instituto Cervantes on Thursday.
"Why do you think that all dictatorships have tried to control literature?" he asked. "They have established systems of censorship. They have given special laws to put limits to the fantasy world that literature creates—because they mistrust very much this activity that is producing stories to replace the real world with the fantasy world of literature."
Vargas Llosa explained that writers don't need to be politically inclined to make a criticism. "Literature itself is critical of the real world," he said, emphasizing the power of the written word to visualize an alternative way of life for the reader.
"When we read a novel, we discover how poor, how mediocre is the real world by comparison with the world that we are able to invent with our imagination, with our fantasy, with the language—and I think this is the great contribution of literature to progress, to change," Vargas Llosa said..
The critical spirit, he added, is developed by presenting readers with "worlds that are better, more coherent, more rich—in which life has possibilities that real life, the real world, doesn't have."
Beyond the power of the novel, short story, or poem to place a longing for a different kind of life, Llosa argues that it "provokes this kind of necessity" for it.
The Peruvian author, who received the Nobel Prize for Literature in 2010, has been an active figure in the political debate in his country.
Vargas Llosa, whose first visit to the Philippines was during the Martial Law era, also said that the Philippines has "many, many things in common" with Peru and other Latin American countries.
He made his perception of the Marcos regime clear: "It was a dictatorship!"
"It was a very interesting topic for Philippine writers, you know?" he said, "I think most of them were deeply, deeply critical about what's going on."
And the greatest contribution of literature to the world, Llosa repeated, is when it gives us ideas that are very critical of the world as it is. — BM, GMA News