Filtered By: Lifestyle
Lifestyle
2 more Pisay graduates get offers from esteemed universities abroad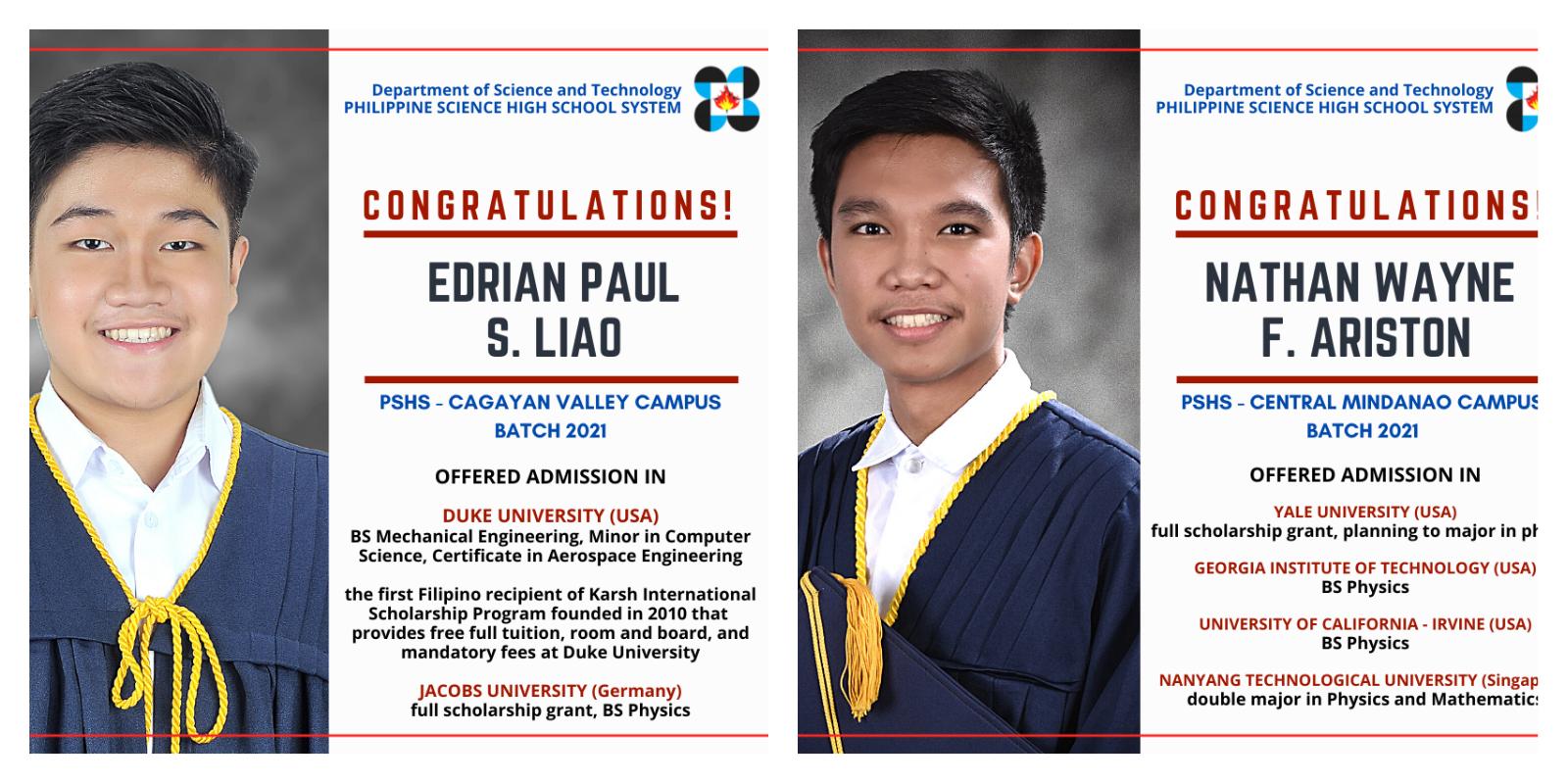 Two more graduates from the Philippine Science High School (PSHS) have received admission offers from prestigious universities abroad, including Yale University.
In a Facebook post Wednesday, PSHS proudly announced that Nathan Ariston of the Central Mindanao Campus was given a full scholarship grant by Yale to accommodate his plans to major in physics.
Yale University is one of just eight Ivy League schools or the most prestigious of all colleges in the United States.
With this, Ariston couldn't help but be grateful.
"I feel so lucky for being part of the Yale Class of 2025. It just excites me that I am given the opportunity to explore beyond anywhere I've been so far," he told PSHS.
A proud son of a farmer and an elementary school teacher, Ariston is determined to contribute more to science and technology with the knowledge he will gain.
"The best way that I could give back to our country is through offering my soon-to-be expertise in STEM that I could acquire through this education grant," he said.
"(I will) serve in whatever way I can the people around, specifically in Maguindanao and the other Muslim Mindanao areas," he added.
He is the first graduate of PSHS-CMC to be accepted at Yale University.
As though that's not enough, Ariston was also offered admission in three more schools: the University of California-Irvine, the Georgia Institute of Technology and Singapore's Nanyang Technological University.
Meanwhile, Edrian Liao of the Cagayan Valley Campus was given an offer by Duke University in the USA for BS Mechanical Engineering, Minor in Computer Science.
As a recipient of the Karsh International Scholarship Program, he will be provided with full tuition, room and board, and mandatory fees. He is the first Filipino to receive such.
"It still feels surreal to be awarded a highly selective and prestigious scholarship. Never have I thought that a probinsyano like me would get chosen," he told PSHS.
Liao was also offered a full scholarship grant by Jacobs University in Germany for BS Physics.
Since Tuesday, good news of Pisay students receiving admissions and scholarships from prestigious universities around the world have trickled people's social media timelines for a dose of happy news for a change.
Maria Charisma Estrella from Calabarzon was offered a scholarship grant by New York University for a dual degree program for BS Biology and BS Biomolecular Engineering.
Estrella also received an admission offer from YALE-NUS (National University of Singapore) with inclined interest toward molecular, cellular, and developmental biology.
Dominic Navarro, meanwhile, received offers from Jacobs University in Germany, University of Wisconsin-Madison, and Bentley University.
Such happy news are most welcome in these times indeed. Congratulations and thank you to these students! — Franchesca Viernes/LA, GMA News