Filtered By: Lifestyle
Lifestyle
A hero to all, a sister to Ruby: EB host remembers her fallen frontliner sister Dr. Sally Gatchalian
Dr. Salvacion "Sally" Gatchalian was one of the frontliners who honorably died in the fight against the coronavirus disease 2019 (COVID-19).
She was a key person in her field: Dr. Sally was the President of the Philippine Pediatric Society and the former Assistant Director of the Research Institute for Tropical Medicine (RITM).
And for Eat Bulaga host Ruby Rodriguez, Dr. Sally was her good sister.
On Kapuso Mo, Jessica Soho, Ruby shared her pain and how she feels proud remembering her late sister.
Dr. Sally was one of the first medical frontliners who fought against COVID-19 as an infectious disease specialist. She was the ninth doctor to succumb to COVID-19.
A hero to all, a sister to Ruby
The Eat Bulaga host said whenever someone was sick in their family, especially Ruby's children, Dr. Sally would cry and tell her "Sana ako na lang."
["I wish I was the one sick."]
Ruby said they were all exposed to Dr. Sally before she was confined in the hospital but all of them tested negative for COVID-19.
"Ang feeling namin parang hiningi niya na siguro na 'ako na lang bigay niyo na sa akin lahat. 'Wag niyo na idamay iyong pamilya ko," Ruby said.
["It was as if she asked the Lord to give all the sickness to her so we would not be infected."]
After losing her sister to COVID-19, Ruby said the hardest part was getting her sister's body.
Ruby said she called funeral places with cremation, as she was told it was the only option.
"The most painful was when they got her, she was just in a body bag. No one is allowed to open. They brought her to the crematorium. And then they said they would just deliver. We had to choose the urn."
"Can you imagine your sister being delivered in a jar, in an urn? It's all ashes. I wasn't able to hug her. I think that was the hardest part. We didn't see her. None," Ruby cried as she narrated.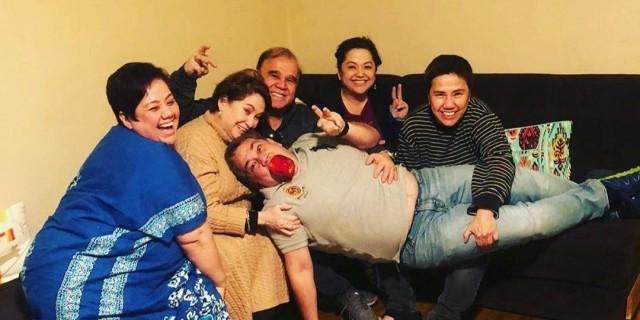 Ruby said doctors have been texting her telling her how her sister would always talk about her.
Ruby remembered the times when she would share the breakfast table with her sister and talk and laugh over coffee since they live in one compound.
Ruby did everything with her sister. "We'd shop together, watch movie together, eat together. We have our yearly trips, just me and her, we're so close," Ruby recalled.
Ruby would often host events for her sister. She remembered the punchlines and jokes she would pull on her sister.
"She's 'Manang Sally,' I'm Ruby I'm really very proud of her and then love her so much."
Moving on from Dr. Sally's death
Ruby and her family are starting to pull out of the dark by talking through video calls.
As she goes through grief, she draws strength from her family and her friends.
But what helped put her mind at peace was on the ninth day of her sister's death, Ruby had a dream about Dr. Sally.
"She was wearing white. She was in front of a table with a man, and then there was just a paper. And then, ini-stamp lang ng man iyong paper, sabi 'You passed' And then I woke up. And then I said, 'Maybe she's at the gate already;'" Ruby narrated.
["She was wearing white. She was in front of a table with a man, and then there was just a paper. The man stamped the paper. It read 'You passed'. And then I woke up. And then I said, 'Maybe she's at the gate already."]
"I'm happy that she's with the Lord. I know she is because she helped so many people." — Jannielyn Ann Bigtas/LA, GMA News