Filtered By: Lifestyle
Lifestyle
Gary V.'s wife Angeli Valenciano tests positive for COVID-19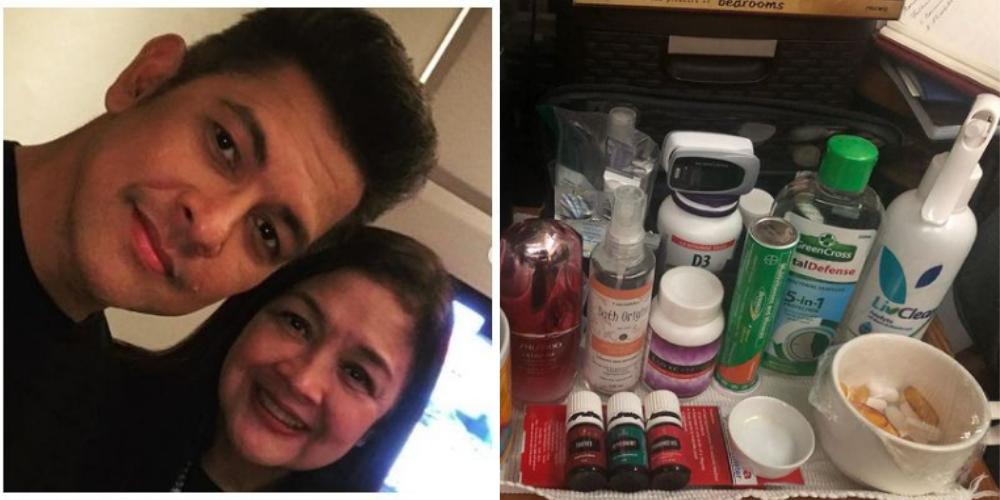 Gary Valenciano's wife Angeli has tested positive for the coronavirus disease 2019 (COVID-19).
On Instagram, Angeli shared the news, posting a counter filled with medicines and essentials.
"Guess why I posted this? Here I am isolated because I am Covid positive," Angeli wrote in the caption.
"I should be afraid right? But I am married to a man who has had Type1 diabetes for 42 years. Who has had multiple seizures due to hypoglycemia. Hepatitis. Orthroscopic surgery on his knees. Tuberculosis. Cardiac double Bypass / open heart surgery. Kidney cancer. Partial nephrectomy surgery. Whew," she added.
Angeli said given these and "having gone through all that with him, I know that this is just another trial that we will overcome together."
Angeli also revealed she "had a scoliosis spine surgery in Hong Kong in 1986. They implanted two rods on my spine. Excruciating pain. So this is just another hurdle that I know I will leap over!"
She expressed her gratitude for those who are sending love to her, quoted a bible verse and asked her followers to "please pray that Gary doesn't get it."
Angeli said she doesn't mind "getting it for as long as he is spared from this disease."
Angeli said one of their staff, Vince and their Yaya Myra are also healing.
"BY HIS STRIPES I AM HEALED! P.S. please pray for the healing of Yaya Myra and Vince too - our staff," she wrote.
She ended her note with a reminder to the public.
"STAY HOME. WEAR A MASK AND A FACE SHIELD. WASH HANDS REGULARLY. And EVEN IF YOU ARE FAMILY MEMBERS IF YOU GO OUT WITH "SWABBED" FRIENDS, DO ALL THESE AND PRACTICE SOCIAL DISTANCING!" she wrote.
On Saturday, the Philippines reported 7,999 new cases of COVID-19, the highest daily count recorded since the pandemic began.
The total number of COVID-19 cases in the country as of Saturday was 656,056. Of this number, 562,484 recovered; 80,642 are active; and 12,930 died. — Jannielyn Ann Bigtas/LA, GMA News