Filtered By: Lifestyle
Lifestyle
Bayanihan spirit continues in the Netherlands, more than a year since pandemic started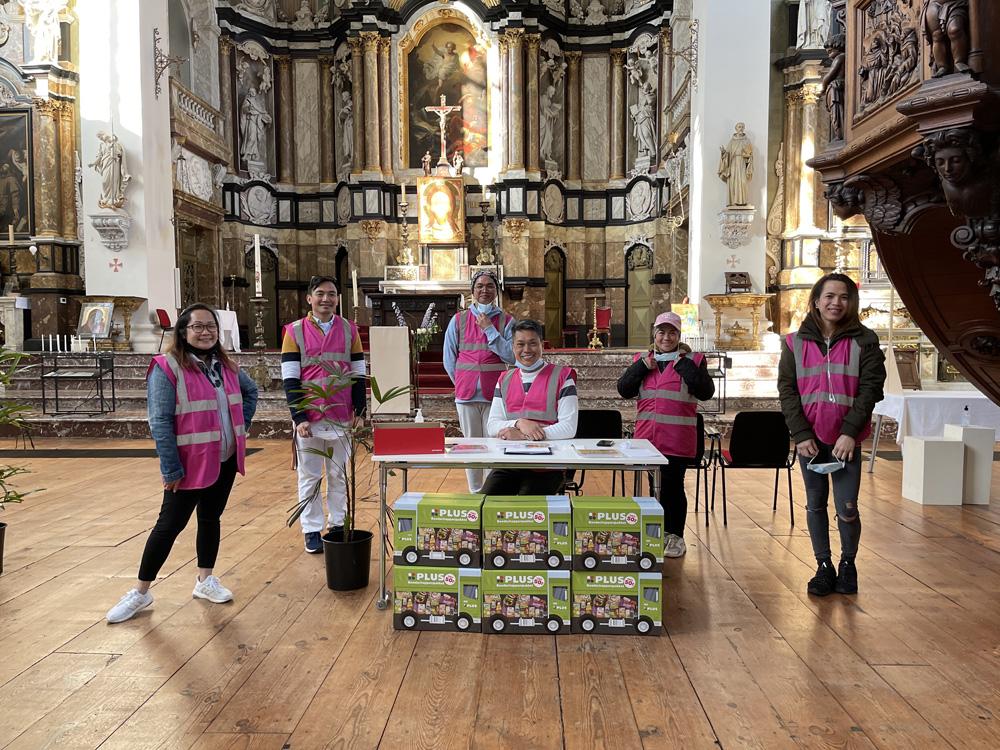 It has been a year since the Netherlands implemented stricter measures due to COVID-19, starting with the "smart lockdown" to enforcing curfews, closure of restaurants and bars, and other measures.
The Netherlands is starting to reopen again recently but the impact of the pandemic to many Filipinos rages on.
In the time of crisis, many Filipino organizations have come to the aid of fellow Filipinos who have been left vulnerable due to loss of their job and income, as well as the daily psychological and emotional challenges of COVID-19 related restrictions in the Netherlands.
Food aid and digital vouchers
One of the many organizations that continue to distribute aid in Amsterdam is the Filipino LGBT Europe. Over the year, the organization extended its mandate of supporting LGBT community to all vulnerable Filipinos in the Netherlands.
"The crisis knows no gender and we pledged to help everybody. Through the help of Red Cross, the Philippine Embassy, and other Filipino organizations, we are able to continue distributing help to many displaced Filipinos," said Chris Sta. Brigida, Chairperson of Filipino LGBT Europe.
A total of 11,624 aid in various forms have been distributed, including 1,600 food aid packs and almost 5,000 digital vouchers to almost 750 recipients, mostly Filipinos but also to other nationalities from Columbia, Peru, Cuba, Venezuela and Morocco.
"Through the digital vouchers which can be used in supermarkets or grocery stores, we are able to empower Filipinos to choose the help they need," Sta. Brigida added.
"The weekly grocery vouchers help us purchase basic and immediate needs in our homes. Since I receive digital vouchers, this has been much more convenient and easy," said a recipient, who declined to give his name for privacy reasons.

In The Hague, Tulong Kabayan Netherlands, composed of various organizations, namely FILMIS Migrants, Media Correspondent and Volunteer Organization (MCVO), and SARO (Serve, Act, Respond as One Community), are also actively sending outreach to vulnerable Filipinos in the city.
Tulong Kabayan Netherlands has been active with its humanitarian assistance since October 2020 and has distributed a total of 3,419 food vouchers. 155 beneficiaries come every Sunday to collect food vouchers worth €15. Since January 2021, the group started catering to other migrant communities too such as the Latinos and Indonesians.
"Many of our beneficiaries have confirmed their need for assistance. Not many have regained their normal working hours to be able to sufficiently sustain their needs. SARO also seek to provide the role of spirituality and religiosity as means to reduce the negative effects of social isolation and to provide the source of comfort and support within the Filipino community," Agnes van de Beek of the SARO community said.
During the height of the pandemic, FILMIS Migrants also helped undocumented migrants who are not able to pay rent due to loss of income with cash assistance through the help of Den Haag Wereldhuis. They received cash ranging from €250 to €900 depending on the number of unpaid months.
"These efforts are important because undocumented migrants who have lost their jobs have no access to any kind of social protection under the law. Migrant organizations like us work together to find ways on how we can help out our community," Jack Apostol of FILMIS said.

Free Medical Care and HIV Testing

But other form of support and aid are also sprouting across the Netherlands.

The Filipino LGBT Europe, together with Dokters van de Wereld and some Filipino registered nurses, also organized a Medical Mission Bus for Filipinos who are not able to access formal medical care.
The Zorgbus provides weekly medical and psychological consultation, HIV testing, blood pressure/glucose/cholesterol measurements, and other medical needs.

"The HIV Testing Program doesn't only provide testing but also counselling in which they are given crucial information on how they can prevent contracting the disease and what treatment options they have if tested positive," Francis Mase, HIV Committee Head of the Filipino LGBT Europe, said.

"It is very important to be tested and I want to do it because I want to take care of myself. Since this is free, I am happy to avail of this HIV testing," Kaylie Intong, a recipient of the free HIV testing program, said.

Assistance for reintegration of undocumented Filipinos
Meanwhile, the MCVO, in collaboration with the Rotterdams Ongedocumenteerden Steunpunt (ROS), also assists undocumented Filipinos who want to return to the Philippines for repatriation and reintegration.
This includes an assistance for free tickets and cash assistance which could be used to build a small business. The MCVO continues to monitor these Filipinos in the Philippines to ensure the cash assistance has been able to properly support them during the transition.
A total of seven undocumented Filipinos have already availed of this assistance since 2021.
"Because many undocumented Filipinos have lost their livelihood during the pandemic, many also decided to return home. This is where our help comes in. We want to help them with the transition to start again in the Philippines through the financial aid that empowers them to make a new livelihood," Bhong David of MCVO said.

Cycling for a cause

More organizations in the Netherlands are also mobilized to give support to the Filipino community. Members of Pinoy Cyclists in Holland (PINCH) team has offered to raise funds for food aid channeled through the Filipino LGBT Europe through a 500-kilometer cycling challenge. The distance is approximately the route from Amsterdam to Paris (Crossing the Netherlands, Belgium, and France) or from Manila to Sorsogon, Albay.
In an interview with the group after the rainy and windy cycling trip, Richie Romero, a member recounted their trip. "It was a very difficult journey because around 4pm, the weather started to change and it reached -2 degrees Celsius. Our hands were shivering because it was too cold and too windy. It was a test to prove our commitmen," he said.

The group successfully raised almost €2,000 cash in support of the Food Aid programme.

Various forms and types of help for Filipinos popping out during the time of need is a solid proof of the spirit of giving and community building.
Much like the community pantries in the Philippines, the bayanihan spirit is strong among Filipinos in other parts of the world.

"The energy that these support groups has a positive effect and is truly infectious. We want to support and create awareness that we are a community and Filipinos are here to help out each other," Romero said. — LA, GMA News