Filtered By: Lifestyle
Lifestyle
Bored with your 'baon'? Bento can make it better
Getting up early to go to school or work can be quite a struggle. A lot of people end up packing last night's leftovers for lunch, or just grabbing whatever's available. Sometimes, you end up eating the same food for the whole week. It's only a matter of time before you get tired of the usual fare and look for something more.
If you're looking for a new way of eating your baon, you may want to get creative.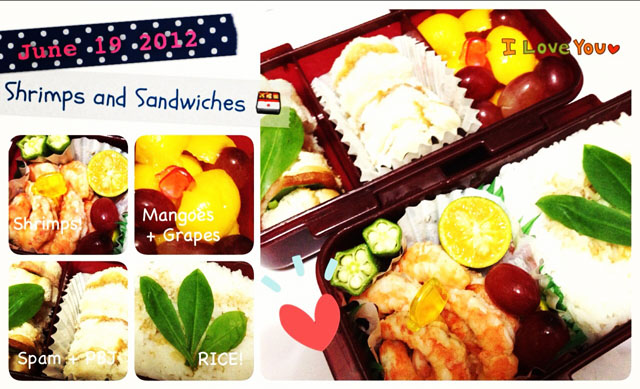 Photos by Kaye Catral
One way of making baon interesting is turning it into a Japanese bento, which is basically a neatly packed meal with rice and a variety of small portions of food like vegetables, meat or fish. It's very similar to the Filipino concept of baon, but what sets bento boxes apart is they are usually visually appealing.
Bento boxes can be as simple as several side dishes arranged in compartments, and as elaborate as kyaraben — lunches designed to look like cartoon characters or food art, which delights both children and adults.
According to bento shop
Bento&Co
, bento is popular among students and young professionals who want to save money. It is also popular among moms who want to try something new for their families' packed meals.
For stay at home mom Susan Yuen, making fun bentos served as a creative outlet. It also led to her writing two books, "Hawai`i's Bento Box Cookbook", "Fun Lunches for Kids" and "Hawai`i's Bento Box Cookbook, 2nd Course." She shares bento guides and tips on her
blog
, and features bento creations like the Angry Birds Pig Sandwich and Halloween Pasta Salad with Mozzarella Eyeballs.
Blogger Deborah Hamilton shares that she uses
dinner leftovers in bento lunches
to minimize preparation time. To keep things interesting, she transforms leftovers into different dishes. For instance, cold zucchini risotto can be made into small pan-fried risotto cakes.
Some moms make bento boxes because their kids are picky eaters. "I have to make her food look like something she recognizes...If her boiled egg is shaped like a bunny and it is holding a baby carrot, she'll eat it," the
New York Times quotes Sheri Chen
on her daughter Lucy.
Take a shot before eating
Because bento takes a lot of effort, it may seem like a waste to simply eat the lovingly prepared food. Thanks to digital cameras and food blogs, it's easy to document the day's bento box. In fact, there are several online communities where people share bento photos and stories, which in turn can inspire others, like blogger Kaye Catral.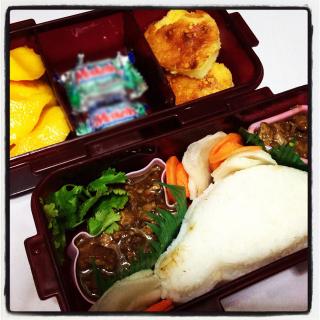 Catral shares she got curious after seeing a lot of bento tools in Japan stores such as Daiso. She got even more inspired after seeing cute creations online, and decided to try it out to get her 10-year-old excited about school lunch. "She used to just eat her snacks for recess and come home with her lunch untouched. Making it bento style gets her excited to go through her lunch. I try to make it with her favorite food," Catral told GMA News Online.
Dubbing her creations imBento (a pun on
imbento
, or invention), Catral posts some of her bento boxes on her
blog
. Some imBento boxes are easy to make, like "Special Agent Oso" bear face shaped bread with Japanese mayonnaise, while others are more challenging, like a curly-haired girl made with
pancit canton
surrounding a circle-shaped serving of rice, with nori for the eyebrows, eyes and mouth and squid balls for the ears and nose.
Because creating a bento meal takes time, there are days when Catral can't make a bento lunch. She shares that it also depends on the previous night's dinner. "Like today, for example, she requested to bring sinigang na baboy (our dinner) so I can't really make imBento because she wants the soup with it," shares Catral.
Making your own bento box
There are several websites where you can learn about bento boxes, like
Air and Angels
, which lists the following bento staples:
onigiri
(rice pressed into a shape),
furikake
(colorful savory dried flakes of seaweed, sesame seeds or seafood), pickled vegetables and fruit, eggs, and bite sized pieces of meat or tofu.
There are also groups on Flickr and Facebook, and instructional videos on YouTube.
Malaysian design blog
Hongkiat.com
features 32 impressive bento boxes, with characters like Sunmaid's Raisin Girl, Gene Simmons of the rock band Kiss, the Powerpuff Girls, and Wallace and Gromit.
Catral shares that
KitchenCow.com
is her Philippine bento inspiration. The food blog features bento boxes with Pinoy favorites like
bagnet
and crispy adobo flakes, with servings of green beans and diced tomatoes.
Food is the main ingredient in a bento box, but there are many tools and accessories for bento making, like animal-shaped cutters, nori punches for cutting dried seaweed, and toothpicks with cute toppers for making mini kebabs.
Catral says you can make a bento lunch, even if you aren't artsy and creative. "Plus don't get discouraged when the first few tries aren't as nice as what you see out there. Practice makes perfect," she adds.
She suggests planning ahead, but reminds that making imBento is supposed to be enjoyable. "Don't overwork it. My daughter almost missed the school bus Monday morning because mommy was working too hard on her lunch," she laughs. –KG, GMA News