Filtered By: Lifestyle
Lifestyle
The popular pizza gets a day all its own–August 15
People seem generally inclined to love pizza, perhaps because the Italian classic comes in as many shapes, sizes, colors and flavors as people themselves.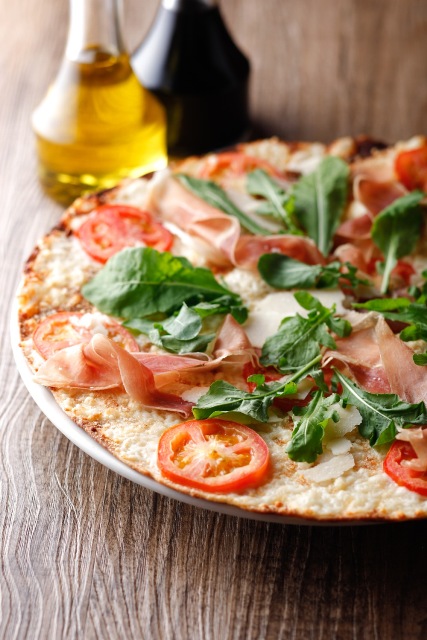 Prosciutto Pizza. Photos courtesy of California Pizza Kitchen
The dish can be customized to fit each foodie's personal gustatory inclinations. There are pizzas for vegetarians as well as for rabid carnivores, for solo eaters and
parties of 150 people
, for those who prefer sinking their teeth into something soft and chewy, or reveling in the crisp of a thin crust.
Pizzas can be as healthy as one needs them to be or as deliciously fattening as one wants. Some pizzas can come as cheap as a pan de sal topped with tomato sauce and yesterday's leftover adobo, or as expensive as one laced with
champagne-soaked caviar, cognac-drowned lobster, and edible gold
(yes, such a pizza did exist).
Anyone can enjoy a pizza, no matter where they come from, how old they are, or how much they can actually spend. In other words, pizza might just be the most all-inclusive dish on the planet.
Perhaps out of recognition of pizza's apparent significance in modern society, one of the more high-profile pizzerias, California Pizza Kitchen (CPK), has decided to pioneer a new tradition for the multitudes of pizza lovers everywhere.
The popular food chain has designated August 15 as National Pizza Day, and to celebrate the occasion, it will be giving away a free pizza for every dine-in pizza order.
Pizza lovers can choose their free pie from the restaurant's roster of bestsellers which include BBQ Chicken, Pepperoni, Five Cheese and Fresh Tomato, Hawaiian Bacon, and Traditional Cheese.
As part of the celebration, the restaurant will also roll out its new menu items.
"We have created quite a few twists and surprises. There are actually many dishes coming up and we're giving this special preview of just a few of them," said Archie Rodriguez, President and CEO of Global Restaurant Concepts, which handles the local CPK franchise.
At a press preview, the restaurant presented the prosciutto pizza, a delight of a dish made with salty, paper-thin Italian ham and a sharp combination of mozzarella and Parmesan cheese, tempered with the sweetness of juicy tomatoes, the freshness of arugula, and the bite of a crisp, caramelized crust.
Another new addition is the vegetarian pizza—a fully-loaded thin-crust dough overflowing with grilled eggplant, button mushrooms, red onion, sun-dried tomatoes, roasted corn, and broccoli with marinara sauce, chunks of goat cheese and pine nuts.
Black Seafood Pomodoro
Playing supporting roles at CPK on National Pizza Day are the pasta dishes, particularly the seafood pomodoro with tagliatelle nero. The fresh black pasta's perfect texture—soft with just a little bite—expertly held all the flavors of the sauce, a rich blend of tomato and basil, topped off with the flavors of the sea.
The lasagna Milanese, with its layers of pasta, béchamel sauce and Italian sausage bolognese is heavy on the stomach, but could be worth the painful fullness if only for the piercing taste of herbs through the rich tomato sauce, making this particular dish different from other lasagna variations.
Lighter fare in the new roster of dishes include a salad where spinach, cherry tomatoes, candied walnuts and gorgonzola cheese converge to create an interesting play of the salty, creamy and sweet, enhanced further by the slightly sour raspberry vinaigrette and the spicy sausage siding.
Of course, in the end, it is still National Pizza Day, which only means that a pizza or two, or three, or four—whether from CPK or any other pizzeria or even from your own kitchen—should be all the food you'll need to celebrate the invention of the Italian dish. –KG, GMA News