Filtered By: Lifestyle
Lifestyle
Asiong's Carinderia: Why it still is the pride of Cavite City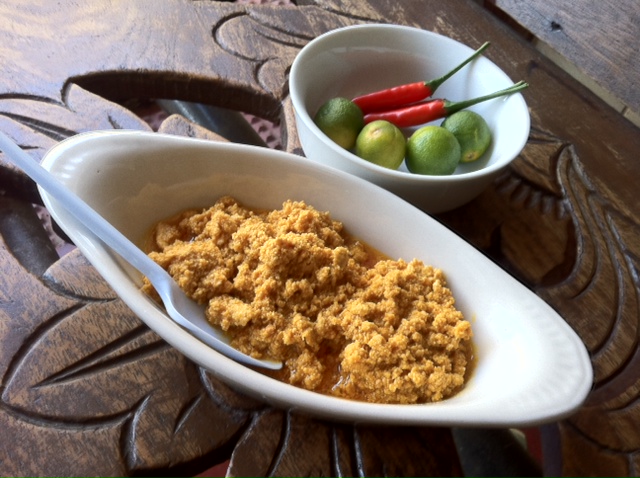 Asiong's Guisadong Bagoong na Itlog ng Isda
The words "iconic" and "carinderia" are seldom used together in a sentence. But no other word quite describes Asiong's, which has been serving Caviteños good food for 53 years now.
Our own icons in food writing have come and paid their respects to Asiong's. At some time in their lives, they found themselves behind the eatery's nondescript doors, discovering not an ordinary carinderia but a gateway to a wonderful food adventure. For nothing is more amazing to those who seek good food than to discover well-made dishes not in a fine dining restaurant in a swanky part of town but in a local wayside eatery. One that has a deep understanding of flavor profiles and the way folks actually cook and eat their food using ingredients that nature has blessed them with. This is our experience in Asiong's Carinderia and Café on Paterno Street in Caridad, Cavite City. It has been serving a mix of Spanish, Filipino and Caviteño dishes since 1960, when people asked the owners, Ignacio Lua and his wife Crisanta Trias, to cook for them after the city's downtown area was gutted by a fire that left most business establishments in ashes. Since then, Caviteños have been loyal to Asiong's, now a landmark destination for foodies. The late Doreen Fernandez came by and wrote about Asiong's famous fried chicken in her column "In Good Taste" in 1995 and called it "the place to go, if you find yourself in Cavite City..." As for us, we were pleasantly surprised just to find it alive and thriving, outlasting even some fine dining restos in the metro run by professional restaurateurs and chefs. Of course, the secret behind its longevity and success is its food. For beyond the usual turo-turo fare of sinigang na baboy, asado, kilawin, dinuguan, kaldereta, and kare-kare, Asiong's cuisine has apparently evolved with dishes that are complex yet superior in quality and taste, and best of all, original. Take their Pancit Pusit, for instance. It borrows flavors from the Spanish Paella Negra or Squid Ink Pasta but uses it on our very own pancit bihon noodles. The noodles are bathed tenderly in the squid ink, fully absorbing its briny essence. Within the noodles are slivers of soft squid and generously sprinkled on top are minced kinchay, bits of chicharon and thin slices of kamias for sourness, instead of calamansi. This Pancit Pusit (also known as Pancit Choku) is the creation of Sonny Lua, who now manages the restaurant his parents built. Sonny is an interior designer by training whose passion for food has become more overwhelming than his love of home design.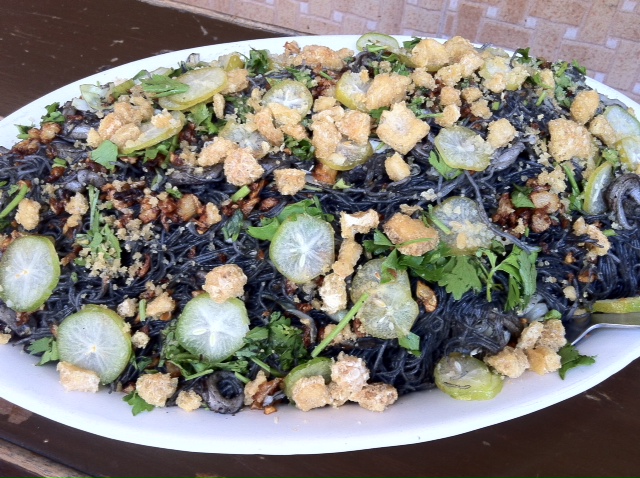 Asiong's Pancit Pusit
He experimented on the Pancit Pusit together with writer Ige Ramos, an authority on Caviteño cuisine, when he had a craving for it one evening. The result of his trial and error is the Pancit Pusit that is drawing crowds at Asiong's. As Sonny is bent on elevating Asiong's level of cuisine and with his knack for knowing how to use what's abundant in the coastal city, he also offers a very indulgent and rich Guisadong Bagoong na Itlog ng Isda. This is similar to the bihod of the Visayans and comes close to aligue (crab fat) in flavor as well. The itlog ng isda (fish eggs) comes from blue marlin and the Imelda variety of maya-maya. When mixed into steaming hot rice and drizzled with drops of calamansi flavored with siling labuyo, your mouth is wonderfully overwhelmed with the salty and heavenly taste of the ocean's bounty.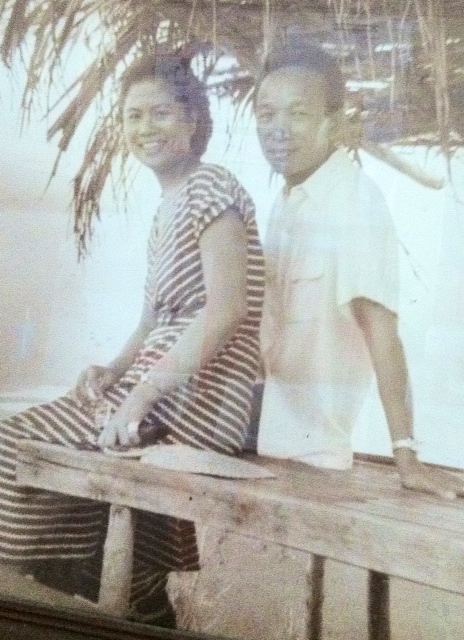 Asiong's owners Ignacia Lua and Crisanta Trias
It was fresh and good in itself, quite lavish, for when you think about it, aren't fish eggs the same as caviar? There were other amazing food finds in Asiong's like their exotic and sweetish asado made from tainga and nguso ng baboy (pork ears and lips), the haleyang sampalok (tamarind jam) which is served with a flattened spoon as spreader and is terrific on hot pan de sal, and Sonny's homemade all-natural kamias juice with fresh malunggay, the perfect summer day cooler. For dessert, we had Asiong's homemade sweetened golden mangoes, preserved ripe bioko mangoes also called "supsupin" by the Caviteños. To end our meal, Sonny served his personal coffee concoction – his kapeng barako blend flavored with cinnamon, sinangag na bigas (toasted rice), cumin and vanilla. The flavors melded so well that even when my cup of coffee ran cold, it still tasted good. To complete our journey through Cavite's cuisine, we tried some quesillo, a thicker and slightly saltier version of kesong puti, which we got from the Cavite City public market. The quesillo, eaten with hot pan de sal, is a revelation of how the people here have been quietly rallying behind their cuisine. Same with the homemade tamales we got from Robinson's. The hefty tamales are made from galapong and ground peanuts, and filled with bits of chicken, pork, egg, and garbanzos. It was in Asiong's that we also tried the flavored ensaimadas of Pearl de Guzman of Baby Pat Breads and Pastries, the home baker's tribute to her late mother, Patria Macalindog of Pats's Bakeshop, a longtime bakeshop in Cavite. There is a long wait list for her Nutella and Speculoos flavored ensaimadas, so one has to order them days in advance. Indeed, being in Asiong's confirms that it is in simple food, eaten without fanfare, but cooked with much love for the people and a genuine passion for our heritage, that we understand our roots and embrace our commonality as Filipinos.
— BM, GMA News