Filtered By: Lifestyle
Lifestyle
Rice cakes, roscas, and more eats at the Samar Food Fest
A beauty pageant was being held at the town square the night we came into Catbalogan from Tacloban City on a two-hour bus ride that traversed the Pan-Phillippine Highway, passing San Juanico Bridge, still majestic with its span of 2.16 kilometers, the longest in the country.
In my mind, Catbalogan, the city capital of Samar, was a sleepy coastal town, but the Catbalogan that welcomed us was bustling with activity.
It was, after all, the Manaragat Festival, and fiesta month, too. Celebrations are held almost daily throughout August as a tribute to the Catbaloganon fishermen and in honor of the city's patron saint, San Bartolome.
As the beauty contest proceeded, townsfolk filled the plaza, feasting on beer and their choice of barbecue at the stalls that lined both sides of the square, hawking pork or chicken on sticks, hotdogs and longganiza, to the more exotic isaw (intestines) and tenga ng baboy (pig ears).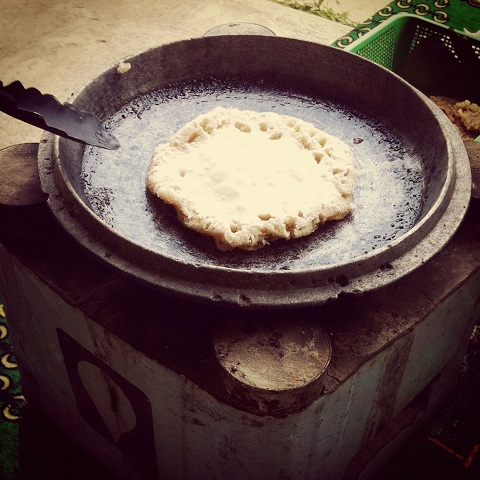 The salukara is a crepe-like delicacy that uses young coconut wine.
It was a heady and hunger-inducing teaser to what we came here for, Samar's very first food festival.
The festival's theme was "Pagdayeg at Pasasalamat" (Veneration and Thanksgiving) held to pay homage to the heritage of the Catbaloganons.
Glenda Barretto of Via Mare, a Pinoy culinary icon who hails from Calbayog, led the festivities. She shared: "From Calbayog up to here, mga three hours siguro. And from Gandara you have to take a raft. But I would come all the way here because of the food."
Kakanin galore
Barretto was particularly taken when she saw one of the kakanin (rice cakes) of her childhood being made at one of the festival's stalls. It was called salukara, a crepe-like delicacy that used tuba or young coconut wine as pampatubo, in favor of baking powder.
Rose Gabon of RG Foods was cooking salukara on top of what looked like an antique makeshift stove. "Minana ko pa ito sa lola ko," she said. Gabon then related that this delicacy was popular in Borongan way back in the 1950s or when her grandmother used to make them.
The basic ingredients of the salukara are giniling na bigas (ground rice), water, tuba and brown sugar, no water or eggs. It is mixed into a batter and then cooked on a hot pan that's brushed with mantikang baboy (pork lard).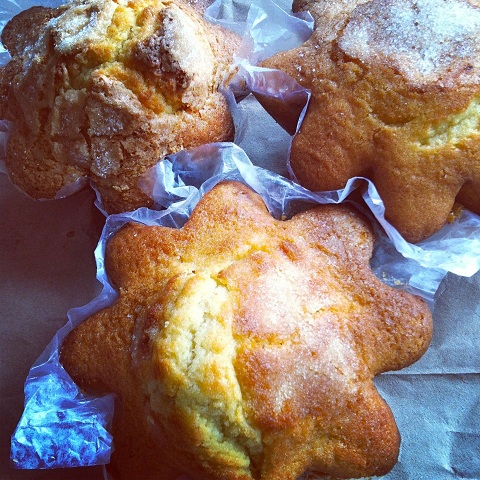 Samar's torta is a fluffy, buttery cake. The Visayans' answer to ensaymada.
The result is a thin, stretchy pancake that bears a hint of sweetness and a slightly sour taste. Gabon said that the salukara was often eaten for breakfast with tea, and with softdrinks for merienda.
It is hard to get hold of authentic salukara these days, according to Barretto. She remembers buying some just along the streets and that it was very fine and very white, just like a thin crepe that had butter and sugar and panochaspread on top of it before it was rolled.
Apart from the salukara, the festival also showcased more of Samar's kakanin: the chocolate moron (much like suman but swirled with tablea chocolate), sagmani and binagol, both made from grated root crops like talyan and gabi and wrapped in banana leaves then steamed.
Simple home cooking
What captivated us was how simple, yet flavorful, home cooking was in this part of the country. In a humble dish called Baduya nga Pasayan which called for fresh shrimps that were plentiful in these parts, they showcased their culinary prowess.
While the jovial Lydia Nuñez of Calbiga was deep-frying the shrimp fritters, she said that she learned how to make Baduya nga Pasayan (or maruyang hipon) from her mother. This is an everyday dish in their house but, for local tourists like us, it was a very tasty and crispy version of Japanese tempura.
The Baduya nga Pasayan is easy to make, with just fresh shrimps and minced green onions mixed into a batter of flour, water, baking powder and seasoned with iodized salt and black pepper. Ladlefuls of the mixture were deep-fried in hot oil, and then we were rewarded with the crispiest fritters that burst with the sweet and savory flavor of fresh shrimps.
The best thing about it? You get three large pieces for only P20, more than enough for a hearty lunch eaten with soup and rice.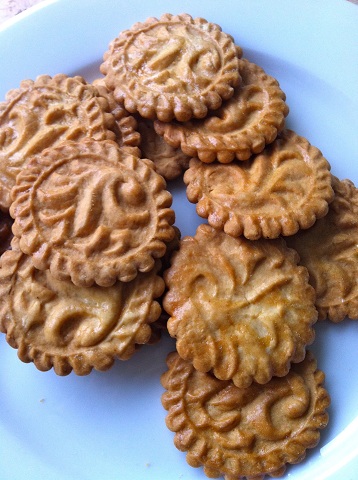 The corioso is a Spanish-era biscuit.

And then we sampled more of Samar's finest food such as the queseo or kesong puti made from very fresh carabao's milk that Marietta Bernales of Mayette's in Gandara revealed was pasteurized then mixed into vinegar. The milk separates from the liquid and then cheese is formed in molds and seasoned with salt. The queseo is served in thin rounds, eaten for breakfast with pan de sal or often, with steaming hot rice.
Throwback to Spanish roots
At the new Café Maria Rosario, we sampled one of Samar's most popular dishes, the tamalos or their version of the tamales, packed with slivers of liempo (pork belly) and chunks of soft fat cooked with rice flour in a spicy, rich peanut sauce.

This coffeeshop is also popular for its Samar torta and Spanish-era biscuits like the corioso, roscas, podrida and pasalubong favorites like hopia de pili and delicias de pili under the brand of Charito's Delights.
The torta is not to be confused with the eggplant and ground pork omelette that we know in Manila. This is rather a fluffy buttery cake that is the Visayans' answer to the Kapampangan ensaymada.
Much like the ensaymada, the torta is the toast of every home during fiestas and special occasions. Families have their own recipes passed on from one generation to the next, calling for flour, milk, sugar, butter, baking powder, eggyolks and yes, pork lard. And the more yolks one puts into the mix, the better and more extravagant the torta becomes.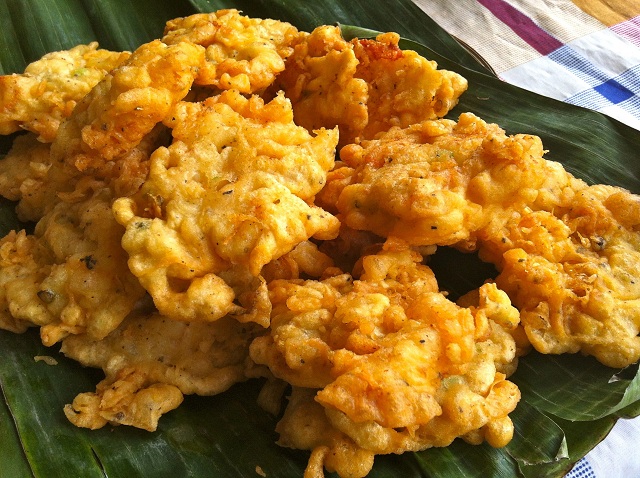 The baduya nga pasayan is, like the maruyang hipon, a very tasty and crispy version of tempura.
At Charito's Delights, proprietor Ms. Emma Bermejo confessed they still make the torta the old way: by hand, without the aid of a mixer. She says that a fiesta is never complete without a torta, the six-inch cake sliced into four or five so that it opens like a flower, to be shared among the guests.
Other home bakers that specialize in the torta are Marivic Daganzo of Regina's Home Baked Products and Yolanda Tan-Cabison of Yolly's. The torta sells for P60 each and is best eaten with coffee or tea.
Sweet tooth as a means to pride
The bakers of Samar continue to make the corioso reminiscent of the sanikulas of Pampanga because the round flat buttery cookies are made by pressing them against wooden molds with intricate leaf patterns.
The roscas are so named because they look like plumbing parts for connecting cylindrical pipes. They are crispy and sweet as they are sugar-sprinkled.
In Samar it is said that guests were often served canned sardines, deemed more "sophisticated" than the everyday fare they cooked at home. Slowly though, the rural folk are beginning to take greater pride in their homegrown food and cuisine. It is in cooking and partaking of the food that is closest to our hearts that truly we celebrate our heritage and honor our traditions as a people.
The two-day Samar Food Festival was the very first one held in this great province in the south and we hope that it is not the last. – KDM, GMA News