Filtered By: Lifestyle
Lifestyle
Smart, curious, and still thrifty: The young Filipino diner
Eating out used to be limited to special occasions, but it seems one no longer needs an excuse to try out the newest restaurant. For young working Filipinos, eating out for lunch and dinner is becoming a habit.
While fast food and Filipino cuisine are still very popular, diners are becoming more adventurous, as data from the dining app Zomato suggests.
"They're just willing to try more new things now in terms of flavors, as well as ambiance," Zomato Philippines CEO Katrina Clasara says.
Observing the behaviors of an average of 15,000 daily users, Zomato found that most users search for places to eat right before lunch and dinner. On the other hand, activity drops on holidays, when the office crowd stays at home.
Zomato is a perfect match for Filipinos, Clasara shares, because of the ever-present dilemma of which restaurant to pick. Should one put up a restaurant, it might be a good idea to name it Kahit Saan, or wherever, which is the common Pinoy response to the question "Where will we eat?"
While no such restaurant is currently listed on Zomato, the app does include 11,000 restaurants in Metro Manila, 3,200 of which are in Quezon City. Clasara shared that the Zomato team visited some 9,000 of these restaurants prior to launching the site in March.
In fact, part of the team is assigned to return to the restaurants to make sure all the information is updated, from telephone numbersto menus.
The taste of a home-cooked meal
Of all the restaurants, 40 percent offer Filipino food or fast food. Clasara says this may be because people often eat out because it's convenient, but still want the taste of a home-cooked meal.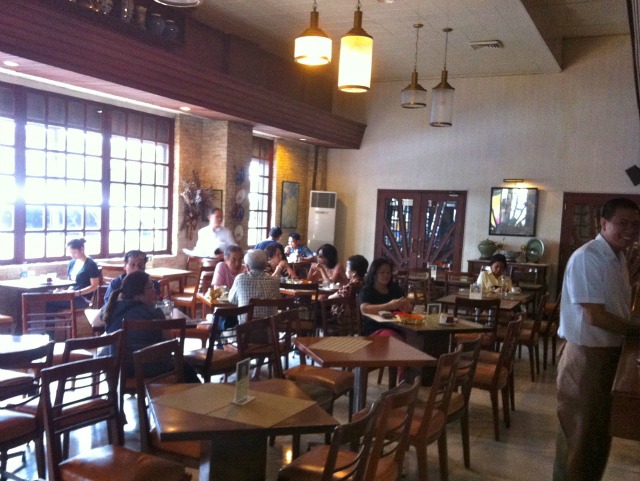 The taste of a home-cooked meal in restos such as Hizon's Za's Cafe in Manila lures diners. This cafe was a favorite hangout of Comedy King Dolphy. Amy Uy
"On a regular day I think it's easier for people to go out and eat, and the closest to home would be Filipino cuisine," she says.
Trends like milk tea, red velvet, and cronuts are clearly seen, too. Clasara notes that Filipinos are very partial to sweets, a demand that is met by some 2,400 cafes and dessert outlets.
Tea is also a growing trend, she adds, despite it being a bit pricey. "That's not really our culture... but all of a sudden people have time for afternoon tea, which is good. It means we're exploring more things," she says.
Who made the food?
Chef-driven restaurants is one upcoming trend that Clasara sees, as well. "Now people are more interested about who made the food rather than just the food." says Clasara, who was a chef before joining the Zomato team.
Another thing that's noticeable about Filipino diners is they are more conscious about their food. Apart from wanting to know who made the food, people also want to know where the ingredients are coming from.
"Generally I think the trend is we're becoming more aware of what we put in our mouth," she says, adding that they get a lot of searches for organic and healthy dishes.
What hasn't changed, however, is the desire to get value for money. "The average Filipino diner always looks for good value for money," says Clasara, who noted that buffets are very popular.
Interestingly enough, when Filipinos write restaurant reviews, food isn't always in the spotlight. "Sometimes I notice the food is just the third paragraph of the review," Clasara shares, adding that what Filipinos really look for is good service.
Again, it boils down to wanting to get their money's worth. "They feel that they're entitled to it, they think 'Otherwise I'll just eat at home, I mean if I can just cook it myself,'" she says.
Of course, this is the last thing Zomato would want to happen, as the very essence of the app is to help people who want to eat out.
"People always ask each other where are we going to eat and nobody ever wants to answer that. Nobody ever wants to make a decision, so, we'll do it for you," she says.
Zomato recently launched its ninth version, which features a cleaner, more interactive interface. People can now upload photos, add other users to their network, and comment on restaurant reviews.
"It's discovery platform meets social network," Clasara says. —KG, GMA News