Filtered By: Lifestyle
Lifestyle
100 Revolving Restaurant serves haute cuisine at high altitude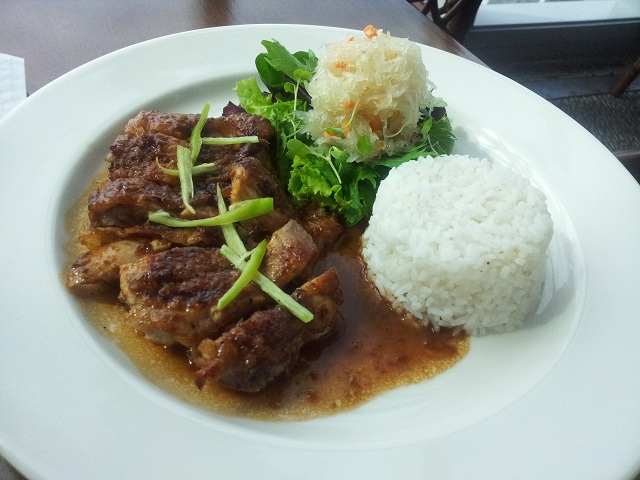 The Chicken Adobo at 100 Revolving Restaurant
Chef Jessie Sincioco is known as one of the old guard of Manila's fine dining circuit. The country's first female pastry chef and one half of the much-missed Le Souffle, Chef Jessie has been satisfying diners with
her signature fine dining cuisine
at Top of the Citi by Chef Jessie and Chef Jessie Rockwell Club.
At 100 Revolving Restaurant, which opened last September, Chef Jessie steps out of her comfort zone, treating diners to a variety of dishes from all over the world. Set on the 33rd floor of the MDC 100 Building just outside Eastwood, the restaurant takes one hour and 40 minutes to make a full revolution. Currently the only revolving restaurant in the country, it offers a view that stretches as far as Laguna de Bay, Manila Bay, Sierra Madre, and Mt. Banahaw.
The building and the restaurant are both named after P100—the capital Mariano Que had when he started what would become the Mercury Drug empire. The Que family, who own the building and commissioned the restaurant, wanted Chef Jessie to run it from day one, never taking no for an answer ever since they started "courting" her in 2011.
To match the revolving theme, Chef Jessie departed from her signature French cuisine and went with a more international selection, offering sushi and ramen, more sandwiches and pastas, and Filipino dishes, side by side with signature dishes such as her French Onion Soup the Classic Way and variety of savory and dessert souffles. "I'm more at liberty to exercise what I want in terms of designing the menu and coming up with new concoctions," she says.
Filipino favorites
One such dish is the Alugbati and Micro Arugula Salad, which takes Filipino flavors and presents them in a decidedly non-Filipino way. The alugbati, which is usually blanched, is served raw and topped with crispy solar-dried premium dulong to provide saltiness and textural contrast. The whole thing is brought together by a sweet and tangy bagoong tamarind dressing. This dish is Chef Jessie's unabashed favorite. "I crave for it nowadays."
Folks familiar with alugbati will be surprised to find that the leaves in the salad aren't excessively slimy. This is because Chef Jessie makes sure to use young leaves, and sources them from her sister, who runs their farm in Bulacan. As with most of the ingredients used in Chef Jessie's restaurants, the alugbati is organic.
Another popular dish is the Balut Surprise (P300), which she concocted a few years ago especially for celebrity chef Ming Tsai. The earliest version involved incorporating a whole balut in a bulalo base, then covering it with pastry. Needless to say, Tsai was amazed.
"Do you know what you're eating?" Chef Jessie had asked when he was halfway through.
"I don't care what it is," Tsai had answered. "It's good."
The current version doesn't have a whole balut in it anymore, but has managed to draw a following nonetheless.
100's bestseller so far is the Chicken Adobo in Creamy Coconut Sauce, which doesn't come as a surprise to Chef Jessie. "Filipino food sells better than other dishes," she says. "When we want to enjoy our food, we indulge in something that's familiar. That's my take on that."
The dish is a cross between adobo and barbecue, the tender chicken covered with a skin that's crisp on top, slowly melting into soft flesh. Served on top of a semi-clear sauce with rice, and achara, it is an extremely well-made version, its preparation and presentation transcending lutong bahay, while retaining the comfort brought by everyone's favorite dish.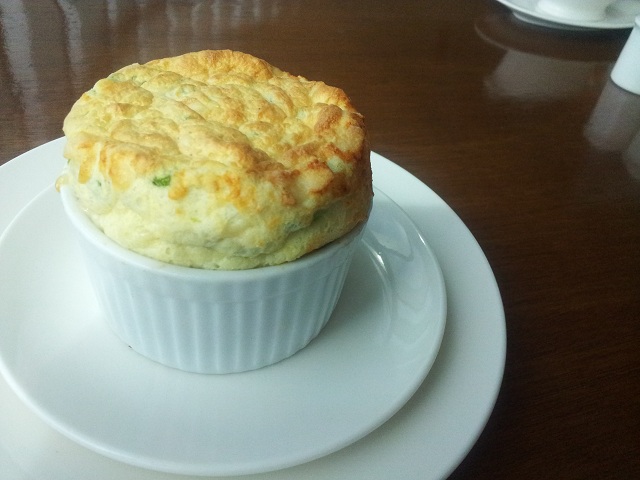 The Asparagus-Blue Cheese Souffle
Continental classics
Folks expecting Chef Jessie's signature cuisine will not be disappointed. Meals start with house-made bread served warm and Special Dip—a mix of oil, herbs, and cheese specially concocted for a customer with dietary constraints, but which has become a regular part of everyone's dining experience.
The Pan-Fried Goose Liver Salad with Berries Compote, served with raspberry honey sauce, delivers just the right amount of freshness via the vegetables, balanced by the richness of the foie gras, the dressing rounding everything out with its fruity sweetness.
It is almost unthinkable to eat at one of Chef Jessie's restaurants and not order a souffle, the dish that put her on the map. Choose from a list of savory ones for lunch or dinner, and sweet ones for dessert. The Asparagus-Blue Cheese Souffle is, as all her souffles are, light and airy despite the presence of asparagus bits. It is sufficiently savory, and must be enjoyed at once so that it retains its heat and texture.
The Pasta a la Chef Jessie, a perennial favorite, features scallops, shrimps, asparagus, sun-dried tomatoes, mushrooms in a tomato-based sauce beautifully coating fettuccine al dente, the whole thing liberally topped with parmesan shavings.
The Assorted Seafood Gambas with Garlic Rice, a familiar appetizer, is turned into a comfort main course with the addition of rice and prawns, scallops, and big chunks of fish in mild tomato sauce. The liberally sized seafood ensures that the dish does not leave you wanting.
The Grilled Chilean Sea Bass topped with Pan-Fried Goose Liver, a personal favorite, straddles the line between safe and decadent, offering the diner different flavors and textures in one plate. A red and white sauce accompanies the fish, whose smooth texture is paralleled by the foie gras' fatty, buttery goodness.
And then there is dessert. Chef Jessie started out as a pastry chef, and her commitment to the craft has never wavered. The Baked Cheesecake, which has been described as a peanut butter cup in cake form, is smooth and rich but not heavy, like velvet on your tongue.
The Revolving Tortas are must-trys, the warm pastry hiding a vanilla cream filling that allows the flavor of the fruit topping it to shine.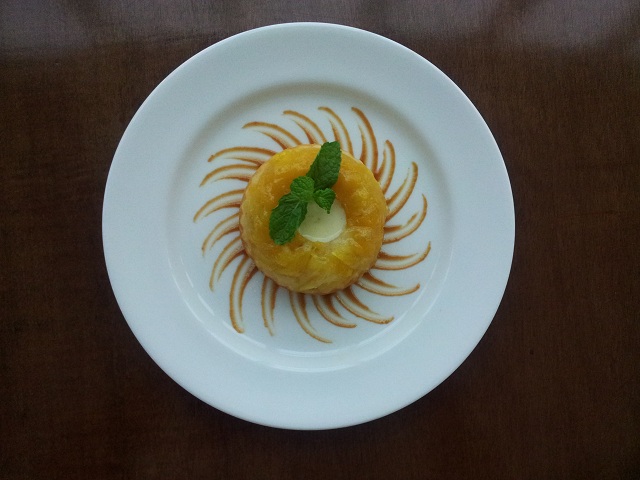 The Revolving Torta Jackfruit
And again, one is hard-pressed to leave the restaurant without trying a dessert souffle. The Dark and White Chocolate Souffle has a wonderfully crisp top that gives way to a pastry so light, you almost cannot feel it as it lands on your tongue.

Even the coffee is special, Chef Jessie's own blend commissioned from a local couple who source their beans from Benguet. "It's premium, everything is hand-picked."

100 Revolving Restaurant is a hotspot during lunch and dinner (where it has become a popular proposal spot as well), but what people don't know is that it's in the afternoon, the hours that is traditionally a restaurant's down time, when the view really stands out. To take advantage of this, Chef Jessie plans to offer Filipino High Tea like she does in Rockwell, where diners can feast on traditional Filipino snacks.

Pleasing the diner is, for Chef Jessie, is what the restaurant aims to do. "If you to go to a place like this, you want to feel that you are important, [that] you will be pampered. That is what we want to do. Make everybody who comes here feel that they are very important to us, that we are here to serve them," she says. "It has to be the experience of a lifetime."

And it certainly is. — BM, GMA News