Filtered By: Lifestyle
Lifestyle
From cake shakes to the city's famous lechon: What to eat when you're in Iligan
Social media has always been a good venue to get food recommendations. That was why before visiting my hometown of Iligan City, I wrote down my to-eat list—food I wanted to make sure I got a taste when in the City of Waterfalls.
I posted my list on Facebook. The immediate feedback from high school and college friends was that they felt nostalgic looking at the list. Who wouldn't? We were all cities and countries away from Iligan and we were looking for a glimpse of the past, of the city that we all loved.
For me, it was a necessary exercise because when visiting a small city like Iligan—a couple of hours away from the more vibrant Cagayan de Oro—you will lose track of things to do apart from seeing friends and family. Iligan City captivates its visitors because of the friendly people but aside from that, a reason to visit might be to taste the good food that the city has to offer.
My friends helped me come up with additional items. Here's my summary of the food in Iligan you should stop by for. This is in not in order of priority but a checklist for you on your visit.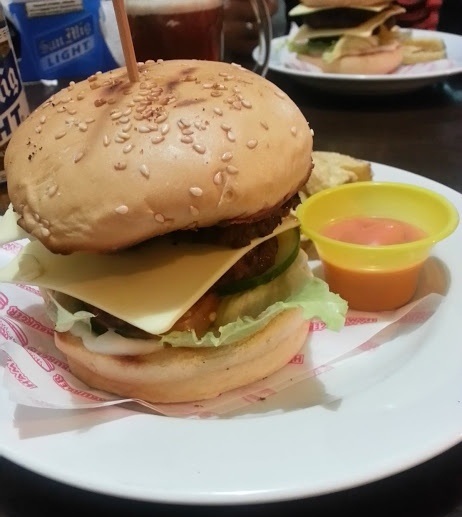 The burger at Flamoo's
1. Lechon at Jaime's Lechon Bayug
They say that Iligan City competes with Cebu when you're looking for the best lechon in the Philippines.
A lot of us would argue that Iligan City has the best. And if you are looking for a local name in Iligan City famous for its lechon, try Jaime's Lechon.
In a city situated in Mindanao, where we have Muslim friends, it's a challenge to be able to produce the best lechon. But not in Iligan. They seem to have formulated the best recipe to deliver roasted pig in a bilao even for those who prefer to order by the kilo.
2. Burgers at Flamoo's Burger
There's Jollibee and McDonald's, so why bother with Flamoo's burgers? It's because they are able to pin down a burger patty recipe that suits the taste of Iliganons.
Couple it with a beer or soda in the open air while talking with friends: in Iligan, it's always about the company. So make sure you are with a great bunch. Yes, enjoy the burgers, too.
3. Mango Cream Pie Shake at Zoey Cafe
Have you tasted cake or pie disguised as a shake? You can at Zoey's Cafe.
Sip it while listening to their late-night (as in 8 p.m.) live band and you'll be sure to have a relaxing evening. Just make sure you pace yourself because you're sipping cake in shake form.
4. Crispy Squid at Jacko's Kan-anan
Again, it's all about who you eat with in Iligan—and who gets the tentacles, who gets the body and who gets the tail of the crispy squid served to us.
It's delectable and memorable. I took a bite but finished all the tentacles. It was worth it.
5. Banoffee Pie at Aruma
Who would want to spend almost P800 for a pie? I would. That's if it's this good as Aruma's Banoffee Pie. We brought home a whole layer and spent two days wondering if we should bring back one to Cebu. We didn't, but the memories are forever on my mind. And on my hips.
6. Buko juice from plaza vendors
It might be just another buko juice for you, but if the experts at the plaza are the ones to serve it to you in an icy cold container after a hot day of food-tripping, you'd appreciate it too.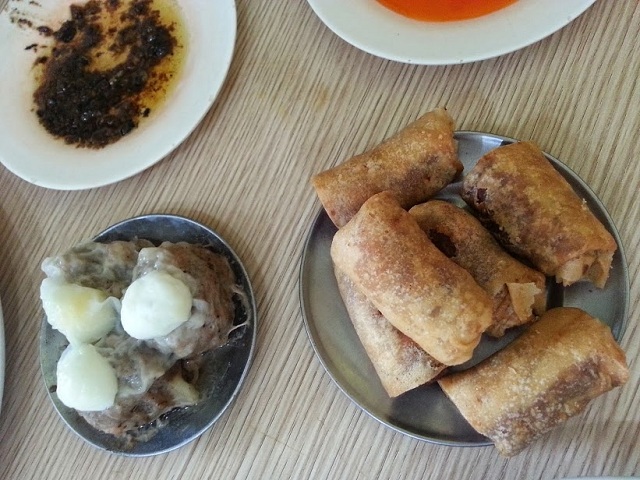 JY Dimsum's offerings
7. Dimsum servings at JY Dimsum
This place is well-loved by the parents. We've been going here for ages and crawl back to this place if we need nostalgia.
They are also well-known for their rice toppings and siopao. It's Chowking at half the price.
8. Sisig at Gazpachos
This is another dish that's good with an ice-cold beer. It leaves you craving for more conversations and more beer.
When you're done, take a stroll up to the City Hall and admire the scenery from Buhanginan Hills.
9. Iliganon's Beef Rendang and Durian Shake
These top my personal list and almost made it into my speech at my college when I was invited as guest speaker. I hesitated adding it because it's our third major reason for visiting the city (aside from official business and family).
Just note that rendang is spicy. Consider yourself warned.
But if you finish it off with the famous durian shake, it would not be such a bad ending for your tongue.
10. Piadina at Poprock Cafe
Friends shared their memories of this dish from as far back as 1995, when it was still P50 only. That's along with other memories of living in the city and the post-church food-tripping with family.
As a lover of pasta, this is one dish I would go back to Iligan for.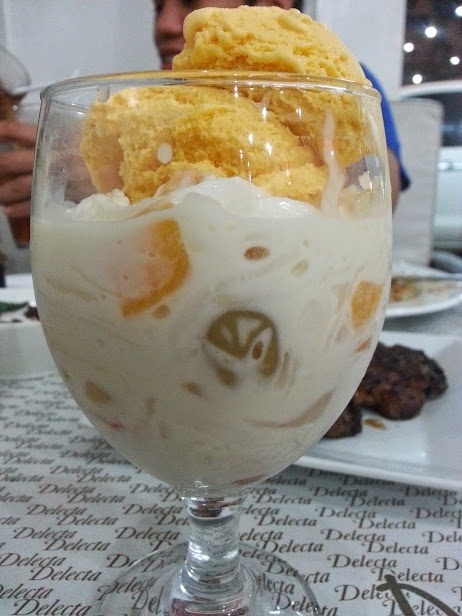 Delecta's Buko Salad
11. Buko Salad at Delecta
Salad for dinner in buko form is all fine with me. Life is short so we eat desserts first, right? Right.
Make sure to also taste their huge pork steaks and delectable dinuguan dish.
12. Milk Bars
If ice candy during summer plagues your memories, others are gripped with milk bar memories.
It was not as creamy as I remembered, but the hard plastic, the dripping chocolate, and the slight easing of the summer heat are reasons I would be eating a milk bar again and remembering my elementary school days in Iligan City.
Are you convinced that you should go on a food trip to Iligan yet? I hope you do visit soon because Iliganons have a ready smile for you when you drop by.
Another reason to visit Iligan: the Waterfalling Adventure Tour 2.0 from May 17 to 19, organized by the Iligan Bloggers Society, Inc. as part of the celebration of Diyandi Festival. Visit
www.iliganbloggers.com
if you want to join or sponsor.
— BM, GMA News