Filtered By: Lifestyle
Lifestyle
Learn about the history of the pizza on National Pizza Day
August 15 marked the third celebration of National Pizza Day in the Philippines, and
various pizza chains celebrated the event
with an array gimmicks like including a free pizza with every dine-in order.
But how did pizzas actually come about?
Created in Naples, Italy around 600 B.C., the oftentimes expensive treat started as an inexpensive, easy-to-eat staple food for the poor.
According to History.com
, the flatbread then were already topped by modern favorites such as tomatoes, cheese, oil, anchovies, and garlic.
However, it acknowledged that there has been archaeological evidence pointing to ancient Egyptians, Romans, and even the Greeks as the pizza's originators.
According to What's Cooking America's timeline
, famous figures such as Darius the Great, Cato the Elder, and Virgil have written of a 'scanty meal' of flat round doughs topped with various foods.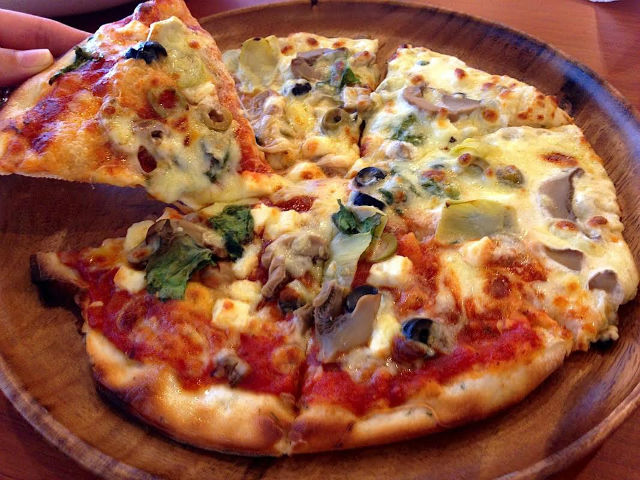 Alfredo Benjamin S. Caguioa Choose your own toppings at Mads Pizza. All photos from GMA News
"Balitanghali" on Saturday's reported date of 997 A.D. refers to the first time the term "pizza" was actually used in referring to the unique pastry.
The Florentine writes
that Gaeta's charter, specifically item XCVI, lists the word 'pizza', though it was mostly likely made in the form now known as 'focaccia'.
It added that the form of pizza we know today came about after marinara sauce was imported to Italy from the Americas in the 19th century, while cheese in the 1880's.
Luisa Lomotan, director of California Pizza Kitchen, added in "Balitanghali"'s report that poor Neopolitans, who lived near the sea, added sardines to the mix. Its success led them to experimenting with other ingredients.
Italians brought pizza, among other foods, to the United States upon their migration in the 1900's. More toppings were added to their recipe, and these extravagant designs eventually made their way to Philippine shores.

Pizza galore

On the third year of National Pizza Day, a 'holiday' started by an international pizza chain, various pizzerias showed off versions inspired by Filipino cuisine.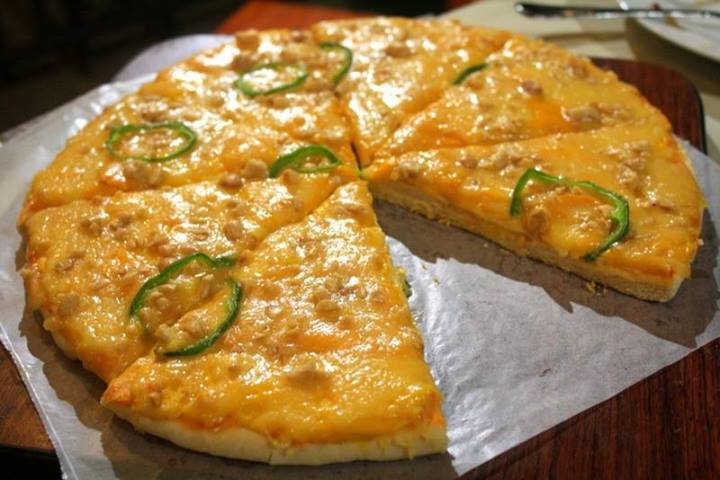 Guimaras's mango pizza.
MJ's Cafe Bar & Catering Events have their bistek pizza, a plain pizza topped with cheese, bistek-style meat, and onions. Bits of tinapa also made its way on one of their pizzas, where it mixed with equally-salty red eggs, while another had sisig solo the dough.
Netizens also shared their unique designs on various social media accounts.
A decidedly Ilocano pizza had poqui poqui
, an egg and eggplant dish, mix with bagnet, fried crispy pork belly, and another Ilocano pizza had its bloody dinardaraan arranged carefully on white fluffy dough.
Pizzas have also made their way back to the impoverished, with many Filipinos growing up on pizza baked in a gas-powered oven on pedicabs and stalls. While not boasting of mozzarella and olives, these pizzas are graced by the presence of ham and cheese and pineapples. These pizzas have become favorites due to cheap prices and sweet sauces.
"Kaya patok ang pizza. Ang Filipinos mahilig kumain ng iba't-ibang flavors. (At) for sharing eh, nage-enjoy sila. It's a fun thing to eat, it's easy to order, it's accessible," said Lomotan. — Rie Takumi/VC, GMA News