Filtered By: Lifestyle
Lifestyle
Is it corn, or is it rice? New product is one food staple masquerading as another
It's corn. Yup, Rico Corn Rice, the new product that you see in the rice aisle of your supermarket, is actually pure Philippine corn made to look like rice.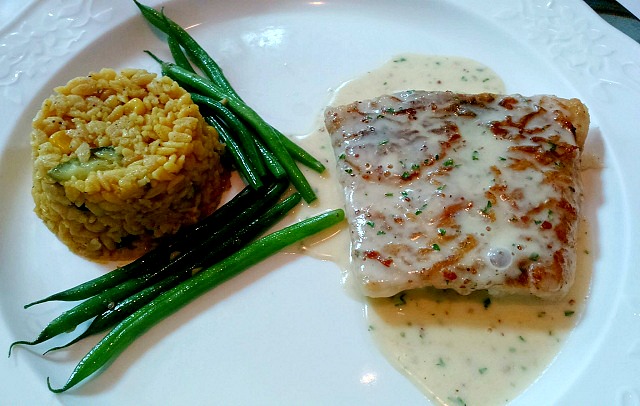 Some of the food at the launch: Pan-fried codfish fillet in pommery mustard sauce with corn rice pilaf and sauteed French beans
I love rice. I eat it for breakfast, lunch, dinner, and sometimes even merienda. When I learned that Rico was actually corn and not rice, I felt a little deceived and asked, "Why?"
Yes, why did they have to create a new kind of "rice," a yellow one, when we already have so many rice varieties in the country: white, brown, red, black, and more?
During the product's recent media launch at Chef Jessie's restaurant in Rockwell, Makati City, the makers of Rico Corn Rice said they wanted to create a product that tastes like rice but provides the nutrition of corn.
Philippine Leading Infinite Logistics, Inc. (PLILI) general manager Claire Legaspi said that the company's product is a good alternative for those who have to watch their blood sugar, as corn has a lower glycemic index (GI)—a measure of the impact of a certain food on a person's blood sugar level— than rice.
PLILI president Jebe Ga Yanelo also said that while corn already has beta-carotene, lutein, and fiber, the company fortified its product with B-vitamins, calcium, and iron.
He added that in the provinces, it is common for people to eat corn or "bigas na mais" and not rice.
No washing needed
PLLI's corn-drying facilities are the second largest in Southeast Asia, the company execs said.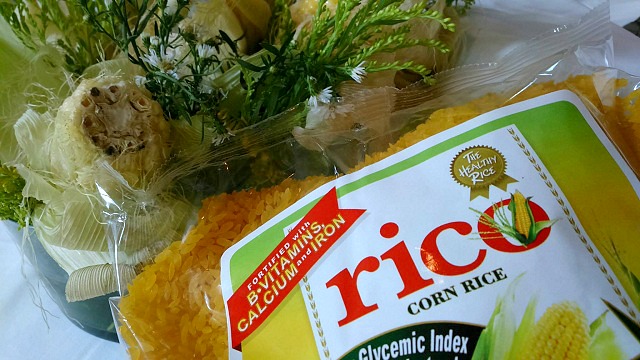 Rico corn rice is pure corn, no additives, but made to look like rice.
Yanelo said that corn-drying equipment is needed to prevent corn from acquiring aflatoxin, a fungus that can hamper growth in children and cause liver dysfunction.
He added that unlike ordinary rice, there's no need to wash Rico before cooking because throughout the manufacturing process, the product was not touched by human hands.
No weird taste
At the media launch, the restaurant's owner and chef Jessie Sincioco prepared dishes that featured the corn rice, from salad to dessert.
First, the corn rice was used as a coating for prawn pops to accompany the mesclun salad. For the main course, she served codfish fillet with a corn rice coating and corn rice pilaf, and for dessert, she prepared a lightly sweet crocant roll.
Asked if she found it difficult to cook with the corn rice, Sincioco said "Not at all," adding that she agreed to host the launch after making sure that it was an all-natural, healthy product.
My verdict? Not bad. Rico corn rice, served by itself, tastes like ordinary rice. It's actually a little bland, which is not entirely a bad thing for a rice substitute.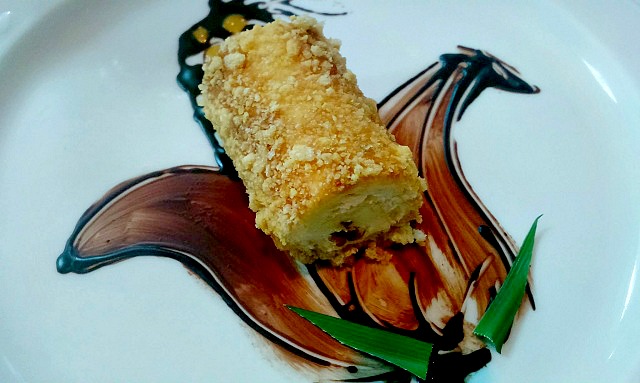 Corn rice crocant roll
Legaspi said people can experiment with the corn rice and try it in their pilaf, paella and arroz caldo recipes.
She admitted that those used to eating rice may not find it easy to adjust to corn rice, and suggested easing families into it by serving it once a week until the kids get used to it.
Boil, pour, simmer
Another thing: Rico corn rice is cooked differently from ordinary rice. Legaspi said there are three letters to remember: "BPS", for the process of boiling, pouring and simmering.
Boil the water first, then pour the corn rice into the pot and let simmer for 10 to 15 minutes. The instructions on how to prepare the corn rice are printed on every bag.
Will I be switching entirely to Rico corn rice? Not for now, but it's something I'll definitely add to my weekly menu because of the health benefits it offers.
— BM, GMA News