Filtered By: Lifestyle
Lifestyle
New Korean brand serves up organic soft-serve ice cream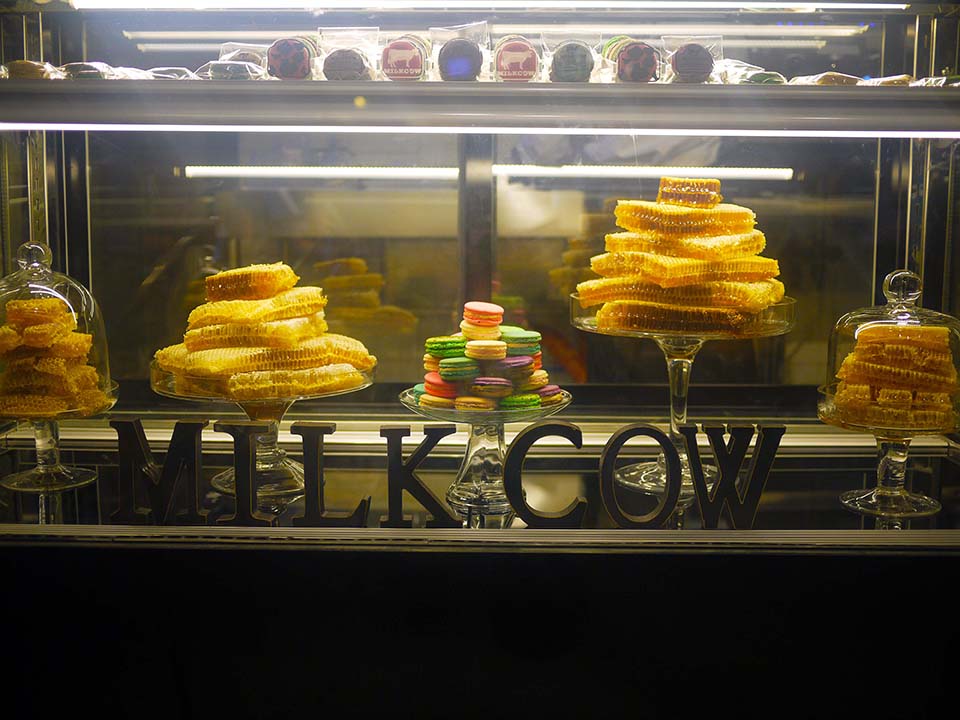 Honeycomb and macarons on display at the MilkCow counter.
In an era of social media and food crazes, countless selfies are being taken in South Korea with the newest food craze over there—the soft-serve organic ice cream, complete with honeycomb.
For a product that debuted in Seoul in the latter half of 2013, the simple, unassuming cup of pure milky goodness has taken Koreans by storm. In a short time, different dessert café brands have sprouted in every corner of the country's commercial districts, and restaurants have even begun to add soft-serve ice cream to their menu.
The good news is, you don't have to go to South Korea to experience this food craze. One organic soft serve ice cream company, MilkCow, has opened its first franchise in the Philippines and is banking on Filipinos who have embraced Korean culture and have a soft spot for all things sweet to try out their product.
MilkCow Philippines president Seann Tan first tried it in Seoul when he was on vacation and a friend took him to an outlet.
"They were serving the same thing [as the other dessert cafes]. We went in and we tried it and wow, ang sarap! It was milky and creamy, not your typical soft serve ice cream. Nabitin kami, so I ordered more," he said.
Not your usual ice cream
So what exactly is the ice cream and what makes it different from your usual convenience store soft serves?
The ice cream is made from organic, preservative-free milk. The milk is produced fresh daily and the ice cream batches are replenished after three days, as opposed to other soft serves that last for a month because they're made from powdered milk.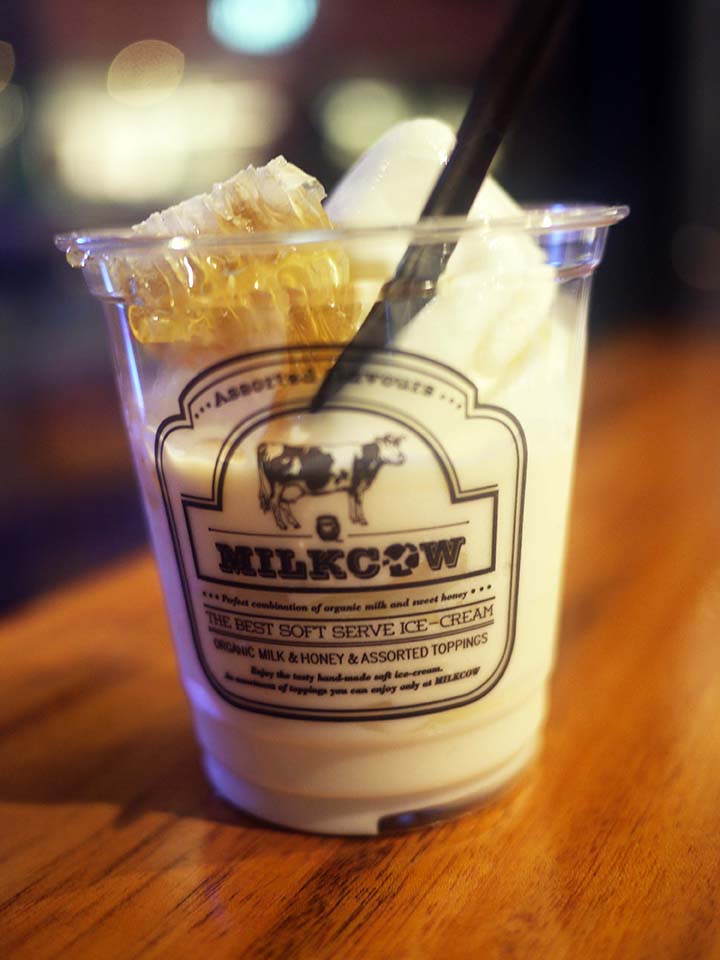 Honey Cube is their best-seller.
MilkCow's most popular (and most expensive) variant is Milky Cube, which is topped with a piece of gooey, natural honeycomb. It has an interesting feel in one's mouth; a small bite releases the honey, which is surprisingly not too sweet. The chunk is big enough to be cut into smaller pieces and mixed into the ice cream. Since it's soft ice cream and melts easily, you have to gobble it fast.
Other popular flavors are Snow Drop (cotton candy, sea salt, and jelly beans), Milky Honey (topped with 100-percent natural honey from honey farms in Sydney and Tasmania) and Macao Dream (sweet macaron and almond crumble).
According to Tan, MilkCow Philippines added two new flavors to cater to the Filipino palate: Milky Pop (caramel corn with caramel syrup) and Milky Crisp (rice crispies with macarons on top).
More than being an ice cream shop, MilkCow is also a dessert café that offers a variety of coffees: espresso, macchiato, cappuccino—iced or hot, and the beans sourced from Italy. They also offer savory foods like croissants and will be adding more in time. The place will also add a Wi-Fi connection to attract the working, caffeine-loving crowd.
Fast-growing
What's interesting is that this food craze was not invented in Korea. It actually originated from Taiwan, but did not pick up until after it became a sensation in Seoul.
There are other known brands that have branches in other Asian countries, such as Softree and Honeymee in Singapore and Taiwan. But MilkCow was the fastest in terms of franchising, with over 50 branches in Korea alone, and more in Malaysia and Tokyo, with even more coming to Hong Kong, China, Singapore, and Canada.
The brand's popular endorsers—specifically, Lee Jong Suk and Go Jun Hee—have also added to the hype.
We've all eaten ice cream in various forms and flavors: cakes, sandwiches, waffle cones, crepes, gelatos, cold stone creations, artisanal and homemade, twirl-all-you-cans, sorbets, yogurt parfaits and more. With our Filipino sweet tooth, there's definitely room for more. But as it did in Korea, will MilkCow start a food craze in Manila, too? You be the judge. — VC/BM, GMA News
MilkCow can be found on the 1st floor of Eastwood Mall in Libis, Quezon City.