Filtered By: Lifestyle
Lifestyle
Osaka food guide: Eat until you drop!
Have you ever heard of "kuiadore"? It's a Japanese term that translates to "eating yourself bankrupt," which is pretty doable in Osaka, the food capital of Japan.
It's the second largest city in the country, following Tokyo, and it has all sorts of gustatory pleasures, from street food to Michelin-starred restaurants. It's fun and easy to eat your way around town—but your belly can only take so much, so curb your cravings and focus on the following: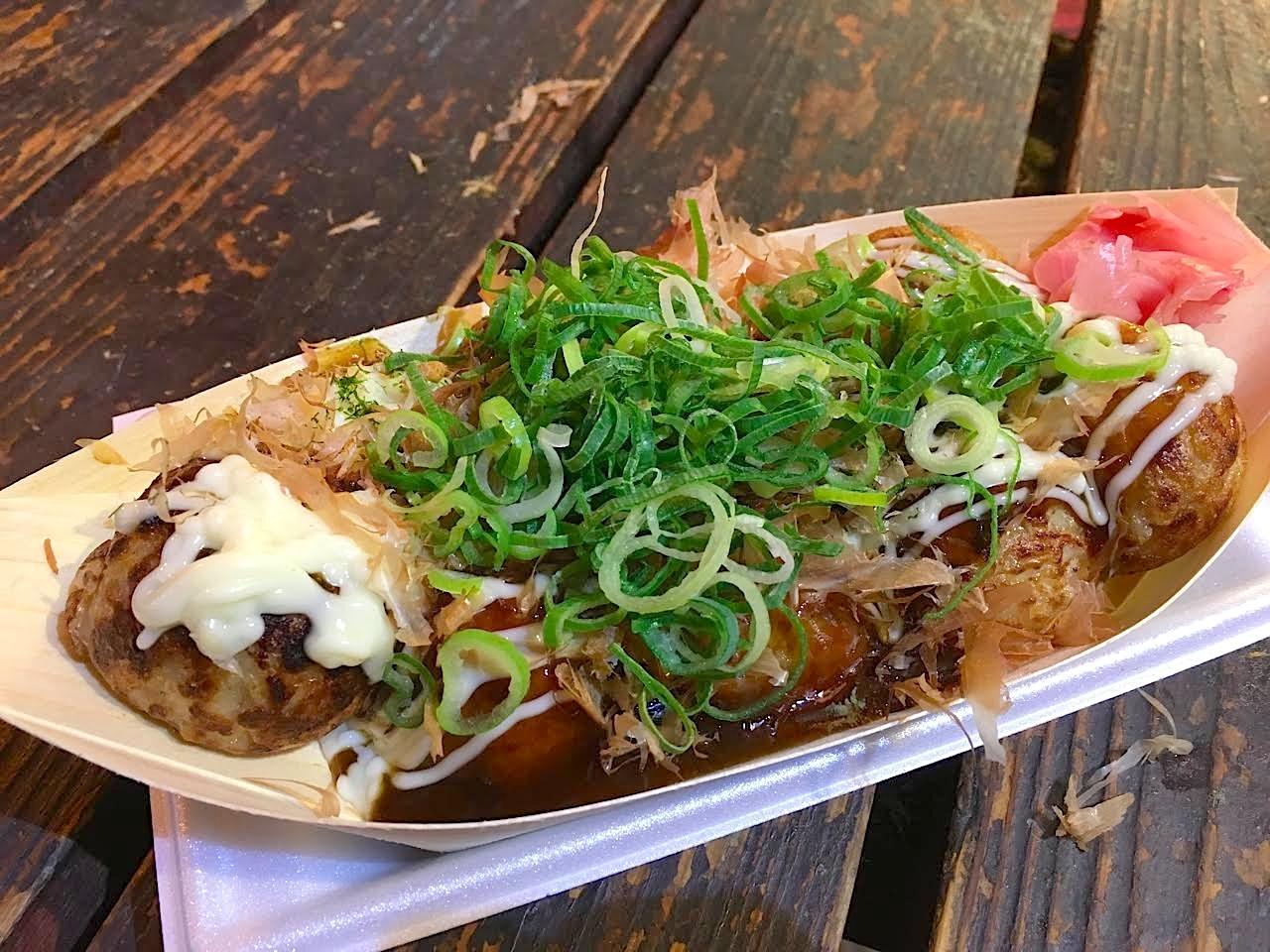 Takoyaki or octopus balls are a popular snack in Japan. Osaka's Dotonbori is particularly famous for them. Photos: Nikka Sarthou-Lainez
Takoyaki
It's easy to find a takoyaki stall on every street. Just look for a sign with the image of an octopus and you'll see some guy cooking this popular snack in round molded griddle pans. My hubby and I found many in the Dotonbori area and chose the stalls with the long lines. (If people don't mind standing in line for several minutes, the food must be good.) Watching the cook systematically make the octopus balls was riveting and made the waiting time more bearable. We shared one boat-shaped container that had around eight to ten pieces, all of which were doused in takoyaki sauce and mayonnaise, topped with dried bonito flakes and green onions, and served with a side of pink pickled ginger.
Okonomiyaki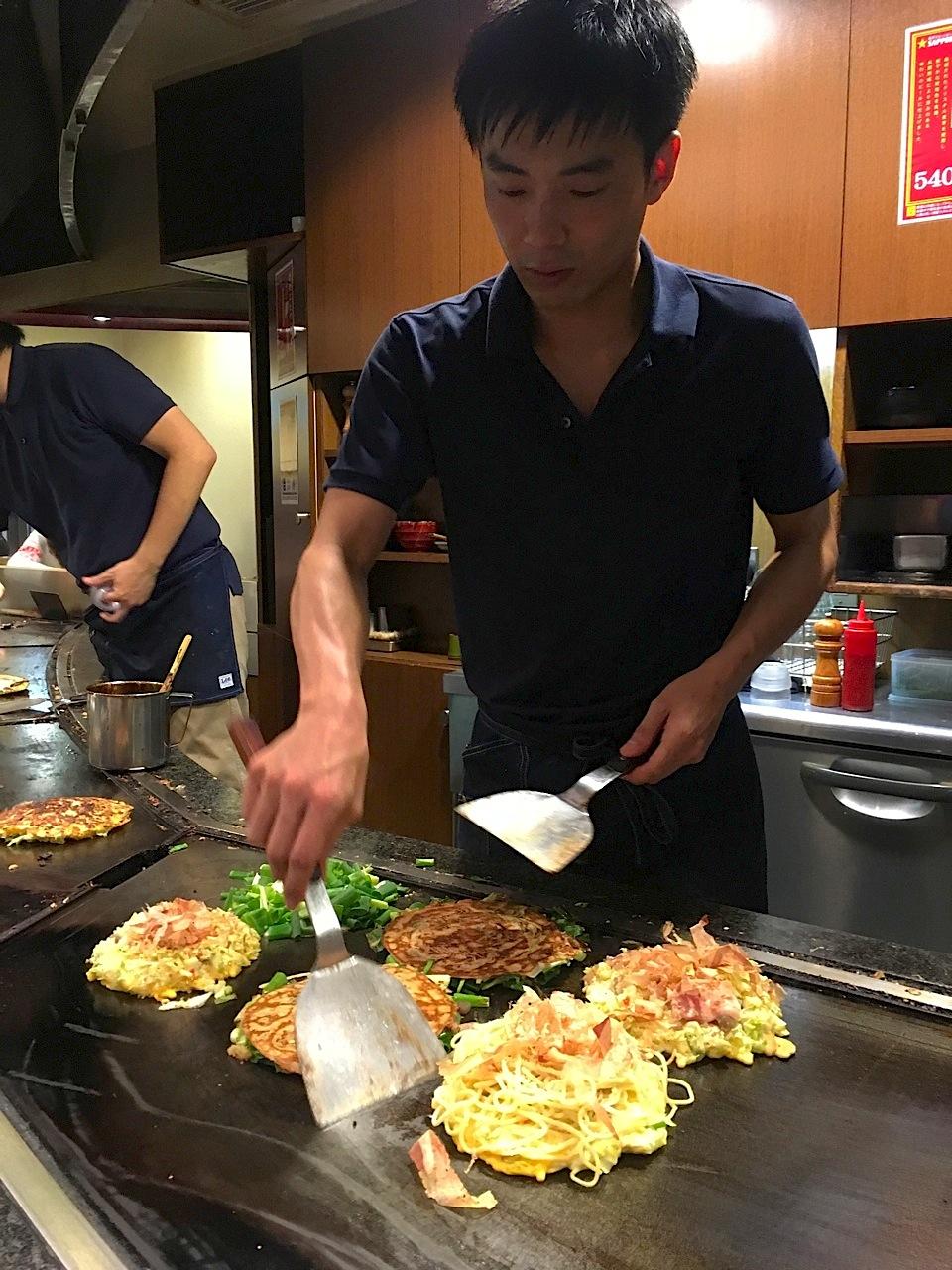 Okonomiyaki is a Japanese savory pancake. In Osaka, you can watch the chef prepare it and then serve it to you fresh from the grill.
You can find this Japanese savory pancake almost everywhere, but my hubby and I tried it first at a Michelin-starred restaurant called Mizuno, which happens to be the oldest okonomiyaki restaurant in Osaka.
Folks line up to get a taste of their bestsellers, which include minced meat and seafood, and you'll see it being prepared right in front of you.
For me, the one with the fried green onions, pork and kimchi was really delicious. I am usually a slow eater, but I couldn't help but devour the dish even when it was still hot (the cook serves it fresh from the griddle).
Surf and turf
For the freshest bounty of the sea, we headed straight to Kuromon Ichiba Market where you'll be tantalized with its seafood offerings. Sushi and sashimi (hello fatty tuna!) are already a given, but there are also other unusual treats that could tempt you. Just make sure you set a budget when you visit the market or else you could eat yourself bankrupt!
Prepare your taste buds—and wallets—for giant scallops, king crabs, rock oysters, baby octopus, sea urchins, eels, and more. Aside from seafood, you can also find quality meats like Wagyu and Kobe beef. These are worth splurging for; after all, it's not every day when you can eat meat that literally melts in your mouth.
Yakitori + sake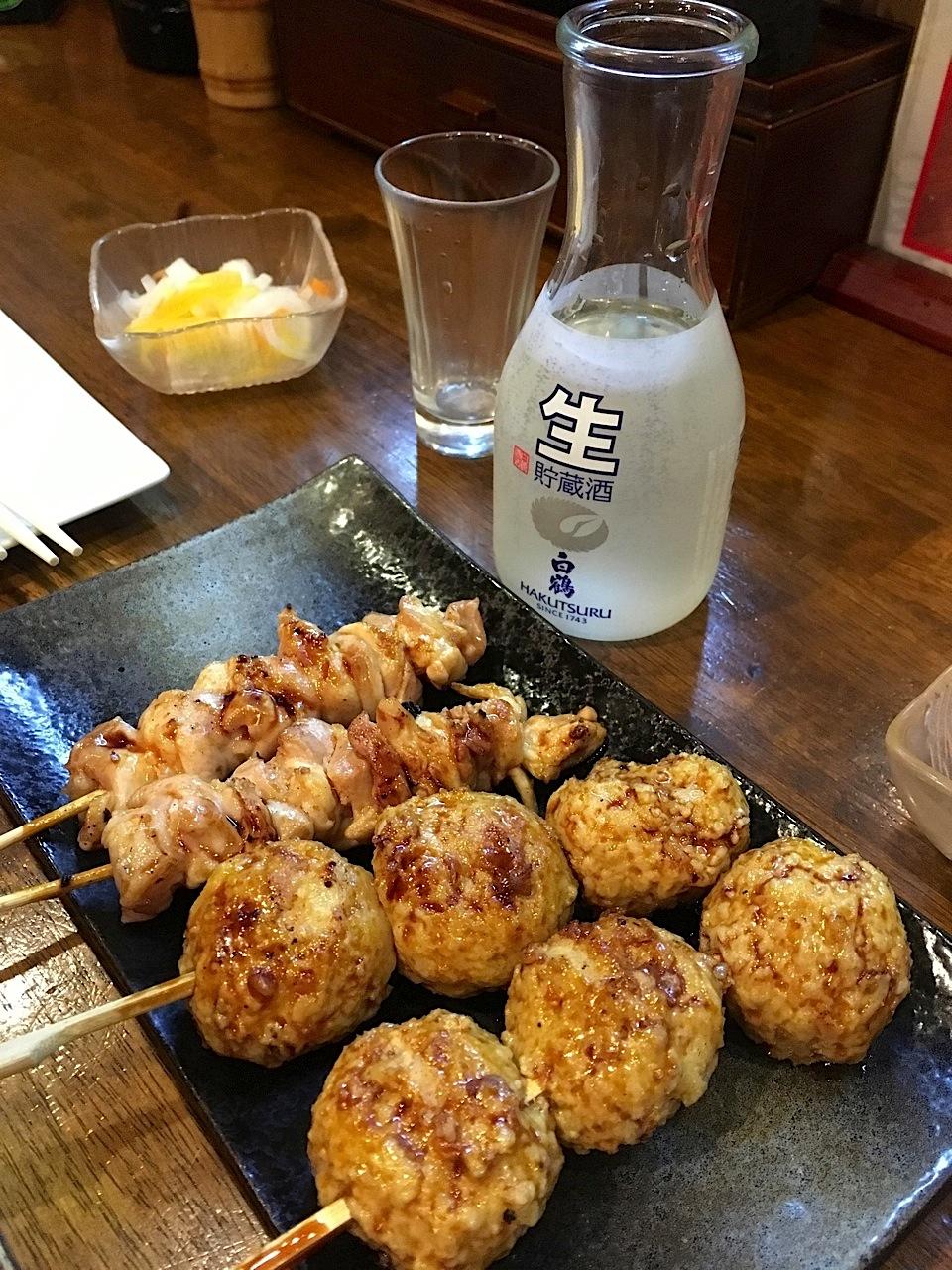 Pair yakitori with some cold sake.
From street food to restaurant fare, my hubby and I enjoyed the daily offerings of Osaka. But at night, we explored the scene by hanging out at an izakaya (Japanese gastropub), which is usually characterized by red lanterns hanging in front of the establishment. There are many scattered in the Dotonbori area and we found one where we could chill out with some cold sake (rice wine) while having some yakitori (grilled chicken).
These skewered meats come in different forms—meatballs, cartilage, entrails, etc. Sometimes, such establishments require you to order specific food dishes along with the drinks but we were there to experience local culture so we didn't mind the drawbacks and just enjoyed the experience. In the end, we had fun drinking with the locals, translating languages, and exchanging laughs along the way. We made friends with the owner despite the language barrier, and ended up getting a complimentary plum wine and wasabi-flavored KitKat.
Ramen
Serving arguably the best ramen in the world, Ichiran has been satisfying foodies since the 1960s with its fresh-cooked noodles cooked in pork-based broth. The best thing about this ramen chain is that it allows its customers to customize the noodle dish according to their preference. You can make it spicy or add a half-cooked egg or other toppings. You also get to slurp the noodle soup as much as you want since you'll be sitting in your own little booth while dining.
Cheesecake and cheese tart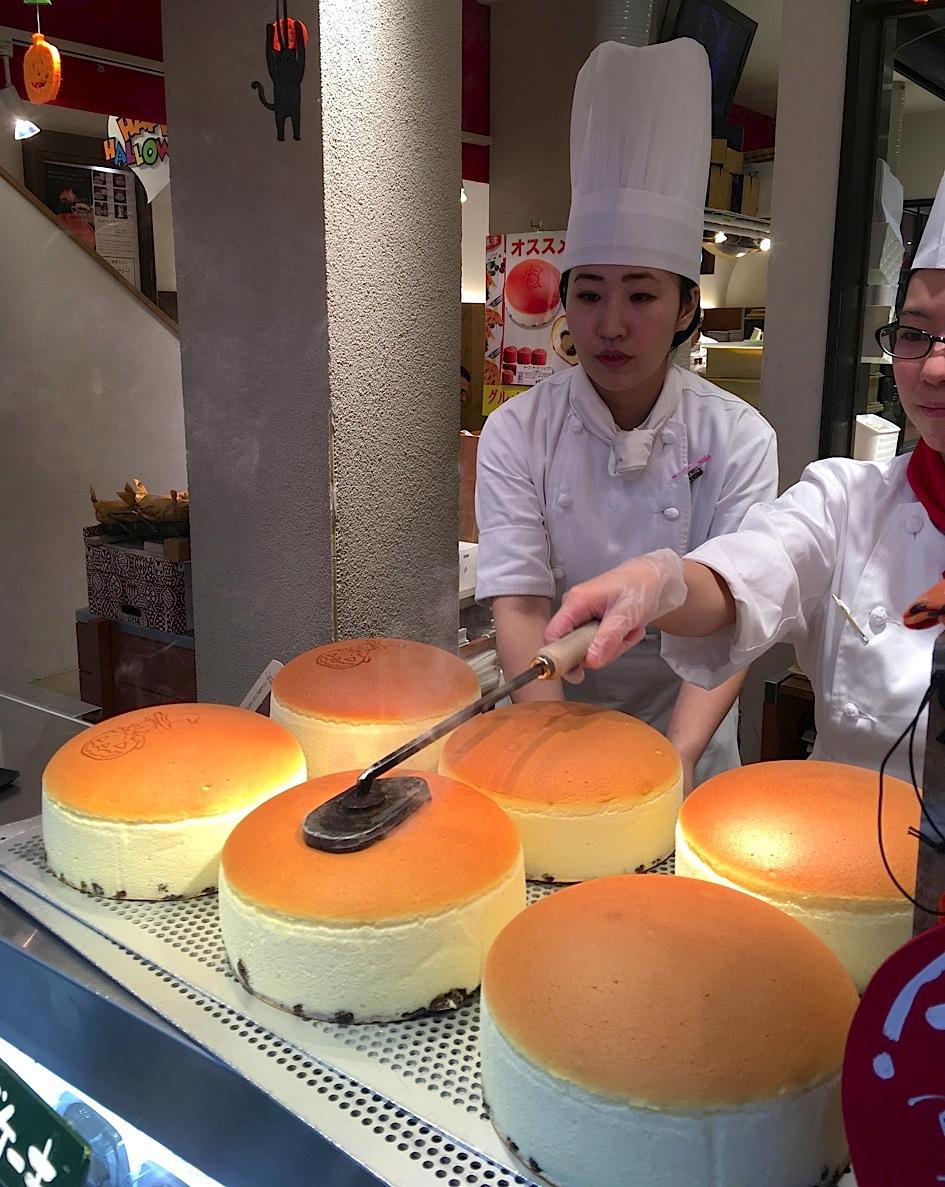 Fluffy cheesecakes fresh from the oven are a must-try.
There's cheesecake and there's Japanese cheesecake. The former is the traditional one that is rich and dense, and the latter is light and fluffy.
Search for jiggling cheesecakes and you'll see Uncle Rikuro's, a popular bakery that has been around for almost three decades. Their version is like a marriage of soufflé and chiffon cake, which feels like you're biting into clouds.
The Japanese cheese tart, on the other hand, is characterized by a flaky crust and oh-so creamy filling. One of the famous brands is BAKE, which originated in Hokkaido an area known for its premium dairy products and you'll taste it in the quality of the tarts. Another must-try brand is PABLO that has a wider range of baked cheese tarts—plain, chocolate, and green tea. In Japan, you can get these in either rare or medium rare in doneness. These soft and velvety smooth tarts are so addictive that you wouldn't mind waiting in queue for it.
There are many, many more foodstuff to try in Osaka, but wouldn't you rather save it for next time so you'll have another reason to visit this destination for foodies? — BM, GMA News